How to Design a Hot-Color Flower Garden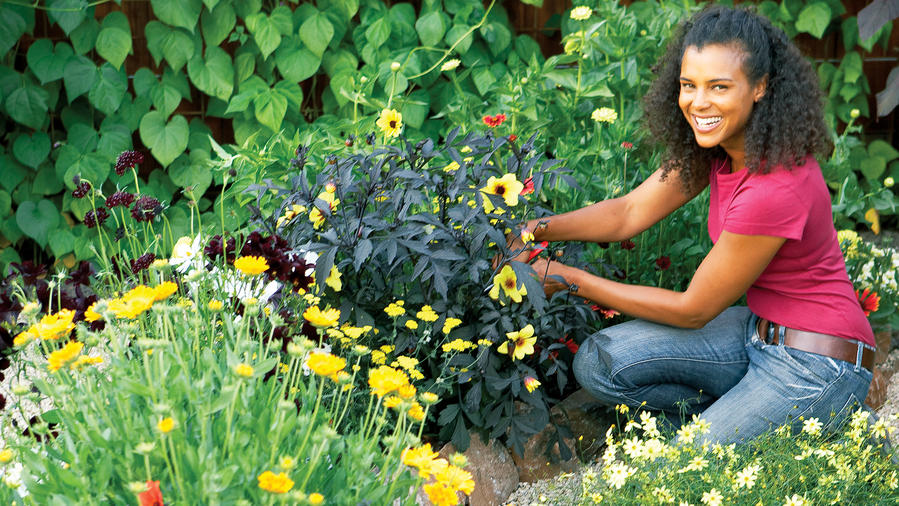 Free planting plan: Mix fiery and cool colors for dramatic flower beds and bouquets
To celebrate sunny colors, Sunset test garden intern Tanya Eggers designed this cutting garden around a sizzling palette of yellow, orange, and red.
Her goal was to plant flower beds that looked good in the garden and also provided blooms for bouquets over a long season.
It's easy to create a palette that's too bright, Eggers says, "but when you add almost-black purples and rich burgundies, they act as a grounding force."
The result: blazing beds and cool bouquets.
The beds and the blooms
Two half-moon-shaped beds, each roughly 3 feet across and 11 feet long, make up our amply sized but still manageable flower garden (one bed is illustrated to the left; the second mirrors it). A gravel path separates the beds, both edged with Sonoma fieldstone. The planting plan sticks to fiery colors but adds splashes of lime and chocolate to temper the heat. Look for plants in 4-inch and 1-gallon pots.
YELLOW & ORANGE
A. Calibrachoa Small yellow flowers on mounding trailers 6 to 10 inches tall.
B. 'Moonbeam' coreopsis Pale yellow flowers atop delicate apple green foliage on 1½- to 2-foot-tall plants.
C. 'Mystic Illusion' dahlia Bright golden yellow blooms with dark centers and brownish black foliage; to 2 feet tall.
D. 'Oranges and Lemons' gaillardia Petals of these orange daisy blooms are tipped in yellow; to 1½ feet tall or more.
REDS, BROWNS, & BURGUNDY
E. 'Burgundy' gaillardia Large wine red blooms have yellow centers; to 2½ feet tall.
F. Chocolate cosmos Flowers the color of rich milk chocolate (with a fragrance that lives up to the name) on 2- to 2½-foot-tall plants.
G. 'Mystic Desire' dahlia Bright scarlet flowers with chocolate brown centers rise above blackish brown foliage; to 2 feet tall.
H. Salpiglossis 'Chocolate Royale' Velvety trumpets in rich brown shades on foot-tall plants.
I. Scabiosa atropurpurea 'Black' Rich, velvety, dark crimson blooms on stems to 2½ feet tall.
LIME & WHITE
J. 'Benary's Giant Lime' zinnia Cool lime-colored blooms on plants 2½ to 3½ feet tall.
K. 'Sonata White' cosmos Snowy white blooms reach up to 3 inches across on plants 1½ to 2 feet tall.
TIP: Place the beds in a spot that gets full sun. In mild climates, plant in spring for summer bloom.