10 Reasons Why I'm Grateful for Sunset's Garden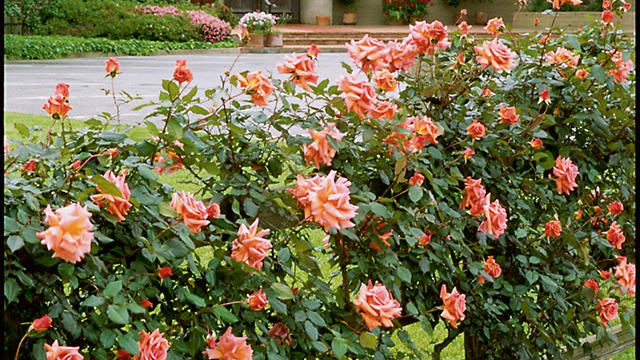 I've visited many of the world's great gardens during my time as garden editor of Sunset Magazine, including the samurai gardens in s...
I've visited many of the world's great gardens during my time as garden editor of Sunset Magazine, including the samurai gardens in southern Japan, Keukenhof Gardens in the Netherlands, and Villandry in France. But Sunset's garden tops my list. Here's why.
It reflects a rich history of the West.
The property sits on land that was originally part of a grant to Don José Arguello, governor of Spanish California in 1815. Sunset's building, designed by Cliff May and built in 1951 as a "laboratory of Western Living," works like an office but feels like a home.
It's an experience
Thomas Church designed the border wrapping the back lawn to capture the West's various climate zones. Visitors can walk the Pacific coast", past the Douglas firs and dogwoods of the Northwest section to yuccas and cactus in the Southwest section. Artists have come here to set up easels and paint blossoms, like this Camellia japonica, a gift from Japan.
Plantings change with the times
Early on, bulbs edged the borders in spring, annuals in summer, chrysanthemums in fall, and Iceland poppies, primroses in winter. But in the 1990s, we swapped in more permanent natives such as grasses and blue Pacific iris to reflect our readers' growing interest in low maintenance gardening.
It is a mecca for gardeners
Over the years, Sunset has hosted many dignitaries from around the world, imcluding Mrs. Helmut Schmidt, wife of the (then) German chancellor and herself a knowledgeable gardener, and the royal family of Belgium who came for lunch. Landscape architects from Japan and Russia have visited here seeking fresh Western ideas to try back home. And lunches for special garden professionals often included table arrangements such as this one, made with blooms from the garden— red bottlebrush, kangaroo paws, and pink leptospermum.
Our test garden is thriving
Small but mighty, it's where we try out new plant varieties, new tools, techniques, and the latest raised bed designs, so we can write articles about them from experience, not hearsay.
6.  So is our design "lab"
Every year or so, we've built new mini gardens to photograph for stories and to provide ideas for our visitors. This circular patio, designed by Lauren Dunec Hoang, shows that dry gardens can be beautiful. On occasion, we've also invited landscape designers such as grass guru John Greenlee to install temporary gardens here.
7.  The "Old Man" is still with us
Our venerable Coast Live Oak, a survivor from another era, still thrives thanks to a no-water zone beneath the canopy, and metal posts to support its leaning limbs.
So are the bluebirds who set up housekeeping every spring in the bluebird house beneath "Old Man's canopy. "
We've grown new gardeners
Like Tanya, who decided while working here to head back to U.C. Berkeley to pursue a career in landscape architecture. And school kids who have gawked at our chickens, then taken home the tiny potted tomato plants we'd grown for them from seed….
…And Johanna Silver and Lauren Dunec Hoang, pictured. Both started as test garden interns, and both are now Sunset garden staffers—Johanna Silver as Associate Editor, Lauren as test garden designer.
We've launched new trends
….including our "one block diet". We grew the crops to make a grand meal, then served the meal to special guests right in our test garden. The experience turned into a magazine article, and a book. (That's food editor Margo True setting the table).
And our meadow is blooming now
Just in time for Thanksgiving!
Keep Reading: