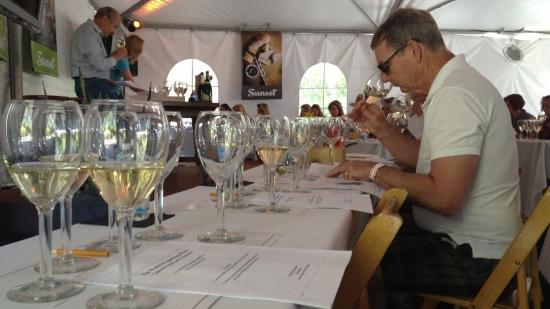 There's nothing like crisp glass of white wine to take the edge off a blisteringly hot day. Here, 7 summertime picks from Sunset wine editor, Sara Schneider.
Another June, another Sunset Celebration Weekend! We're in recovery mode from our 16th-annual festival here on our campus in Menlo Park: 20,000 or so of our newest best friends showed up last weekend for celebrity chef demos (Iron Chef Fabio Viviani found a way to get the crowd going—kiss food editor Margo True repeatedly, to keep her blushing), a 4,000-square-foot idea house built right into one of our office buildings, a bloody Mary bar, test-garden tours, and some of the Bay Area's best food trucks (Bacon, Bacon—yum), among a mind-boggling menu of other events and activities.
Of course, I was concentrating on leading a series of seriously fun wine seminars all weekend. And the big news this year was that I had a most-civilized, air-conditioned tent to host said seminars in. To know how big a deal that is, you need to know that leading up to our CW weekend every year, the potential weather stars in every conversation. We've had full-on thunderstorms, perfect beach temperatures, and devilish heat waves. This year? Saturday took the last path—it was beastly hot. Even in my air-conditioned world, white wines were the stars. Here are several winners we poured, plus a handful more I highly recommend, because I just kept tasting whites into the week. Probably not a bad thing, because I'm hearing there's another heatwave in the offing for this next weekend. Stock up!
Canoe Ridge 2012 "Expedition" Pinot Gris (Horse Heaven Hills; $16). A bushel of apples wrapped in fuzzy peach flavors and textures, with bright lemon-lime balancing out lovely honeysuckle notes. I'm thinking some gourmet mac 'n' cheese laced with melty smoked gouda would be a good thing alongside this one.
Dobbes Family 2011 Grenache Blanc (Rogue Valley, Oregon; $26). A beautifully stony version of this white Rhône grape, full of zesty grapefruit, tart pineapple, and racy acidity. (Look for more on the Rogue Valley—and the rest of the Southern Oregon wine region—in our October issue.) The wine got me thinking about orange-peel shrimp.
Eroica 2012 Riesling (Columbia Valley; $22). One of Washington state's most famous Rieslings (and the state is known for Riesling), this is a partnership between big Chateau Ste. Michelle and Germany's most prominent Riesling maker, Dr. Ernst Loosen. German in style, Eroica is off-dry but bracingly crisp, with tangerine zest and an earthy minerality brightening layers of spicy apple. A Vietnamese pork bánh mì sandwich would be good company.
Gilbert 2012 Estate Riesling (Columbia Valley; $20). A new Washington label on my radar—this Riesling is very nearly dry, its characteristic green apple core decorated with honeyed florals and set off by brilliant acidity. With only 313 cases of this wine in the world, hit the winery's website fast. Whip up a seafood omelet and throw in some avocado; dry Riesling can handle both serious wine challenges (eggs and avocados).
Gloria Ferrer Blanc de Noirs (Carneros; $22). In this consistant deal of a sparkling wine from Sonoma, bright berry-cherry notes pop with the lively but creamy bubbles. Find yourself some carnitas for this one.
Madrigal 2012 Gewürztraminer (Mendocino; $29). Orange and honeysuckle mix with warm spices, leading to a Meyer lemon finish edged with dried petals. You couldn't go wrong with smoked pork sausages here.
Sbragia Family 2012 Sauvignon Blanc (Dry Creek Valley; $22). A beautifully aromatic Sauv Blanc, with peach blossoms and fresh herbs layered over grapefruit and green apple. Ed Sbragia, head winemaker at Beringer for decades, launched this family label, but his son, Adam, makes the wines now. Pile goat cheese on a salad that involves asparagus and fresh herbs.
Keep Reading: