Surprisingly Great Canned Wines for Your Camping Trip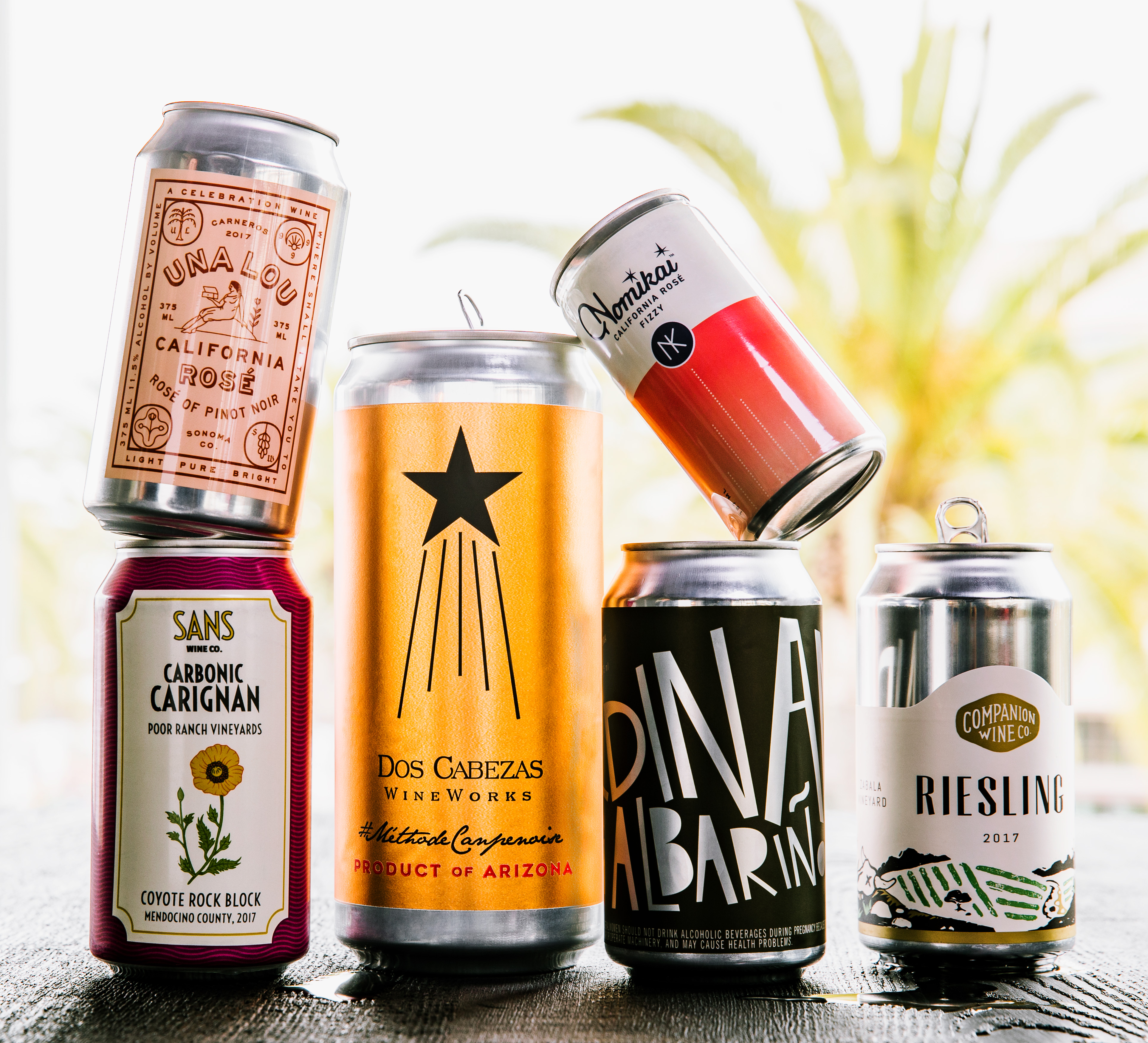 Serious winemakers crush it with legit varieties poured from a can.
In an attempt to impress a new love interest, a friend of mine once lugged a bottle of Pinot Noir on a miles-long backpacking trip. While it set the right romantic mood that evening, he wasn't thrilled to carry the empty bottle back down the trail the next morning. These days, we have a better option to pack in (and out again) with canned wine. Skipping the bottle means skipping the corkscrew—and the possibility of cardboardy corked vino. Cans are lighter, and they generally offer just a few servings at a time, which helps decrease waste. True, this on its own is not news. But what started out as a smattering of soda-sweet spritzers and unappealing bulk juice on store shelves has evolved into a discerning drinker's dream, with winemakers focusing on grapes and techniques that make for especially refreshing cooler fodder.
Some, such as Ryan Stirm of Stirm Wine Co., have worked to identify varie­ties that really shine in aluminum, such as fresh and aromatic whites and those that haven't gone through malolactic fermentation. "I'm interested in wines that are—stylistically—made to be in cans," says the Santa Cruz, California, winemaker, who crafts a particularly bright Riesling for Companion Wine label. "Plus, when canned properly, there's no risk of light damage and oxidation is slower." Ideal for boats, campsites, and sandy beaches, these canned wines make up an exciting six-pack that pairs well with any outdoor adventure.
Our Picks
Companion Wine Co. Riesling (Arroyo Seco; $36/4-Pack). Wonderfully mineral, with a lime-wedge tang, this Riesling is made by Ryan Stirm of Stirm Wine Co.
Ferdinand Wines Albariño (Borden Ranch; $9). Evan Frazier, whose day job is at luxury Napa label Kongsgaard Wine, picks the grapes quite early for this pineapple-tinged Albariño in ­order to preserve ­vibrant acidity.
Scribe Winery 2017 Una Lou Rosé (Carneros; $40/4-Pack). Tangy grapefruit and cooling cucumber flavors meet in this pale rosé of Pinot Noir.
Sans Wine Co. 2017 Carbonic  Carignan (Mendocino; $12). An easy-drinking red made from 75-year-old vines, without added sulfur; it's juicy and softly perfumed, with pleasing, dusty tannins.
Nomikai NV California Rosé Fizzy (California; $5). This slightly fizzy ­négociant blend of California varietals, made in a collaboration with Ryan and Megan Glaab of Ryme Cellars, is a mouthful of tangy peach and lemon zest that keeps its ­effervescence best if you drink it straight from the can. The smaller format (just 187 ml) means the wine will chill more quickly.
---
Read the 2021 Harvest Issue Right Here
Get one year of Sunset—and all kinds of bonuses—for just $24.95. Subscribe now!
Keep Reading: