3 perfect summer pairings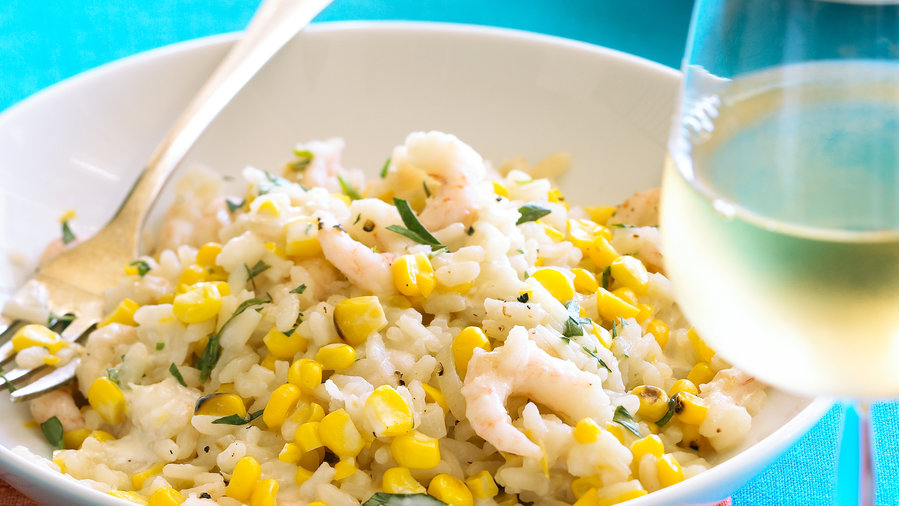 Show off the season's fresh corn, tomatoes, and watermelon with three simple dishes –– and just the right wines
Recipe:  Grilled Corn and Bay Shrimp Risotto
Perfect pairing: Fresh corn and Chardonnay
If there's ever a time for a buttery California Chard, it's when you're eating sweet, crunchy corn. (Get 18 great recipes here.) The wine's sweet-seeming fruit, balanced with creamy lemon flavors, will keep you coming back to the corn. More about Chardonnay
Our picks
Concannon "Selected Vineyards" Chardonnay 2007 (Central Coast; $12). A steal from one of California's oldest wineries ― fresh and lively, with green apple, lime, and more layers of white peach and tropical flavors than this price usually delivers.
Rodney Strong Chardonnay 2007 (Sonoma County; $15). Ripe golden apple, pear, pineapple, and creamy lemon curd are balanced with bright acidity, with a touch of butterscotch underneath.
Landmark "Overlook" Chardonnay 2006 (California; $27). A perfect balance of rich texture and bright fruit ― crisp apple and lemon zest, with hints of toasted coconut.
Next:  BLTs with Caesar Mayo 
Recipe:  BLTs with Caesar mayo
Perfect pairing: Vine-ripe tomatoes and dry rosé
Sweet but highly acidic, peak-season tomatoes present a serious pairing challenge. Dry rosé, an old summer sip in Europe, has come on strong in the West recently, with enough juicy fruit and crisp acidity to match tomatoes.
Our picks
Alicats Pink Syrah 2007 (San Benito County; $12). Crisp and light but full of red fruit ― raspberries and cherries ― with jazzy lemon-lime on the finish.
Benessere Rosato 2008 (Napa Valley; $16). Bone-dry but aromatic, with loads of strawberry and cherry flavors.
Etude Rosé of Pinot Noir 2007 (Carneros; $20). Juicy cherries set off by tangy lemon-lime.
Next:  White Port and Watermelon Granita 
Recipe:  White Port and Watermelon Granita
Perfect pairing: Watermelon and white port
When your food is all-out sweet, your wine has to be too. With watermelon, try a port-style wine made of Chardonnay. Together, they're a grown-up fruit salad.
Our pick
Prager "Aria" White Port 2004 (Napa Valley; $49, 750 ml.). Honeyed pears, apples, melons, and toasted nuts.
More summer pairings:
Pork ribs & Zinfandel
Guacamole & dry Riesling
Bacon cheeseburgers & Syrah
Fried fish tacos & dry Riesling
Peach pie & off-dry Riesling
Grilled salmon & Merlot
Baby greens with goat cheese & Sauvignon Blanc
More: 30 shockingly perfect summer pairings |  Wine pairing 101
Keep Reading: