What to Do with All That Leftover Halloween Candy
Because just eating it by itself is boring!
So you went a little overboard with loading up on candy for trick or treaters and you can't fathom eating it all (or letting your kids eat it all). While you could stick it in the freezer and save it for a rainy day, it's so much more fun to transform it into something entirely new.
Halloween can leave you with a plethora of styles: caramel-filled chocolates with peanuts or nougat, sour candies that make your lips pucker, or just a straight-up Hershey's chocolate bar (extra credit goes to the houses that still give out full bars). Store-bought candies are actually a great way to shortcut sweets and baked goods. If you don't want to make homemade caramel to swirl inside of your brownies, for example, chop up a few Snickers bars and fold them into your batter for pockets of caramel and peanuts without dirtying extra pots and pans.
If you're a candy corn fan, make an evening out of cutting the corns into three pieces, separating the chunks by color, and melting them down. Once melted, cut each color with more melted white chocolate or candy melts and layer them into a slightly less sweet multicolored fudge that will wow your friends and family.
Whether you melt down a bag of candy corn and turn it into fudge studded with chocolate candies and pretzel bits or mix an assortment of sour candies and gummy worms into caramel corn for a sweet treat to share with friends, there are so many ways to give your candy a new life.
With the holiday season coming up, you probably have pies, cakes, and cookies on your mind. But your candies can add some flair to your go-to recipes. These decadent dark chocolate brownies topped with a creamy chocolate glaze make for the perfect not-so-sweet vessel to mix in some candy bits.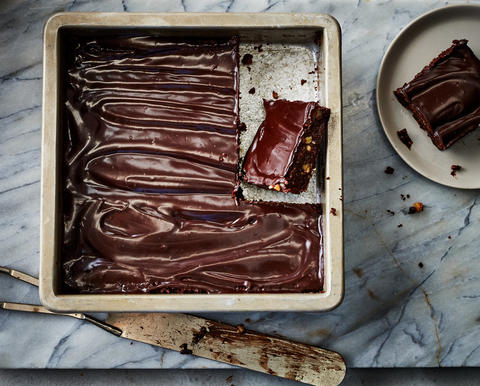 The original recipe for the brownies pictured above has walnuts mixed in and a base of unsweetened chocolate; for a Halloween candy makeover, try mixing in leftover M&M's, chopped Twix bars, and Reese's cups. The combo of crunchy coated candies, caramel-filled Twix, and peanut butter cups will offset the bitterness of the dark chocolate. Though make a note when adding more sweetness that you'll need to cut down on the sugar used. The recipe originally calls for 1 1/3 cups of sugar; I recommend using one cup.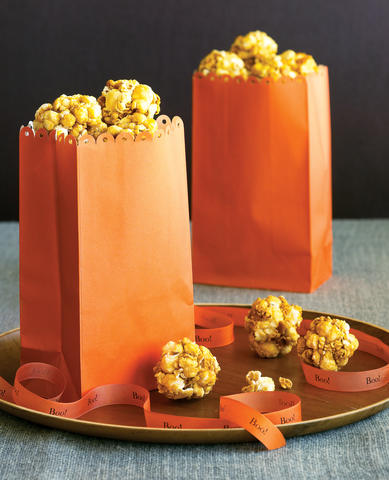 An easy way to use up a lot of leftover candy at once? Mix it into caramel corn. Our recipe for a big batch of honey popcorn balls is super easy and makes for a great vessel for candy corn or any other bite-size candies you might have left in your arsenal. By rolling them into mini balls, you can control how many you eat in one sitting, because I, too, have sat down with a bowl of caramel corn in front of me and moments later found myself reaching into a now-empty bowl looking for more. Store them in an airtight container in the fridge for up to a week and indulge in a couple of balls whenever the cravings hit.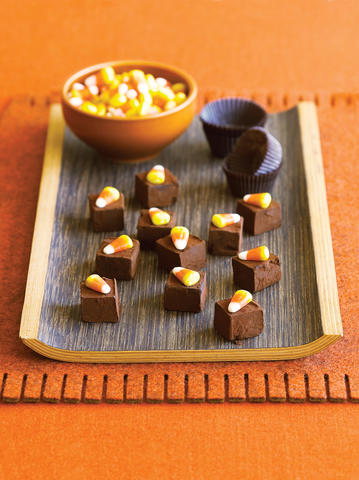 Candy corn may be one of the most divisive candies on the market—but it's hands down one of my favorites. I buy bags to last me months beyond October and snack on them whenever I need something small and sweet. Though if you're not a fan of eating the tri-colored candy straight out of the bag, there are a few hacks you can use to strip it of a bit of its sweetness. With just a few ingredients (one of them being Grand Marnier) and 30 minutes-worth of prep, you can make orange-flavored chocolate truffles, each adorably topped with a piece of candy corn. One batch makes 64 truffles, which means one recipe later you'll have used up nearly a bag of candy corn and be left with a treat that's slightly spiked and perfectly sweet.
Another way to redo candy corn is to make a decadent fudge reminiscent of a Butterfinger. Melt down three parts candy corn with one part peanut butter until all of the candy bits are combined. Then add an entire can of condensed milk, pour into a parchment-lined tray, and once solid you'll have a sweet fudge that only has hints of candy corn flavor—plus, you saved yourself from having to use a bag of chocolate chips to make homemade fudge. If you don't want to dedicate the entire batch of fudge to a candy corn base, try mixing in whole pieces when making a traditional fudge before it sets.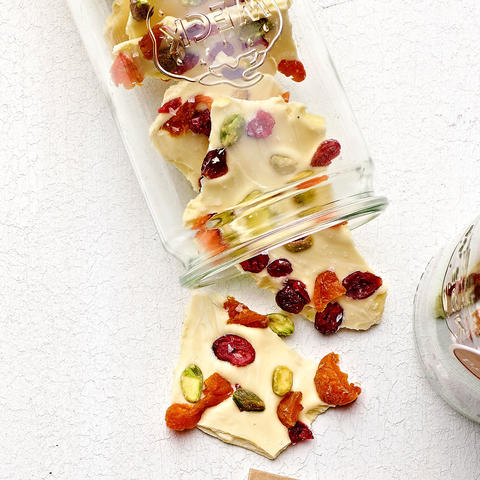 And the simplest idea for leftover candy? Just mix it into treat recipes that you already love. Make homemade s'mores and, instead of going out and buying chocolate bars, use a mini KitKat or whatever minis you have left in your goodie bag. Or set some chocolate bark to bag up and gift to friends and family over the holidays, swapping pistachios and dried fruits for candies like gummy bears, Skittles, and other sweets. The opportunities to repurpose your Halloween candy are endless, and throughout the process of trying these hacks, you're sure to find new and creative ways to up-cycle all on your own! 
---
Search All of Sunset's Recipes
Keep Reading: