The Best Tomatoes from Sunset's Test Garden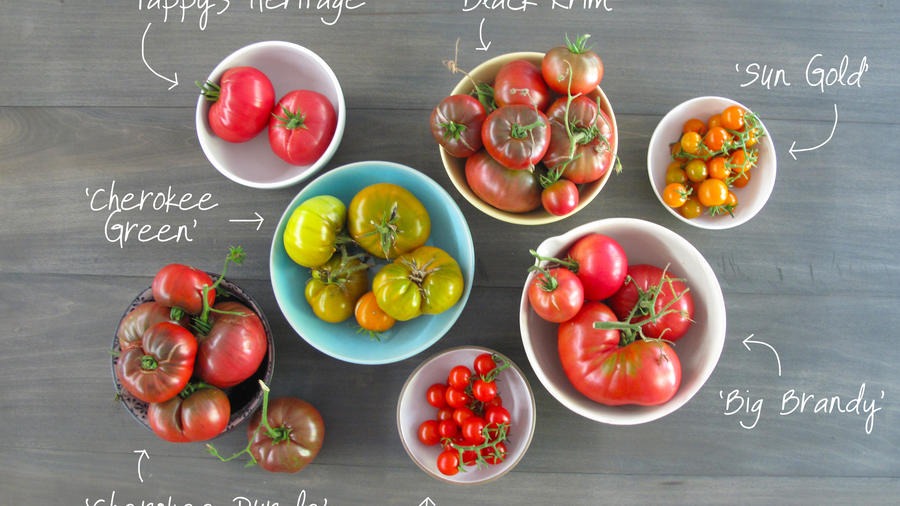 Looking for the perfect tomato for a container?  For sauce?  For out-of-this-world flavor?  We've got you covered. Among the tomato...
Looking for the perfect tomato for a container?  For sauce?  For out-of-this-world flavor?  We've got you covered.
Among the tomatoes we grew this summer in the Sunset Test Garden, we had a handful of favorites.
'Black Krim': Hands down, the best flavor. This Russian heirloom consistently places off-the-charts at tasting trials and we couldn't agree more. It's a favorite of chefs and at West Coast farmers markets for the deep, red-purple color and rich taste. The irregular, knobbly form adds to its charm.
'Tappy's Heritage':  This guy's the top pick of our long-time gardener, Rick LaFrentz.  He's been growing it for years for the delicious flavor and smooth, uniform tomatoes—perfect for slicing for a sandwich.
'Sweet Baby Girl': If you're looking for a cherry for a container, this is your tomato. 'Sweet Baby Girl' is highly-prolific, offering up bucketfuls of sweet, crack-resistant tomatoes on a plant that tops out at 4-5 feet. I was introduced to 'Sweet Baby Girl' by edible gardening guru, Rosalind Creasy, who named it as one of her absolute favorites. Excellent thrown into salads or just eaten out of your palm.
'Sun Gold': These tangerine-orange tomatoes are about as sweet as you can get. The plants are super vigorous, so be sure to give them plenty of space to ramble and you'll be swimming in tomatoes all season. 'Sun Golds' do have a tendency to split, so they can be more difficult to find in supermarkets. All the more reason to grow your own! This year, we grew ours over a curved trellis in the Sunset Test Garden for easy harvesting.
Every year, it seems, we're sent a new batch of heirloom tomato crosses with 'Brandywine' as one of the parents. 'Brandywine' is an exquisite heirloom dating back to the 1880s with phenomenal flavor. But, like many heirlooms, it's not super productive, so the challenge for breeders is how to produce a cross that has all the flavor of 'Brandywine' and gives more than a handful of tomatoes per season. Nobody's hit the gold yet.
'Big Brandy': Don't be fooled into thinking that this cross between 'Brandywine' and 'Big Dwarf' is going to pack the same punch as 'Brandywine' for flavor. However, this is one of the most prolific heirloom marriages we've seen. Our plant was loaded with HUGE juicy tomatoes—perfect for sauce or adding to ratatouille. Check out how tiny the little 'Sun Gold' looks in comparison.
'Cherokee Purple': We have the Cherokee Indians to thank for this long-time favorite heirloom. 'Cherokee Purple' has flavor to rival 'Black Krim' and seems to produce slightly larger tomatoes with a gorgeous dark purple-pink color.
'Cherokee Green': This variation from 'Cherokee Purple' is one of the best green-fleshed tomatoes out there. Beautiful green-gold color and a bold, acidic flavor. Slice with 'Cherokee Purple,' layer with fresh mozzarella, add some fresh basil, and a drizzle of olive oil. You've just made the best caprese salad.
Keep Reading: