Team Special Saus digs carrots and parties it up making plum compote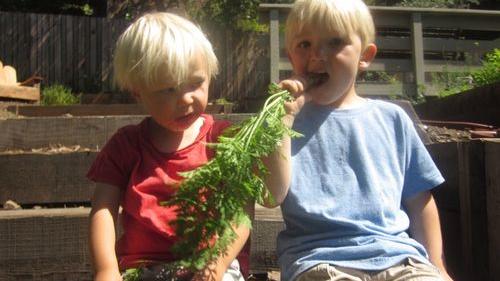 I tell you, June was a delicious month! Walter and Paul love freshly harvested carrots Team Special Saus has been eating lots fro...
I tell you, June was a delicious month!
Walter and Paul love freshly harvested carrots
Team Special Saus has been eating lots from the garden. We have tons of carrots and radishes and have been planting more every two or three weeks to make sure we'll have them at the right time for the feast. The carrots managed to grow despite a certain eager two-year-old having a VERY difficult time waiting for them to get big enough to harvest. The radishes are still going strong (we just planted some more of the easter egg ones, but everyone's favorite is still the red-and-white French breakfast variety), and we've had lots of salad greens: radicchio, and Lollo Rosso and Little Gem lettuces.
Paul with zucchini and snail
When we met to brew beer last month, Todd Halvorsen on our team said something to the effect of "I think you're only about two or three weeks away from lots of zucchini," and boy, was he spot on. The zucchini plants are really producing now. Walter will chomp them up raw, like an apple! We've also been baking them into muffins and slicing them into a veggie Thai curry (we use bottled curry sauce from TJs, so easy for weeknights).
Walter with a zucchini snack
The green beans are just beginning to get going and we are all so excited! Yesterday we picked a small handful of tender ones, all curly like question marks. For some reason, nearly all our beans grow curly instead of straight, but I don't know why.
One of the best things about doing the One-Block project is getting to know our friends in new ways and sharing what the garden has produced. We leave presents of salad greens and mint tied to our neighbors' doorknobs, and Alex brought a hefeweizen to our neighborhood's summer block party last Saturday. We love knowing Frank Pacoe feels free to come over to harvest herbs any time he needs them. And it's been so fun for us to spend more time in Whit and Todd Halvorsen's kitchen. I love poking around in their pantry and fridge; there are always such interesting things! Todd buys pork shoulder in bulk and makes his own sausage. I saw both spicy Italian and rustic breakfast sausage in his freezer. And when we were over there yesterday, he'd just taken a batch of salmon out of his smoker. Delicious! Paul and Walter gobbled it up like candy. Whit and I have been friends for a long time but this project has been helping our families grow even closer.
Our big Team Saus project this month was making plum compote together to serve over fresh cheese at our feast. The plum trees are in the bottom of our yard and the boys and I have been watching the fruit grow fat for the past six weeks. Finally over the weekend, the time seemed right.
Alex picking plums
Alex and I picked four pounds of plums on Sunday morning and then headed over to the Halvorsens to meet up with the rest of the team.
  Whit Halvorsen and Frank Pacoe prepare plums to make plum compote
 
We had two types of plums: a small red one with yellow flesh and a very sweet and flavorful yellow plum. We decided on two batches of compote: one with citrus zest and a small shot of grappa, and the other with cardamom, star anise, and a bit of port.
Plum compote, still warm from the hot water bath
Frank Pacoe was going to open one jar for dessert last night and report back. Hopefully it's yummy!
On the horizon: sausage-making over at the Halvorsens with the lamb we bought from a farm in Dixon (we picked it up yesterday after the plum party), and dabbling in some fresh cheesemaking at Frank's house so we know what we're doing before feast time!
Quotes of the day from our plum party:
Todd Halvorsen, talking about an unsuccessful hour of casting about on the shore of the bay: "Yeah, I'm keeping a rod in the back of my car. I'm not going to take it out until I catch something."
Whit Halvorsen: "The other day when Anja said she wanted an egg for breakfast, I found myself asking, 'Do you want a Martha egg or a Sam one?' "
Whit with Martha eggs (brown), and Aunt Sam eggs (blue)
 
By Abby Peterson
Posted by Margaret Sloan, Sunset production coordinator
Keep Reading: