Shocking-Pink Beet Hummus from The Picnic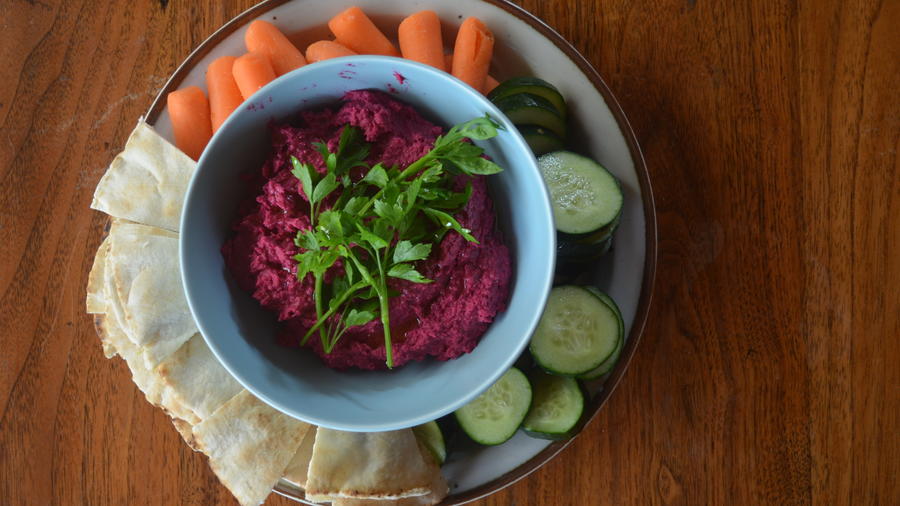 Editorial Assistant Jane Chertoff took on Shocking-Pink Beet Hummus—with shocking-delicious results. Why this recipe? I've made ot...
Editorial Assistant Jane Chertoff took on Shocking-Pink Beet Hummus—with shocking-delicious results.
Why this recipe? I've made other kinds of hummus before: pumpkin, sweet potato, and even edamame. Although each one was flavorful and a vast improvement over the store-bought stuff, they all suffered the same problem: They were lackluster in color and presentation. But picnics, especially those that take place in the spring, demand some pastels, some vibrancy! As this recipe notes, simply adding a roasted beet to the hummus mix delivers a beautiful, bright pink color worthy of your outdoor soirée.
What was it like to make? This was a very simple recipe, both to make and to pack for a picnic. I roasted a few beets the night before the event by wrapping them in foil and placing them in the oven for about 45 minutes. The next morning, I unwrapped, peeled, and chopped the beets, then put them in my food processor along with the rest of the ingredients. After just 30 seconds of processing, the gorgeous (and yes, shocking!) pink color emerged.
How did it turn out? The hummus was very flavorful, and I didn't need to add a lot of additional seasoning on top of what the book recommended. Even though the beet that I used was pretty small, that one puny beet was actually enough to give the hummus a great color, and the rooty, earthy taste came through. I didn't puree the hummus for as long as the book recommended because it was smooth in my processor after just 30-45 seconds.
Will I make it again? Definitely! It was easy to make and very enjoyable to dip into.
Would I bring it to a picnic? Yes. This is a perfect picnic dish because it is transportable, and you can easily bring along pre-cut vegetables or pita bread as an accompaniment. It would also be ideal for any lunch/dinner party. Plus, the leftover hummus would be great on a sandwich or salad.
---
SHOCKING PINK BEET HUMMUS from The Picnic
Makes about 2 cups
"Ho-hum hummus gets a makeover when roasted beets are blended into the mix," say the authors of The Picnic. They suggest serving with pita bread or chips, or crudités.
1 medium red beet, top trimmed, scrubbed1 ¾ cups cooked chickpeas, or one 16-ounce can, drained and rinsed.3 tablespoons tahiniJuice of 1 large lemon2 tablespoons water1 large garlic clove, smashed1 teaspoon fine sea saltExtra-virgin olive oilChopped fresh flat-leaf parsley
Preheat the oven to 375°F. Wrap the beet in aluminum foil and place it in the oven in a small baking dish. Roast until very tender when pierced with a fork, about 1 hour. Unwrap the foil and set the beet aside to cool. Once cool enough to handle, peel and coarsely chop.
Put the beets, chickpeas, tahini lemon juice, water, garlic and salt in a food processor and puree until smooth, 2 to 3 minutes. Taste and adjust the seasoning.
Transfer the hummus to a container for transport, cover and refrigerate until the picnic, or for up to 1 week. For extra, pizzazz, just before serving, drizzle the hummus with oil and sprinkle with parsley.
Excerpted from The Picnic by Marnie Hanel, Andrea Slonecker, and Jen Stevenson (Artisan Books). Copyright (c) 2015.
Keep Reading: