Rethink Plant-Based Dining: These Restaurants and Bars Have Incredible Houseplants and Florals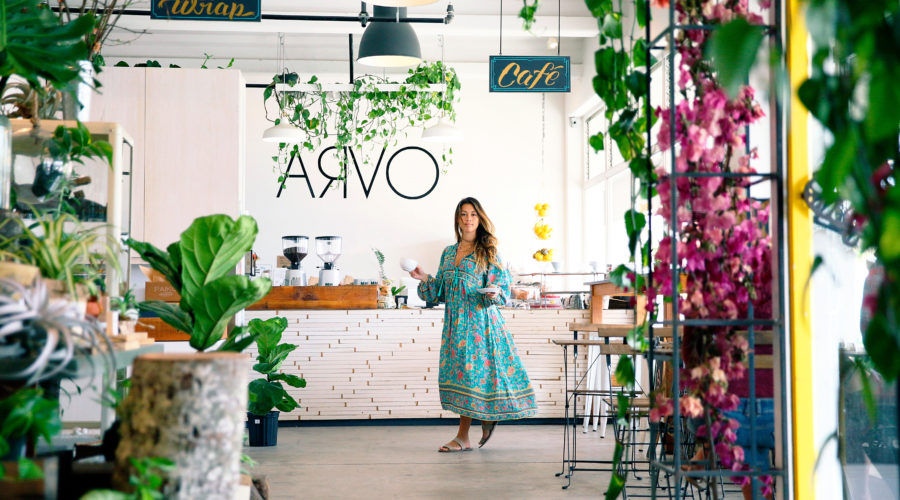 Mason Rose, courtesy of Arvo
These dining experiences are bringing the outdoors in with a plant game that's on point
With studies continuing to show the stress reducing and even soothing effects that come from interacting with plants, it's no wonder restaurants are becoming increasingly plant-filled. Restaurants with lots of plants also just look really chic. Here's a look at some of the dining stops in the West with the coolest plant displays.
Located in Honolulu's Kaka'ako neighborhood, known for its trendy and vibrant food scene, Arvo Cafe (pictured at top) has been all the rage as famous Instagram bloggers began taking photos there. The modish cafe has bounties of greenery inside and out. Next time you make it to Honolulu be sure to stop by and don't forget to snap a photo for the 'gram.
As its name would suggest, the Botanist—located in the Fairmont Pacific Rim—has no shortage of plants to catch your eye. With Pacific Northwest-grown produce, sustainably sourced seafood, and suppliers that maintain organic agriculture practices, executive chef Hector Laguna creates dishes to depict the culinary richness of the region. Though natural beauty can be appreciated throughout the restaurant, the outdoor terrace garden takes the cake with more than 50 plant species, including edible varieties like green tea camellia and cardamom.  
Güero, Portland, OR
This plant-bundant restaurant and bar has come quite far from the food cart incarnation of its first four years. With their large and delicious tortas headlining the menu, this casual Mexican spot might as well be an authentic cantina with its bright green tiles and mezcal bottle-lined wall. This restaurant's plants aren't the only stars of the show; owner Megan Sanchez also does incredible flower arrangements for the decor.
This seafood-focused restaurant's design is inspired by the cocktail and oyster bars of the Gilded Age. In keeping with the theme, the restaurant has no shortage of foliage. Having earned the title of Best Designed New Restaurant from Bon Appetit a few years back, Leo's interior has much to catch your eye—including a fern-filled conservatory where you can order drinks at the bar.
Openaire, Los Angeles, CA
This greenhouse restaurant sits poolside at the LINE Hotel. This "oasis of green" can be found in the center of Koreatown and its shareable format was created in collaboration with two-star Michelin chef Josiah Citrin. A celebration of indoor/outdoor living, Openaire will provide an abundance of plants on which you can feast your eyes while you dine.
Log Haven, Salt Lake City, UT
Dine at this historic log mansion in the Wasatch National Forest. With wildflowers, evergreens, waterfalls, and fine canyon dining, this romantic destination has no need to bring the outdoors in. A short drive from downtown Salt Lake City, the venue is a common destination for weddings and serves dinner daily.
Mizumi, Las Vegas, NV
Adorned with gold and vibrant shades of red, Japanese-inspired Mizumi overlooks private Japanese gardens enclosing a koi pond with a 90-foot waterfall. If you're really looking for the ultimate plant-adorned dining experience, reserve the floating pagoda table, accessible via a private path through the gardens. Talk about tranquility.  
The greens on the menu are no match for the greens strewn all over this cafè bar in Seattle's University Village. This trendy stop has menu offerings for any time of day as well as a stellar brunch menu on Saturdays and Sundays. Grab a 12 oz Coffee Egg Cream and any one of their mouth-watering hearty toasts and enjoy the calm, surrounded by green friends. 
PaaDee, Portland, OR
This casual Thai restaurant in Portland has a comfort food concept with a menu created around cherished childhood dining experiences. With the intention of creating food that leaves people feeling "reinvigorated, satisfied, and content," PaaDee's calm vibe—overflowing with hanging plants illuminated by birdcage light fixtures and giant floral arrangements—makes for a universally enjoyable environment.
The patio at this Southeast Asian-inspired restaurant in Culver City is an oasis within the hustle and bustle of Los Angeles. The new restaurant by chef-owners Macks Collins and Bryan Kidwell offers an upscale dining experience in a vibrant (and verdant) environment.
Pump, West Hollywood, CA
Fans of Vanderpump Rules and the former queen of "Real Housewives of Beverly Hills" Lisa Vanderpump will want to snag a table at this gorgeous restaurant in West Hollywood. Hundred-year-old olive trees abound in the garden of Pump, illuminating the space with hanging lanterns filled with candles. A meal at this upscale restaurant is like being transported to another world.
Pump isn't the only place flaunting mature olive trees. The House Garden at the Soho Warehouse has plenty of these regal trees dotting the garden, casting speckled shadows in the space that serves Mediterrenean-Italian cuisine with an emphasis on locally sourced produce. Though dining at Soho Warehouse doesn't require a membership, a trip to this idyllic place will have you wanting to take full advantage of all its amenities. 
This Las Vegas restaurant is taking plant-based dining to a whole new level. With a wall of live ferns and a variety of greenery, this restaurant is bursting with life. What better place to enjoy a 100 percent plant-based menu than a flora-filled restaurant?
Keep Reading: