14 Ideas for a Healthier Easter Basket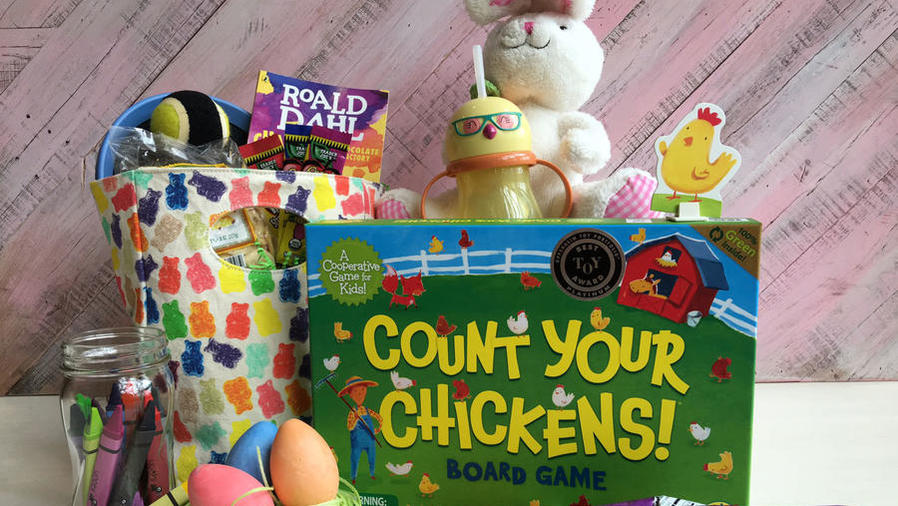 This year, when the bunny hops into town, he will come bringing fun, colorful, and yes, even healthy treats in his basket
The Easter Bunny is often synonymous with chocolate bunnies, marshmallow chicks, and sticky-sweet jelly beans. That's not exactly the healthiest reputation, but there are still plenty of ways to have a happy basket of goodies while also skipping the mid-morning sugar spike. This year, the Bunny can deliver some healthier alternatives that are still just as fun (yes, there's even chocolate).
Bunny treats
We're not taking the fun out of the basket. We're just making the choices better.
Dried fruit. Banana chips, dried pineapple slices, dried mango pieces and more are naturally sweet treats the Bunny can bring. Look for no-sugar-added options. Mango is vibrantly colorful, as is pineapple.
Fruit leather. Make your own fruit leather, roll it in beautiful parchment paper, and tie with ribbon for a healthy treat. You can buy your own, like Trader Joe's, or you can make a homemade version. Try this One-Ingredient Apple Fruit Leather.
Crackers and chips. Annie's Organic Cheddar Bunnies ($3, Target stores or $17/box of 4, amazon.com) are a clever option for Easter, but we also like Plum Organics Mighty Dinos ($4, jet.com) and Horizon Organic Dairy Snack Crackers ($4, amazon.com) for their cleaner ingredient list and adorable shapes.
Lollipops and gummies. Don't even try to skip the sweet treats. Holidays are so fun precisely because they're the occasional time to splurge on goodies you only get to have once a year. We prefer treats that use natural juices for flavor and color, including YumEarth Organic Gummy Fruits ($3.50/ 5 pouches, amazon.com), Trader Joe's Organic Pops ($3, amazon.com), Black Forest Organic Jelly Beans ($3, target.com), and Surf Sweets Organic Fruity Bears ($2, amazon.com).
Fun & games
Just because the basket won't be full of candy doesn't mean the basket won't be full. The Easter bunny can bring an assortment of non-edible options that encourage everyone to play a game or get outside and run around once the baskets have been explored.
Board games. Quite adorable and perfectly themed for the day, Count Your Chickens! Board Game ($16, target.com) is a fun option. For slightly older kids, Hasbro's Speak Out Game is sure to cause lots and lots of laughs. ($15.50, target.com), but the popular Pie Face Showdown is worth a look for any family who has a competitive streak ($20, target.com).
Delicious reads. Introduce a young reader to a fun read with books like Roald Dahl's Charlie and the Chocolate Factory ($7, target.com), E.B. White's Charlotte's Web ($5, target.com), or Mrs. Piggle-Wiggle ($6, amazon.com).
Family games. Once the baskets have been opened, and you've all had a serving of Stuffed French Toast, head outdoors to enjoy the beautiful day. The Easter Bunny can gift games like Majik Catch Set ($5, target.com), Wooden Yard Dominoes ($60, amazon.com), or Lasso Golf Game ($29, kohls.com). You can also decorate your drives with holiday art with Easter egg-shaped chalk ($6, worldmarket.com).
Better basket options. Instead of a one-time-use basket, let the Bunny deliver the goodies in a bag that can be reused again and again. Is the lunch tote you bought in August looking a little worn? Now's a great time for a new one. We love the Gummies Lunch Bag ($22, papersource.com). Another great idea, a new overnight bag ($40, jcrew.com) for nights away at grandma's house.
Bunnies and chicks. No Easter basket is complete without an adorable stuffed animal or two. In this case, we picked up a fuzzy bunny (from $5, target.com) and a chick-inspired straw cup (from $4, target.com). Sur La Table's Easter Chick Child's Mug ($8, surlatable.com) can be a special occasion treat you can use for many Easters to come.
Easter basket ideas for older kids (and adults!)
Young bunnies aren't the only one getting a basket Easter morning. Sometimes older kids (and adults, too) are visited by the happy hopper. The basket can still be packed with plenty of sweet treats, but we're sneaking in a few other great items for the gym, kitchen, or school/office.
Splurge-worthy candy. Instead of filling the basket with cheap candy pieces, make a bit of a splurge with good chocolate that's worth every bite. We love Justin's Mini Dark Chocolate Peanut Butter Cups ($5, thrivemarket.com), Compartes Cereal Bowl Chocolate Bar ($10, papersource.com), and barkTHINS Dark Chocolate Coconut with Almonds ($9, amazon.com).
Cute kitchen tools. An older kid might not be excited by a stuffed bunny, but an adorable bunny towel for their kitchen adventures or cute bunny-decorated spatulas may excite them entirely. The Easter Bunny Embroidered Kitchen Towel ($12, surlatable.com) and Easter Bunny Spatula ($14, surlatable.com or $12/set of 2 mini, surlatable.com) are worth a spot in the basket. The larger spatula reads "There's No Bunny Like You," and the smaller set features illustrated bunnies and chicks on bikes. Just too cute!
Creative kits. Coloring, painting, and designing are a great way to encourage creativity and downtime. Coloring kits by eeBoo ($17, shop.eeboo.com) are whimsical without being too immature. If you've ever thought about knitting or cross stitching, kits like the ones from RedBear Design (from $21, etsy.com) are a fun way to try a different skill and make something adorable in the process.
Healthy living accessories. Instead of a basket, pack the Bunny's offerings in a new yoga or gym bag. The French Bull Yoga Tote bag ($35, target.com) that says "I'm here to torch some calories!" Is your water bottle looking a little beaten up? Send it to the recycling center and let the Bunny bring you a new one. Reusable bags are great for more than grocery trips, so having a spare one on hand is always a good idea. We love Dertbags' Bear, Bird, Bunny, and Squirrel bags ($19, dertbags.com).
Drink and dine. Aladdin's Cafe To-Go Vacuum Stainless Steel Water Bottle ($25, target.com) keeps cold drinks chilled for 16 hours with ice and 8 hours without. The whole lid twists off so you can add in fruit or ice, and it helps make cleaning easier. For a fun pop of color, Lilly Pulitzer's Tumbler with Straw is a fun gift ($16, lillypulitzer.com). Stop using throw-away plastic containers, and ask the Easter Bunny for SunnyLife's Eco Pineapple Lunch Box ($18, sunnylife.com). The eco-friendly box is 100% food safe and dishwasher safe. It's great for salads and grain bowls (but not microwave safe).
Keep Reading: