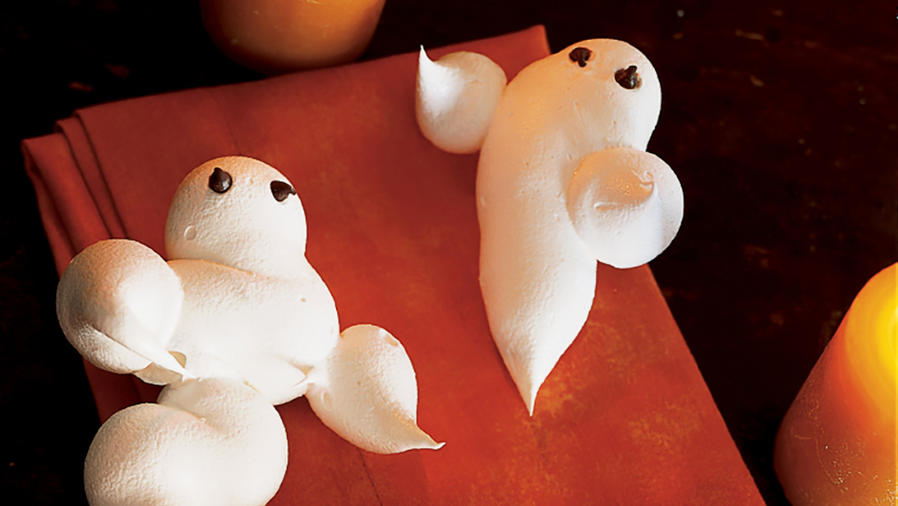 Bewitch your friends with a spread of spellbinding treats.
Meringue Ghosts
Green Salad With Dracula's Teeth
Broomstick Breadsticks
Roast Chickens With Vampireproof Garlic Garland
Risotto in Decapitated Pumpkins
Envy Green Brussels Sprout Eyeballs
Summon the scarlet-clad devils, elegant princesses, ethereal angels, and audacious pirates to a ghoulish Halloween feast, costumed with tricky metaphors.
A goblin green salad sets the scene, speckled with pomegranate seeds.
Breadsticks shaped like witches' brooms are an apt partner in first-course dark arts. Succulent chicken encircled by a garland of roast garlic keeps vampires at bay, while minipumpkins filled with risotto and envy green Brussels sprouts revel on the side.
Enter the spirits for dessert, disguised as sweet, crisp meringues, to delight kids of all ages.
Start prepping the salad and make the breadsticks, pumpkin shells, and meringues up to a day ahead so the trick isn't played on you.
Keep Reading: