Recipes from the Vegetable King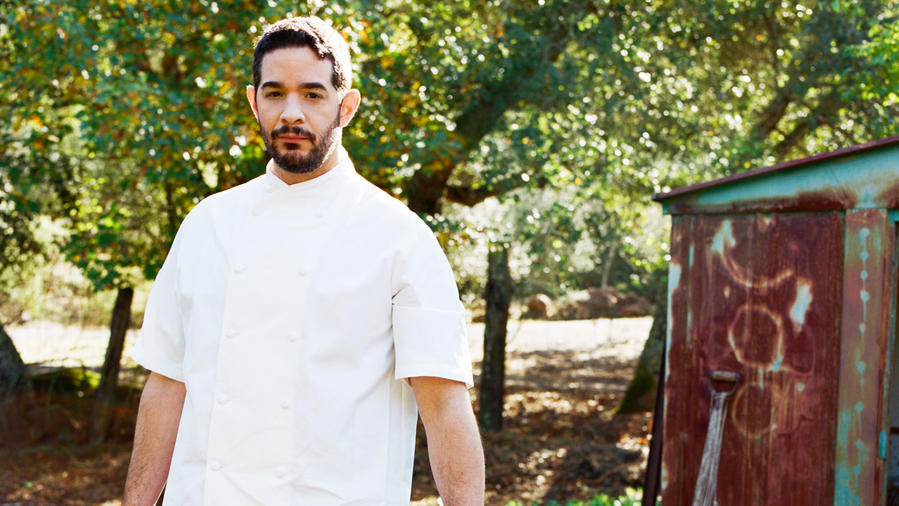 Who needs meat as a main course? Ubuntu chef Jeremy Fox's vegetable dishes are delicious, satisfying, and easy. Here are 3 recipes to try
"I like to roast larger cuts of vegetables and butcher them afterward." It's not the most typical thing for the chef of a vegetables-only restaurant to say. But Jeremy Fox, 33, is anything but a typical chef, and his food has more gusto than most main courses with meat in them.
In fact, his wizardry with produce helped Napa's Ubuntu restaurant earn a Michelin star and a spot on The New York Times list of the 10 best restaurants in America.
Fox believes in whole-vegetable cooking. "You serve meat on the bone. Why not serve vegetables in their skins?" From the bounty in Ubuntu's garden, he creates flavors and textures normally associated with meat. (See 7 spring vegetables from Jeremy Fox's kitchen.)
Try his vegetarian recipes and you'll learn how to make vegetables dense or creamy; crisp-skinned, buttery, or crunchy; and as succulent as a steak.
Info:  Ubuntu ($$; call for hours; 1140 Main St., Napa; 707/251-5656)
3 GREAT RECIPES FROM JEREMY FOX
Recipe:  Roasted Kohlrabi and Eggs with Mustard and Honey
Fox uses red sorrel, wood sorrel, and sheep sorrel from Ubuntu's garden, but any kind of sorrel will work. Find honeycomb at well-stocked grocery stores and farmers' markets.
Quick twist: Replace the kohlrabi with small unpeeled Yukon Gold potatoes. Roast and serve them exactly the same way.
Recipe:  Roasted Baby Artichokes with Spring Salsa
Annabelle Breakey; food styling: Karen Shinto
Quick twist: Use fresh kiwi fruit (yes, kiwi!) instead of artichokes. Peel, slice, drizzle with extra-virgin olive oil, and sprinkle with sea salt and freshly ground black pepper. Skip the salsa. Top with miner's lettuce (or another mild, tender green such as mâche), shaved parmesan, and toasted chopped macadamia nuts.
"Baby artichokes make a good stand-in for meat because you eat them whole; they're a knife-and-fork kind of deal" –Jeremy Fox
Recipe:  Soba "Fideos" with Sea Vegetables
Fox says, "Sea vegetables add a nice seafood flavor to food. It's something I have up my sleeve to add dimension and variety to the menu, and to surprise people"
Quick twist: Cook the soba in mushroom broth instead of sautéing. Spoon the miso dressing into bowls, top with soba, and pour in broth. Add sliced or diced fresh radishes and carrots, then cilantro sprigs.
MORE WAYS WITH SORREL AND KOLRABI
Sorrel Vichyssoise: Simmer diced potatoes and leeks in chicken stock until soft, then add sorrel leaves and cook until they're wilted; purée and strain. Top with finely sliced fresh sorrel.
Kohlrabi Greens: Braise the greens just as you would spinach. Trim off the stalks and cook leaves in butter or olive oil with whatever seasonings you like―garlic, chile flakes, lemon zest.
Crunchy Kohlrabi Stalks: Blanch stalks in boiling water until tender, then dry, dip in your favorite beer batter, and fry them up. Serve with tartar sauce.
MORE WAYS WITH ARTICHOCKES, FAVAS, AND MEYER LEMONS
'choke Chips: Snap off all leaves from baby artichokes and scrape fuzzy chokes from centers. Slice very thinly on a mandoline, dropping into lemon water. Dry on towels, then deep-fry in 300° oil until pale golden and no longer bubbling. Sprinkle on salads or soups made with tomatoes, artichokes, or eggplant.
Roasted Fava Pods: Put small fava bean pods (2 to ​ 3 in. long; big ones will be tough) in a cast-iron skillet and roast in the oven or on the stovetop over high heat until slightly charred. Toss with sea salt, a bit of olive oil, red chile flakes, Meyer lemon juice, and minced garlic. Eat them pod and all.
Meyer Lemon Whipped Cream: Toast a thick slice of brioche bread and top with stewed fresh rhubarb (cooked with a bit of dried lemon verbena if you like). Add a dollop of sweetened whipped cream blended with Meyer lemon juice and zest.
MORE WAYS WITH SHITAKES, PARSLEY, AND SEA VEGETABLES
Stuffed 'shrooms: Fill ​ shiitake caps with goat's-milk ricotta, herbs, and sautéed minced mushrooms (Fox likes matsutake). Top with bread crumbs mixed with olive oil, then shallow-fry in 1 in. oil until golden.
Parsley Pesto Don't toss those flavorful parsley stems! Boil until they're soft enough to be mashed. Drain and blend in a processor with walnuts, parmesan, garlic, lemon juice, and olive oil. Use on pasta or sandwiches.
Nori Vinaigrette: Grind nori in a coffee grinder; then blend with Dijon and stone-ground mustards, extra-virgin olive oil, and Banyuls or sherry vinegar. Eat with radishes, crème fraîche, and salt (Fox likes Hawaiian black salt).
Keep Reading: