How to Choose the Best Olive Oil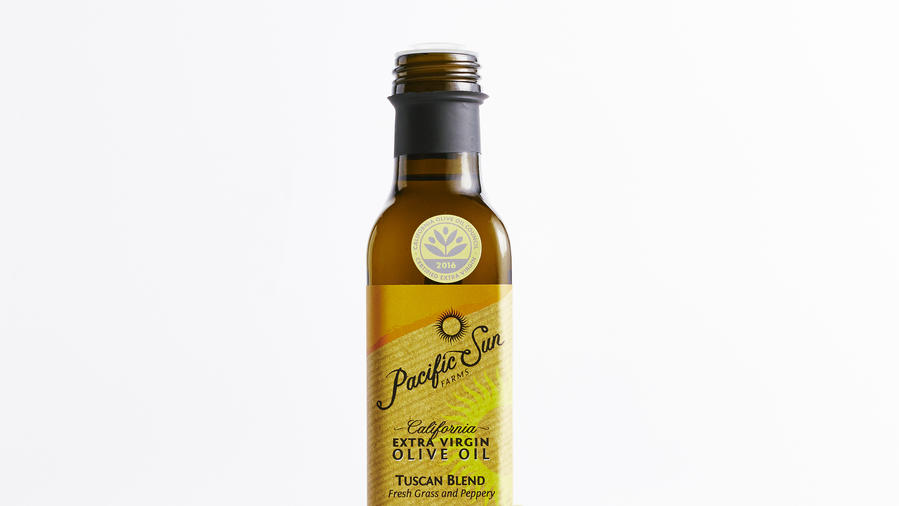 Learn the lingo of olive oil labels to identify the best
After salt and pepper, extra-virgin olive oil—especially California extra-virgin olive oil—is the ingredient we can't do without in the Sunset Test Kitchen. To help us choose among hundreds of Golden State oils, we sat down with a pro—Linda Sikorski, senior buyer at Market Hall Foods, a specialty foods store in Oakland, California.
What's on an olive oil label?
California Olive Oil Council certification ― this verifies that the oil has passed the chemical and sensory standards that qualify itas extra-virgin, the highest grade.
Style or varietal ― some makers give information about the flavors to guide your choice. (See Mild or bold? below.)
Harvest date ― more useful than sell-by date. "Olive oil is freshest and most flavorful within a year of harvest," says Sikorski. (California olives are harvested from October to December, and immediately milled into oil.) "Don't save it!"
Award seals ― the most prestigious olive-oil competitions are the L.A. International, Good Food Awards, and New York International. 
Mild or bold?
A good oil balances fruity, pungent, and bitter flavors, but intensity varies depending on maturity and variety, where fruit is grown, and miller style. 
Mild. Later-harvest oils taste more buttery. In terms of varieties, "Arbequina is a great beginner's oil, mellow with almond-y overtones," says Sikorski.
Bold. Oils from early-harvest fruit taste greener and more bitter and pungent. Tuscan-style varietals, like Frantoio, Leccino, and Maurino, fall into the bold category.
Best in class
All-purpose ― For sautéing, baking, and salads, look for extra-virgin oils by Corto ($22/liter); Enzo ($20/500 ml.); and
Séka Hills ($18/500 ml.)
Finishing ― High heat dissipates flavors, so save these complex oils for drizzling: Bondolio ($22/250 ml.); Katz Rock Hill Ranch ($22/375 ml.); Mas­sglia ($35/375 ml.); and Pacific Sun ($14/500 ml.)
Oil's worst enemies
Air, heat, and light degrade oil over time. At the store, look for dark bottles, and buy a quantity you can use up in a few months. At home, keep oil in a dark, cool cupboard.
Keep Reading: