Sunset's Centennial Cook-Off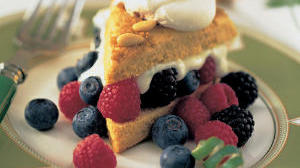 Prizewinning recipes showcase classic Western ingredients
A century ago, Sunset's raison d'être was to lure Easterners west. And part of that mission was to establish the region's bragging rights about food. After all, with our abundant agriculture and spirit of discovery, food trends have a natural way of starting here.
From 1915 on, recipes rich with local products ― artichokes, citrus, cranberries, olives, raisins, and wine ― appeared regularly on our pages.
Then Sunset shifted gears. In 1929, we became a magazine about the West for Westerners. And our view of regional foods became even more commanding when we invited readers to share their recipes in a monthly feature called Kitchen Cabinet. More than 5,000 recipes later, the column is still going strong.
So it seemed fitting to honor our Centennial year by extending another invitation ― this one to a cooking contest. Last September we asked you to send your best recipes built around five great Western foods: artichokes, avocados, berries, chilies, and seafood.
Responses poured in. Sunset's food staff evaluated more than 800 recipes, winnowing the entries to the 75 most promising. These we prepared in our test kitchens, and a tasting panel narrowed the field to 15 finalists, three in each food category.
They were guests last March at Sunset's headquarters in Menlo Park, California, where they prepared their entries for judges who rated the dishes for flavor, use of ingredients, creativity, and presentation. Wonderful dishes all, they had a neck-and-neck race to the finish line.
And here are the winners: the grand prize (Cornmeal Piñon Shortcakes with Berries and Lime Cream, below), five best-of-category, and remaining finalists. Some of the recipes are fresh spins on old favorites, others make innovative leaps. But all 15 make a delicious start for our second century.
Keep Reading: