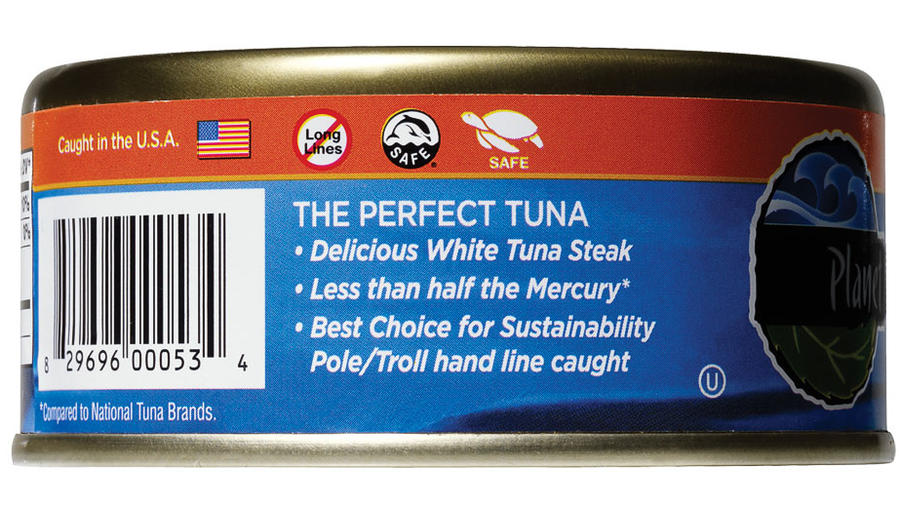 Why buy canned, what to look for, and easy serving suggestions
What's the best fish to buy canned?
Wild salmon and pole- or troll-caught albacore tuna, both harvested and canned in the West. Most sardines and oysters are sourced and canned overseas and not subject to U.S. scrutiny.
Why buy canned ever?
It's cheaper than fresh; and with salmon, the bones (soft and edible) stay in, boosting calcium content.
Our Favorite Brands
Tuna
American Tuna Awesome canned tuna ― a wedge of hand-filleted albacore cooked in its juices, rich and deeply flavorful. Pole- or troll-caught by Pacific Coast families, it's approved by the Marine Stewardship Council. Cost: $4.99 (6 oz.); in stores and at americantuna.com
Dave's Albacore Fillets (in olive oil) Big, firm, moist flakes and pure tuna flavor. Caught by hook and line, hand-filleted, and packed in oil. Cost: $7 (6 oz.) from davesalbacore.com 
Salmon
Redhead Wild Alaskan Sockeye Deep pink, juicy; strong, complex flavor. Just sockeye and a bit of salt. Cost: $5.29 (7.5 oz.) purealaskasalmon.com
365 Everyday Value Wild Red Sockeye Salmon Rich, briny-sweet, bright taste; juicy. Whole Foods Market's in-store brand. Cost: $2.99 (7.5 oz.)
Natural Sea Wild Premium Alaskan Pink Salmon Pink salmon is quite pale, but still juicy and very flavorful. Cost: $3.69 (7.5 oz.)
Trader Joe's Alaskan Pink Salmon Pale pink, firm, juicy. And dang, it's less than $2! Cost: $1.79 (6 oz.)
What to Look for on a Label
Country of origin Where the seafood was caught or harvested. The United States is the best choice.
Method of catch With tuna, look for troll- or pole-caught. All wild salmon–catching methods are considered acceptable and usually aren't listed.
Dolphin- and turtle-safe Catch methods cause minimal harm to other sea animals. Long lines (which can snag other creatures) are not used.
The gold star for seafood  The Marine Stewardship Council logo signifies the best (and traceable-to-the-source) choice for wild-caught fish. This international sustainable seafood organization has certified only 52 fisheries.
Quick and Easy Recipes
Wasabi crisps Toss tuna with a vinaigrette; put on a rice cracker and dollop with store-bought wasabi mayo.
Last-minute pasta Mix tuna with pasta, fresh peas, and a little cream; sprinkle with mint or dill.
Salmon chowder Simmer diced potato, corn, red pepper, and zucchini in milk with salt until tender; add salmon and basil.
Chile-salmon tacos Heat salmon with sliced fresh chiles and tomatoes, then put in tortillas with taco toppings.
Asian-style Niçoise salad Arrange chunks of salmon, boiled potatoes, hard-cooked eggs, green beans, and watercress. Dress with a vinaigrette of rice vinegar, soy sauce, and toasted sesame oil. 
Keep Reading: