First step in vinegar making: finding our mother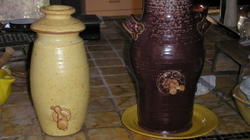 By Julie Chai, Sunset associate garden editor To season our One-Block Diet dishes, we decided to make vinegar with some of Team Win...
By Julie Chai, Sunset associate garden editor
To season our One-Block Diet dishes, we decided to make vinegar with some of Team Wine's syrah. I'd always thought that making red wine vinegar was as simple as letting an opened bottle of wine go bad…but it turns out it's not quite that straightforward.
So we looked to award-winning cookbook author Paula Wolfert—who's written about and made vinegar and is known for her meticulous research—to guide us.
We field tripped to Paula's Sonoma home for a vinegar-making tutorial and, over espresso and Valrhona chocolate, she explained why we should bother doing this in the first place: There's no good red wine vinegar on the market. Commercial manufacturers can make it quickly, so they do—which means that rich, complex flavors never develop.
Paula had several crocks of vinegar in various stages of development, as well as a cupboard filled with bottles of aging vinegar. We sampled her 2006, 2007, and 2008 vintages—they all had far more depth than any I'd tried before—and I was convinced that the only way to get good red wine vinegar is to make it yourself.
To get started, we'd need a crock, red wine, water, and a key component: the mother. The mother is essentially a starting agent, and she's a shape shifter—depending on her maturity, she can appear as a cloudy mass or a tangible liver lookalike that forms in the top of your crock. Along with her knowledge, Paula would share with us the mother that she'd gotten from a friend more than 40 years ago.
She plunged her hand into the vinegar crock and pulled out the mother, divided it into pieces, and put the pieces into small jars with a bit of mature vinegar. The mothers would be stressed from division so, when we got home, we were to transfer them to bigger jars and feed them water and wine. Then leave them to rest in a dark, warm place while they regained strength. We'd continue feeding our mothers and know they were back in action when they rose to the top of the jars.
Eventually mothers die, and sink to the bottom of the crock (you need to scoop out their remains if they start taking up too much volume.) But it's no reason to worry—a new mother will form in the old one's place.
Taking good care of our mothers is critical since they'll ultimately decide whether we get vinegar or not. If we treat them right, we should be elbow deep in vinegar in just a couple months.
Keep Reading: