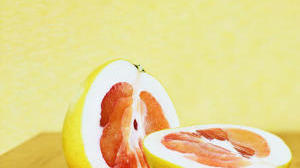 Try grapefruit's sweeter, milder cousin
In a salad: Add pummelo chunks and tiny shelled cooked shrimp to baby greens or spinach. Mix lightly with a lemon vinaigrette.
On a fruit plate: Sprinkle pummelo segments with raspberries. Drizzle with lime juice mixed with a little honey to taste.
In salsa: Mix pummelo chunks and diced avocado with lime juice, chopped cilantro, salt, and minced chiles to taste. Serve over grilled fish or chicken.
As a snack: Arrange pummelo segments, avocado slices, and a large lime wedge on a plate. Sprinkle lightly with kosher salt and cayenne (or ground dried chiles) to taste. Squeeze lime wedge over all.
How to peel and section
1. Cut ends off pummelo deep enough to reveal flesh. Likewise, cut down the sides to reveal flesh.
2. Pull fruit apart at center. Separate into sections of 2 or 3 segments each.
3. Cut thick, pithy ridge of membrane away from center of fruit sections, then carefully pull fruit segments away from thick outer membrane.
Info: Available in stores, or order from Paternoster Family Farms ($35 for about six; 559/535-4277)
Keep Reading: