Cookbook Club: The Zuni Café Cookbook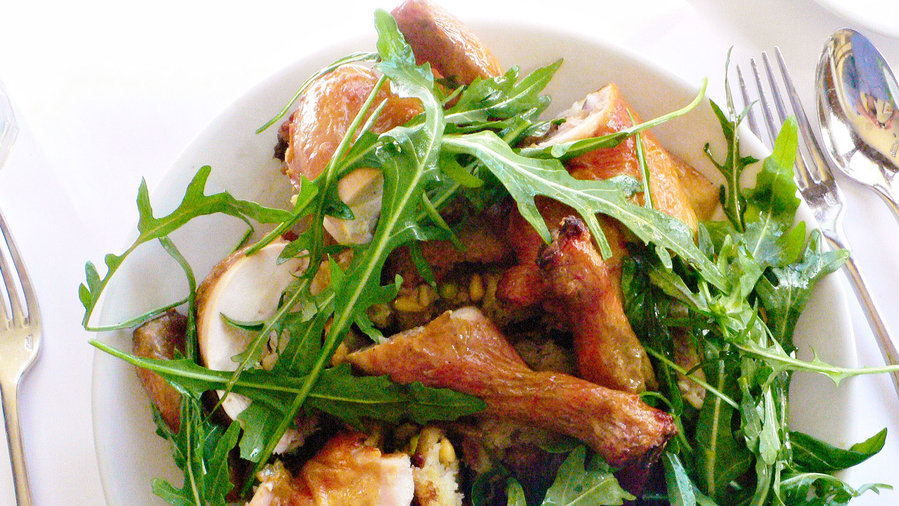 My monthly cookbook club met in February to pay homage to Judi Rogers and the Zuni Café Cookbook, and it was one of our most delicious and satisfying meals together.
It was a sad day when I learned that Judy Rogers had passed away. Rogers, chef-owner of the landmark San Francisco restaurant Zuni Café, had influenced an entire generation of diners and cooks since she began cooking there in 1987. Unlike many other successful chefs, she never expanded her operation. She focused instead on building Zuni into a world-class establishment loved by San Franciscans and out-of-towners alike. I can't count the number of times I've heard people debate their favorite signature Zuni dish: The Caesar salad? The roast chicken? Gougeres with bacon and pickled onions? When people ask me where they should eat, Zuni is always at the top of my list. Along with Alice Waters and Jeremiah Towers, Rogers was pivotal in shaping the culinary landscape of California in the past thirty years.
Rogers' Zuni Café Cookbook, which won a James Beard Cookbook of the Year Award, is one of the most beat-up books in my collection. I pull it out several times a year for inspiration because it is not just a collection of recipes. She mixes detailed instruction on techniques and ingredients with mouth-watering stories, and encourages cooks to rely more on their own senses–and to taste and adjust as they go–instead of blindly following a recipe.
We let our instincts lead us as we each prepared one recipe and then got to enjoy an entire feast with great company and conversation.
I selected Slow-Scrambled Eggs with Bottarga on Crostini. I usually try to pick a technique and/or an ingredient that is new to me. I'd never had the patience to spend 25 minutes scrambling eggs before, but these were a revelation—creamy with large curds. And a little shaved bottarga, a salty delicacy of cured fish roe, sent this super-easy appetizer over the top. Paired with a sparkling Italian Falaghina, the crostini were heavenly.
We sat down to a first-course of pillowy Ricotta Gnocchi, another Zuni classic. With no flour in the dough, these little dumplings were incredibly soft and served simply with some melted butter with sage and lemon zest.
Next up was perhaps Zuni's most beloved dish, Roast Chicken Salad with Pine Nuts, Olives and Bitter Greens. Alongside, we served Baked Artichokes with Onions, Lemons, Black Olives and Mint; and Marinated Roasted Beets.
Several hours of conversation and bottles of wine later we arrived at dessert. Thankfully, we had all saved a little room and were rewarded with decadent Chocolate Pots de Crème.
The Zuni Café Cookbook will remain forever on my bookshelf; and hey, what do you say we meet up soon for a famous Zuni Balsamic Bloody Mary?
Chef Jennifer Knapp completed her formal training at Tante Marie's Cooking School in San Francisco and, after working in restaurants such as Hawthorne Lane and The Meetinghouse, started a personal chef and catering business. She's also a popular cooking teacher who teaches throughout the Bay Area. Join Jen in exploring The Zuni Café Cookbook! Gather your friends and share notes and photos on Facebook, Twitter (@SunsetMag), or Instagram (@SunsetMag) using #SunsetCookClub. 
Keep Reading: