Blue Ribbon Tomato Pie from The Picnic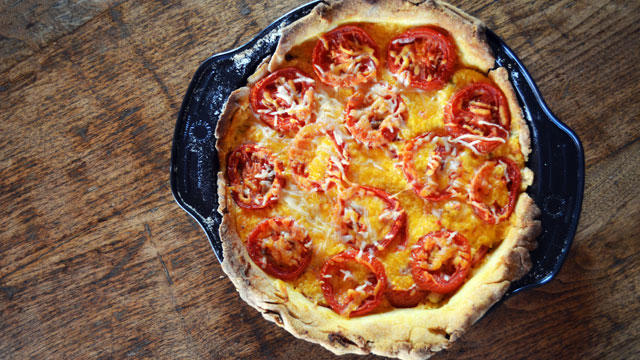 In making Blue Ribbon Tomato Pie, Associate Art Director Soni Obinger arrived at a newfound appreciation for tomatoes. I love picnics:...
In making Blue Ribbon Tomato Pie, Associate Art Director Soni Obinger arrived at a newfound appreciation for tomatoes.
I love picnics: being outside, enjoying time with family and friends, and eating yummy food is such a great way to spend the afternoon. Now, my idea of a picnic usually means buying some cheese, charcuterie, a baguette, and a bottle of wine, which is pretty straightforward and easy. I've never actually tried to make a big thing out of picnics: I just love the simplicity of it all. But I was definitely excited about the idea of participating in a fancy picnic with the Sunset Cookbook Club, so I jumped at the chance to make one of the recipes out of this cookbook!
Why this recipe? I chose this recipe because I love cheese and crust. I have a love-hate relationship with tomatoes that I can't fully describe: If they're too wet in a sandwich, I hate them. But I do love a simple tomato sauce on top of a plate of pasta or on pizza. Anyway, I wanted to try this dish because it looked pretty easy (you can use a food processor for the crust!), and it seemed like a good make-ahead dish. I actually ended up making the crust and filling—minus the tomatoes—one day, and then putting everything together and baking the pie on the day before our picnic.
What was it like to make it? Making the crust was totally easy: just flour, cornmeal, a little salt, buttermilk, and very cold butter. Rolling out the crust was a bit of a problem—I had some trouble making the pie crust completely round—but I think that had more to do with me, not the recipe. And putting the filling together was easy and simple! I loved the idea of salting the tomatoes to encourage them to give up their juices, so that the pie didn't end up soggy; I may do that with every tomato dish I make! Also, I finally learned how to core a tomato properly by watching a couple of YouTube videos. And as much as I love cheese, there was a lot of it in this recipe—in addition to the half cup of mayo—so I definitely was aware of how much I ended up eating once the pie was finished!
How did it turn out? It turned out quite tasty! As un-round as the crust was, it was really flaky and cooked perfectly. And the tomatoes, cheese, and pimentos just worked wonderfully together in the filling. We ate the pie at room temperature, and I think that's how I would eat it again, since everything melded together quite well that way.
Will I make it again? Since I brought the pie in for our picnic and my husband was very disappointed he was not able to try it, I think I will make it again!
Would I bring it to a picnic? I would especially make this pie if we were going to a potluck or barbecue. I'm not sure I would go to the great lengths our Cookbook Club leaders went through to make the perfect picnic on a regular basis, but there are great outdoor dining ideas in this book that I would use for an outdoor party.
---
BLUE RIBBON TOMATO PIE  from The PicnicServes 8
The authors of The Picnic advise: "Stick to Early Girls or Romas for this recipe; juicy tomatoes, while perfect for snacking, make for a soggy slice of pie."
Crust
1 cup all-purpose flour, plus more for rolling the dough½ cup cornmeal, preferably finely ground½ teaspoon fine sea salt6 tablespoons cold unsalted butter, cubed¼ cup plus 1 tablespoon cold buttermilk
Filling
2 pounds ripe, firm tomatoes, such as Early Girls or Romas, cored and cut into ¼-inch slices1 teaspoon fine sea salt½ cup DIY Mayonnaise or store-bought mayonnaise¼ cup drained diced pimento peppers, roasted red bell peppers, or piquillo peppers1 green onion, white and green parts, thinly sliced½ teaspoon freshly ground pepper2 ½ cups grated extra-sharp Cheddar¼ cup finely grated Parmigiano-Reggiano1 ½ tablespoons cornmeal
In the Basket:KnifePastry server
To make the crust: Put the flour, cornmeal, and salt in a food processor and pulse to combine. Add the butter and pulse a few times until the largest chunks are the size of peas. With the motor running, drizzle in ¼ cup of the buttermilk and process just until large, moist clumps form; if the dough is too dry to come together, add the remaining 1 tablespoon buttermilk. Spread a large piece of plastic wrap on the countertop and dump the clumpy dough in the center. Gather the edges of the plastic and use them to press the dough into a flat, cohesive disk. Chill for at least 1 hour.
To make the filling: Line a baking sheet with a double thickness of paper towels. Spread the tomatoes in a single layer on the paper towels and sprinkle with the salt. Set aside for about 1 hour for the tomatoes to give up their juice.
Whisk together mayonnaise, pimento peppers, green onion, and pepper in a medium bowl. Mix the cheeses together in a separate bowl. Reserve ¼ cup of the cheese mixture and add the rest to the mayonnaise. Stir together.
Preheat the oven to 400°F about 30 minutes before you plan to bake.
Roll out the dough on a lightly floured surface to a 12-inch circle. Loosely roll the dough up onto the rolling pin, then unroll it into a deep 9-inch pie dish. Gently press the dough into the corners of the dish. Fold the overhanging edges under to create a double-thick crust lining the rim of the dish. Crimp the crust by pinching the dough together with your thumb and index finger at even intervals, creating peaks and valleys. If the dough is a bit sticky, dip your fingers in flour as you go.
Sprinkle cornmeal evenly over the bottom of the crust. Arrange a third of the tomatoes over the cornmeal, overlapping as needed. Top with half of the pimento cheese, spreading it in an even layer to the edges. Repeat layering with half of the remaining tomatoes and all the remaining pimento cheese. Finish with the remaining tomato slices and sprinkle the top with the reserved cheese mixture.
Bake until the crust and cheese are golden brown, 35 to 40 minutes (check the crust halfway and tent with foil if it's getting too dark). Cool the pie for at least 1 hour before slicing and serving. It is delicious served warm or at room temperature.
Excerpted from The Picnic by Marnie Hanel, Andrea Slonecker, and Jen Stevenson (Artisan Books). Copyright (c) 2015.
Keep Reading: