Beer cheese spread from Heartlandia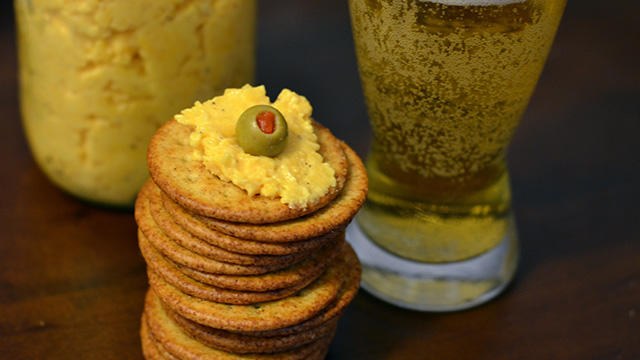 "Judy" beer-cheese spread pleases crowds at any potluck.
Craving a taste of home, Editorial Fellow (and craft beer aficionado) Caroline Hetzel whipped up the Judy, the Sappingtons' take on pimento cheese spread.
Flipping through the pages of Heartlandia, I was looking for a dish that reminded me of home. I'm from Tennessee (yeah, I work at a Western magazine), and we southerners love our pimento cheese spread.
We put it on toast, crackers, fried pickles…you name it.
Adam Sappington describes the "Judy" as a spread similar to pimento cheese. The recipe doesn't involve pimentos, but Judy does call for beer. I'm a craft beer nerd, so using Budweiser—as the book instructed—was a struggle. Pardon me for being a rule-follower, but I stuck with the recipe to the letter. But if anyone experiments the Judy by using a craft lager, I'd love to hear how the dish turns out!
My Judy tasted savory with an olive kick that paired nicely with the sharp cheddar. I recommend serving it out of a vintage glass jar for the ultimate home-style feel.
Why this recipe? 
I chose this recipe for two reasons: beer and cheese. As far as food groups go, these two win on my pyramid. I'm also an impatient non-chef who likes to nibble before dinner, so simple appetizers are my game.
What was it like to make it?
Easy-peasy. I'm fresh out of college, and I don't own a stand-mixer. That was my biggest worry as I prepared to make the Judy, since the recipe calls for one. Turns out a good-old-fashioned hand mixin' works just fine.
How did it turn out? 
Truth be told, I didn't like the spread right after making it. The texture was too creamy, and the olive taste needed more time to marinate. But that's because, as the recipe says, you need to chill the Judy in the fridge for 24 hours or more. When I tried the spread again two days later, Judy had firmed up and tasted delicious. I went back for several "second" helpings.
Will I make it again? 
I'm lazy and like to have food made for me, so I probably won't unless I'm headed to a potluck. Then I'll have a great carry-along. Judy looks adorable in a jar for picnicking.
---
JUDYMakes about 3 cups.
"Though this family recipe is similar to a pimento or potted cheese, the Sappington family version is called Judy," writes Adam Sappington. "Family legend has it that my grandpa Sappy coined the name, though no one really knows who the true Judy was."
"When preparing Judy at home, make sure you hand grate the cheese and use Budweiser beer. Finally, know that Judy is best made several days in advance; her flavor only improves as she festers."
1 pound sharp cheddar cheese, coarsely grated (about 4 cups)1/4 large yellow onion, coarsely grated1/2 cup Budweiser beer1/4 cup mayonnaise1/4 cup olive juice (from a can of olives)4 dashes Tabasco sauceKosher salt and freshly ground black pepperCrackers, for serving
1. In the bowl of a stand mixer fitted with the paddle attachment, combine the cheese, onion, beer, mayonnaise, olive juice, Tabasco, and salt and pepper to taste. Mix on medium-low speed until soft and slightly creamy, about 5 minutes.
2. Transfer the Judy to an airtight container and refrigerate for at least 24 hours or up to 1 week. Bring the Judy to room temperature before transferring to a serving bowl and digging in with crackers.
Keep Reading: