25 More Ways to Make Your Neighborhood a Community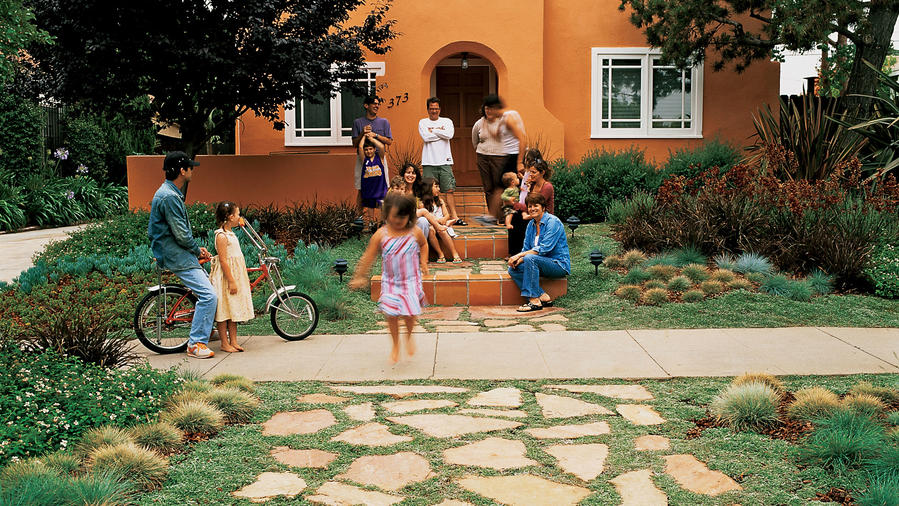 What makes a neighborhood a great place to live
When Sunset went looking for neighborhoods that are great places to live in, we collected creative ways in which residents all over the West have improved their areas, many by strengthening the bond they share with neighbors. Here are some of your best ideas.
Organize community events
1. Host an annual Southwest-style luminaria display (one neighborhood has more than 50,000 candles in bags lining its streets).
2. Combine cause and community by presenting an annual home tour to raise money for charities.
3. Organize regular wine-tasting parties. You'll be surprised at all the local sommeliers.
4. Hold small music concerts on a common green. Encourage karaoke (responsibly).
5. Sponsor a holiday celebration such as an Easter egg hunt, a summer solstice party, a Fourth of July bike parade and party, Oktoberfest with grilled bratwurst, or a Halloween block party.
6. Start a regular "Mom's night out." Wine and dine, go bowling, or catch a late-night mani/pedi.
Help each other
7. Create a new kind of Neighborhood Watch: Build a "care force" that helps out with dinners and errands when neighbors need a hand, and/or host an emergency preparedness night in which you get organized and learn about your neighbors' special skills (CPR training, etc.).
8. Schedule an annual "barn raising," at which a volunteer work crew helps neighbors with household projects, from fixing the pipes to mending a fence.
9. Share house keys with your next-door neighbors, and know whom to call in case of an emergency.
10. Encourage a word-of-mouth community network so kids know there's always someone watching over them.
11. Start a progressive dinner tradition on your block. Ask each home to serve a dish, and go house hopping until you're contentedly full.
12. Host movie nights, using a garage door as the movie screen. Alternate which home gets to pick the rental, and don't forget the popcorn.
13. Consider building a gate in fences between backyards to foster camaraderie and use for emergencies. 
Develop community spaces
14. Work with the city to convert old railroad tracks or easements into multi-use trails. Then start an urban forest. Let neighbors plant their own trees, and revisit the site to watch your work grow.
15. Establish a community garden, converting neglected public space, however small, into a pocket garden with a bench or two. Digging in the dirt together creates plenty of opportunity for bonding, not to mention some tasty fruits, veggies, and herbs.
16. Make your own playground. Take advantage of a cul-de-sac by devising a play area with a tree swing, basketball court, and plenty of room for riding bikes and skating. (Erect a yellow warning sign to let visiting vehicles know that kids are at play.)
Communicate
17. Produce a community newsletter to keep everyone informed and to build community spirit. The venture can bring together writers, artists, and designers and keep the neighborhood up to date.
18. Put up a community website and a Yahoo group site for public notices, referrals, ads, and event notices.
19. Got a swimming pool? Use a flag system to let neighbors know when their kids can join your kids for an adult-supervised swim. Green flag, come on in. No flag, don't ask. 
Create a community-friendly front yard
20. Plant a colorful perennial border between your sidewalk and the street, put a chair or bench in your front yard, then prepare to say hi to your neighbors when it becomes part of everyone's stroller route.
21. Instead of tall, narrow walls or fences that close neighbors out, build half-walls wide enough to function as a seat.
22. Plant in front of as well as behind perimeter walls. "It's like a gift to the neighborhood," one homeowner said. It also inspires adjoining houses.
23. Build a firepit in front of your house. On cooler nights, throw down some beach blankets, share a glass of wine with the neighbors, and watch the kids play. Or just settle down out front in some folding chairs on a Friday or weekend afternoon, and invite the neighbors to join you.
24. Hang a swing from your porch to get you out front and socializing.
25. Transform those big trash containers into works of art. Working with the local garbage company, one neighborhood painted its containers with scenes of tropical islands, flower gardens, a Southwest landscape―even a strawberry ice cream cone.
Keep Reading: