Three Fantasy Yurts for Yurtaholics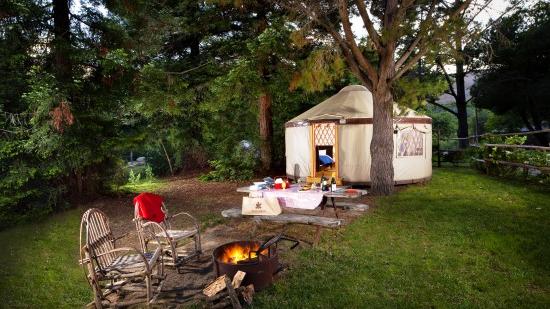 If you have a thing for yurts, here are three to check into
Are you a Yurt-aholic? If so, you probably live West of the Rockies or, possibly, in Mongolia. The symptoms of the affliction are obvious. The photo above sets you into a shivered fantasy of escape, dreaming of how to bankroll staying in that circular canvas-y utopia forever. Those not afflicted look at the above and think, "Wow, does that thing have heat? How thin are the walls? Where's the front door? The bathroom?"
For those now jonesing to know, the above is the new "Adventure" yurt at El Capitan Canyon 20 miles north of Santa Barbara.
Yurtaholics can also get their fixes at the following places:
Treebones in Big Sur
And Cave B Inn & Spa on the Columbia River Gorge in Eastern Washington, near the town of Quincy.
Yurtaholics, send us your favorite stays in comment section.
Keep Reading: