2 Superb Napa Valley Road Trips You Can Take Now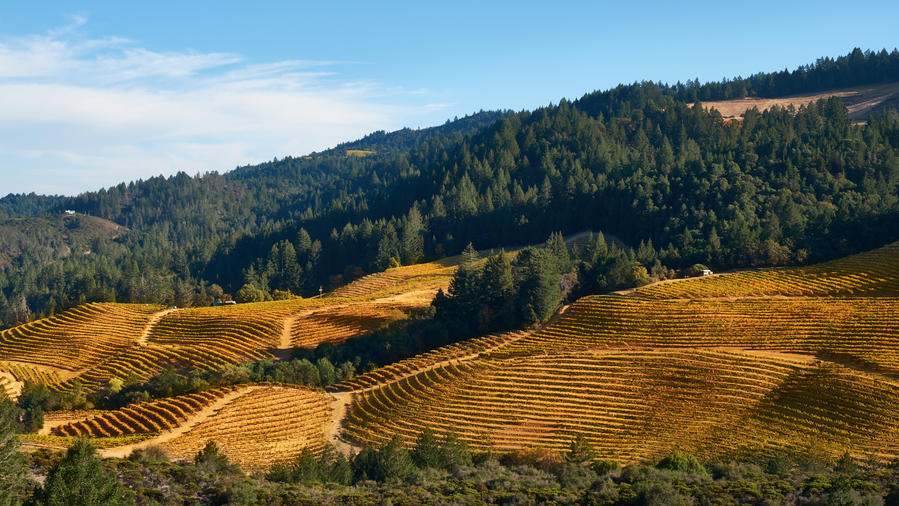 The smoke has cleared after the October wildfires, and Napa vineyards and tasting rooms are open for business. These stellar routes take you to some of the region's best spots for sipping
Most visitors coming from the Bay Area tend to start a drive around Napa Valley near the town of Napa and move up. Winemaker Kevin Morrisey's secret to avoiding the crowds (they'll eventually be back) is to start up-valley, near Calistoga, and work your way south.
The Epic Silver Trail
Starting and ending point: Meadowood Napa Valley.
Optional activities: Croquet courts at Meadowood are a twist on the normal bocce that pervades wine country. The Culinary Institute of America at Greystone is a hub of culinary workshops and events.
Drink: The necessary stops to sip in wine history are Chateau Montelena for the "Judgement of Paris"-obsessed, and then Duckhorn for the Cabs also made since the 1970s—as well as terrific Merlots. The wildfires came close to Robert Sinskey's tasting room but it was spared, so partake in the Cab from the Stag Leap's vines.
Eat: The Restaurant at Meadowood will show off one side of Chef Christopher Kostow, his more recently opened The Charter Oak another. Market is making waves for an outstandingly fresh take on comfort.
Sleep: Meadowood Napa Valley is an estate for winos/foodies: a Michelin-starred restaurant, croquet, treetop rooms, and fireplaces to warm up in front of.
A Bubbling Kitschy Trail
Starting and ending point: Calistoga.
Optional activities: Napa's other magic elixirs are the thermal waters and mud baths hubbed in Calistoga, like the DIY mud bar at MoonAcre Spa and Baths. Another pastime fave is slinging the credit card around the historic main street of Calistoga.
Drink: Remember that it's 12:30 p.m. somewhere (like the East Coast) when you sit down at 9:30 a.m. with croissants from Bouchon and Cabs and other reds from Ehlers Estate for the "Start Your Day" tasting. After, it's the drawbridge or the dungeon and torture chamber at Castello di Amorosa—with wine. Your Cade experience can be old-school at the gravity-fed winery or new-school at the LEED-certified building.
Eat: Gott's Roadside is where to quaff a Buehler Vineyards 2014 Cab alongside a Niman one-third pounder slathered with spicy gochujang mayo. Sam's Social Club is refreshingly unpretentious, with giant murals above the bar, and seating outdoors.
Sleep: The 1960s are having their day at Calistoga Motor Lodge and Spa, where Jiffy Pop explodes by the outdoor firepit and rooms come with more modern rain showers.
Keep Reading: