Where To Go This Weekend: Santa Fe's Railyard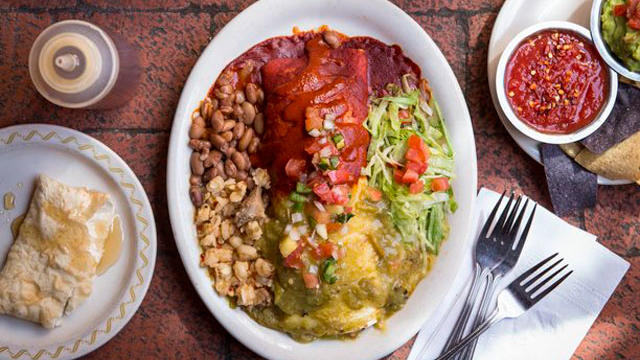 Santa Fe's one-time rail hub has come a long way in a decade. Local gallery owner James Kelly explains, "back in 1997, our neighbors a...
Santa Fe's one-time rail hub has come a long way in a decade. Local gallery owner James Kelly explains, "back in 1997, our neighbors are a lumberyard, a printing press, and scruffy warehouses. Now there's a waiting list for gallery space." These days, the city's once-gritty industrial 'hood has been reborn as a cultural mecca, offering art, movies, and farm-fresh food. We asked writer Christopher Hall to put us on the fast track to the area's best eats and experiences.
Here, his five picks for a perfect day in Santa Fe's Railyard.
1. The big gallery that could
In 1992, gallery owner Laura Carpenter began raising funds to lease a former beer warehouse in Santa Fe's Railyard—a neighborhood left behind with the locomotive—and transform the space into an art museum. Three years later, Site Santa Fe opened. In the next decade, 10 other galleries relocated here, and the area became the city's contemporary art hub. Site Santa Fe ($10; 1606 Paseo de Peralta) showcases experimental work—a giant puppet made of video screens, say, or an immersive installation featuring a 4-foot pond dug into the gallery floor. Offerings around the neighborhood might include surreal photography at Photo-Eye Gallery (541 S. Guadalupe St.), abstract mixed-media canvases at James Kelly Contemporary (1611 Paseo de Peralta), and welded mesh sculptures along-side pre-Columbian artifacts at William Siegal Gallery (540 S. Guadalupe). See it all during the monthly Last Friday Art Walk (Free; 5–7 p.m. last Fri/month).
2. Romaine and a train
Nearby, spilling from a pavilion along the tracks of the New Mexico Rail Runner Express, the Santa Fe Farmers' Market (1607 Paseo de Peralta) attracts shoppers with farm-fresh greens, cherries, and honey. You'll also find locally made pastries, artisanal coffee, and bulging breakfast burritos. Enjoy the goodies in nearby Railyard Park (Guadalupe St. at Cerrillos Rd.), a 10-acre oasis of oak-shaded paths. On Sundays, the Railyard Artisan Market moves into the pavilion, as artists sell handblown glass, clay flutes, and felted wool scarves.
3. London calling
Taking a cue from British gastropubs, Joseph's ($$$; 428 Agua Fria St. ) invites patrons to drop by for a pint and a bite or to settle in for inventive elevated fare. Chef Joseph Wrede blends Southwestern ingredients with global influences in dishes such as enchiladas layered with pumpkin, kale, corn, and East Indian spinach purée. Straight-ahead New Mexico fare reigns at homey La Choza ($$; 905 Alarid St.). Munch on blue corn tacos in the colorful, folk art–filled adobe, or head to Sage Bakehouse ($; 535 Cerrillos Rd.) for flaky croissants and housemade burrata cheese on olive toast. For creative cocktails, visit Santa Fe Spirits ($; 308 Read St.) where bartenders craft locally inflected libations, such as the Sangre de Cristo Squeeze (vodka and prickly pear juice).
4. Turquoise treasures
At Santa Fe Clay (545 Camino de la Familia), pottery fans can get their hands dirty during a weekend class or shop for ceramics crafted by the pros. Doubletake (321 S. Guadalupe), a massive secondhand store, boasts thousands of pieces of consigned Southwest jewelry, which could include anything from collectible vintage turquoise rings and bracelets to a museum-quality Zuni brooch adorned with jet and red abalone shell.
5. Films fit for a king
Tiny Jean Cocteau Cinema (418 Montezuma Ave.), a beloved art-movie house, had been shuttered for years when Santa Fe resident—and Game of Thrones author—George R.R. Martin drove past in 2013. "I thought, Someone should restore and reopen that theater," he recalls, "and so I did." The lovingly refurbished venue has hosted author events, art exhibits, concerts, magic shows, and film screenings—from Back to the Future to, naturally, a Game of Thrones marathon. To top it all off, the venue boasts a New Mexico rarity: a full bar in a cinema.
Keep Reading: