Your New Favorite Wine-Country Town: Saratoga, CA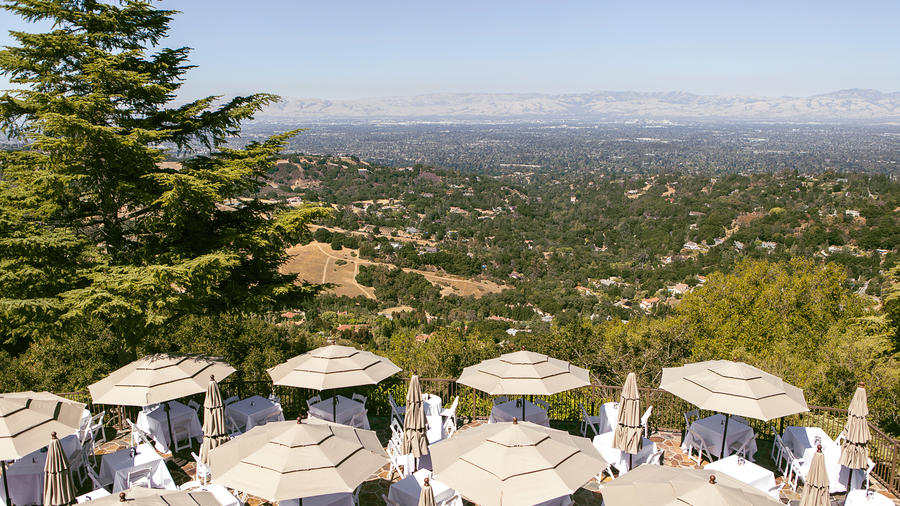 When you think of Northern California wine country, Napa and Sonoma likely spring to mind—but Silicon Valley? Probably not. The tech i…
When you think of Northern California wine country, Napa and Sonoma likely spring to mind—but Silicon Valley? Probably not. The tech industry there gets plenty of attention, but its wineries deserve just as much buzz (not to mention the Michelin-starred dining, gorgeous hiking trails, and tranquil Japanese gardens).
It helps, too, that the idyllic town of Saratoga sits right at the region's heart. It's the perfect place to unwind for a weekend—and just an hour-and-a-half drive south of San Francisco. Here are my five picks for an ideal (and surprisingly unplugged) Silicon Valley getaway.
1. Tunes with a viewGood wine, no traffic—that's what you'll find in the Santa Cruz Mountains. Four wineries in one afternoon? No problem. If you do happen to hit a string of brake lights, chances are there's an alfresco concert at The Mountain Winery, built atop a 2,000-foot-high peak. The summer music and comedy series ends with 1980s throwbacks Hall & Oates on October 16, but the winery itself is open year-round. Sample estate-grown Pinot Noir and Chardonnay on the patio, which has views reaching out to the South Bay, or take a tour and see early photos of the winery snapped by Ansel Adams.
2. Bites for every budgetDowntown Saratoga is a mix of storybook (white picket fences, 19th-century storefronts) and brag book, with some of the best restaurants in the South Bay. If you want to go big, dinner at Michelin-starred Plumed Horse is a worthy splurge. The decadent black pepper and parmesan soufflé, filled with Dungeness crab fondue, is reason enough to opt for the eight-course tasting menu. Down the street, Sent Sovi's wine lounge sets you up with a small-plates alternative, as well as 25 wines by the glass. For weekend brunch, you can't do better than shrimp and grits on the shaded front patio of Casa de Cobre.
3. Zen in the heart of Silicon ValleyLess than 10 miles away from the headquarters of Apple and Netflix is the best place to unplug on the Peninsula: Hakone Estate & Gardens, the oldest Japanese estate garden in the Western Hemisphere. The 18-acre wooded retreat has waterfalls, a koi pond, a bamboo garden, and in October, fall foliage. The gardens are planted so that there's color all year. That means flaming maples this month, flowering plums in winter, cherry blossoms in spring, and water lilies come summer. But it's not all leaf peeping. Zen meditation and karate classes were recently added, along with outdoor operas like Madame Butterfly. And earlier this year, Hakone unveiled a meditation garden, designed by a team of master landscape designers flown in from Japan.
4. Saddles and sipsAfter a 27-year career as a NASA test pilot, George Cooper needed a retirement hobby. He borrowed some vine clippings from a neighbor and started making Cabernets for family dinners. A few years later, Cooper-Garrod Estate Vineyards was born. These days, the family-owned winery produces Chardonnay, Cabernet Sauvignon, and juicy Cabernet Franc, plus a series of blends called Test Pilot, featuring pictures of aircraft Cooper once flew on the bottles. To work up a thirst, you can saddle up for an hourlong horseback tour of the vineyards and surrounding parkland.
5. An art walk in the woodsIt's a steady 1,100-plus-foot climb to Lookout Point at the Montalvo Arts Center, but you won't hear anyone at the top complaining. The sweeping views of the South Bay are worth the shortness of breath, as is the collection of modern art you'll see along the way in this 175-acre park that acts more like a hikeable open-air museum. If you're looking to take it easy, tour the gardens, 1912 Mediterranean-style villa, and redwood canyons with an art docent. Or take in a concert at the carriage house turned music hall. This month, the 300-seat venue will host jazz pianist Keiko Matsui (Oct 23) and rock and blues legend Leon Russell (Oct 24).
Keep Reading: