This Winter's First Gotta-Go Destination: Big Sky, MT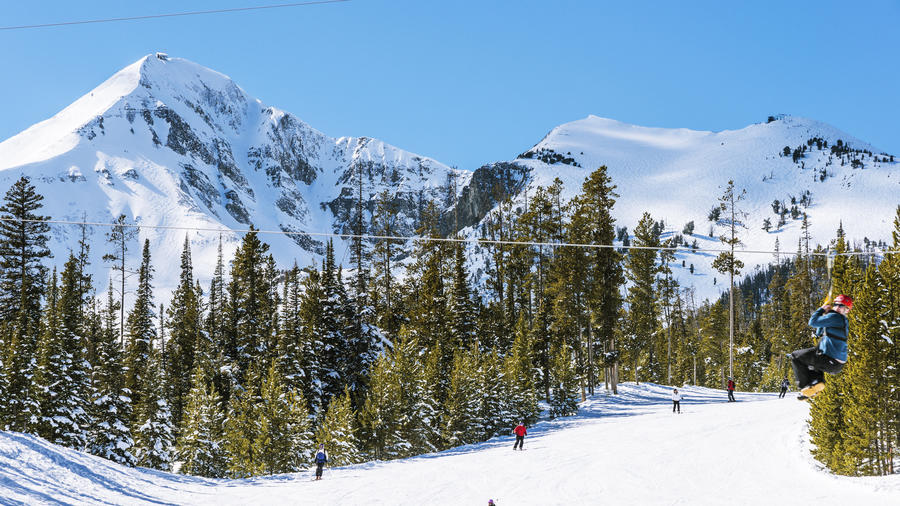 Now home to the largest ski resort in the country, Big Sky, Montana kicks off this snow season with a new performing arts center, dogsle...
Now home to the largest ski resort in the country, Big Sky, Montana kicks off this snow season with a new performing arts center, dogsledding trips, and lots of local brews. Here, writer Stephen Edwards shares his five favorite must-dos.
1. Chutes and lagersBig Sky Resort wasn't "over the hill" on its 40th anniversary; instead, it bought what was over the hill. In 2013, the resort acquired neighboring Moonlight Basin Resort and grew by 1,665 acres. That made Big Sky the largest ski resort in the United States, and now, with the start of ski season this month, powderhounds can access 5,800 acres of runs—all with the purchase of a single lift ticket. In the Moonlight Basin area, Jack Creek Bar & Grille is a friendly refueling station with 10 Montana microbrews on tap and a food menu that emphasizes local ingredients such as Paradise Valley trout served with cauliflower, kale, and almond brown butter. Big Sky: $103 one-day lift ticket; 50 Big Sky Resort Rd. Jack Creek: $$$; 66 Mountain Loop Rd.
Warming up at one of Big Sky Resort's firepits.
2. High-flying funNot everyone digs downhill turns. Thankfully, it's possible to swap skiing for the year-old Adventure Zipline Tour, a three-hour aerial assault that swoops 150 feet above the forest floor, with views of 11,166-foot Lone Mountain. If you're feeling competitive, there's a twin zipline for racing a friend. Or go old school: Spirit of the North Sled Dog Adventures has been leading half-day excursions here for 20 years. Guests take turns driving a pack of Alaskan huskies across 8 miles of rolling trails. "This isn't some flat pony ride," says owner Connie Sperry. "It's gorgeous country." Adventure Zipline: $79; 50 Big Sky Resort Rd. Spirit of the North: $135; in Moonlight Basin area.
Mush! Alaskan huskies at the ready for an outing with Spirit of the North Sled Dog Adventures.
3. An artsy après sceneNew to Big Sky is the $1.94 million Warren Miller Performing Arts Center, named after the acclaimed outdoor-sports filmmaker who lives in town during winters. The intimate 280-seat venue resides in a gutted school gym that was masterfully redesigned using state-of-the-art acoustics and LED lighting. Following a debut season with acclaimed acts like The Second City and Portland Cello Project, season two will feature Grammy winner Take 6 and the Upright Citizens Brigade. "We want to be the best skiing destination in the U.S.," says artistic director John Zirkle. "But we have to offer something different too." 45465 Gallatin Rd.
4. Pictures and piesThe town center got a one-stop date-night destination when local developer John Romney turned a vacant lot into a big-screen cinema and a gourmet pizza-and-pasta eatery. Ousel & Spur Pizza Company blends fresh mozzarella, hand-tossed dough, and local vegetables into thin-crust perfection. The popular "Montanan" pie gets topped with elk sausage, red onion, chanterelle mushrooms, and thinly sliced potato. Last year, early-bird hours were added with the opening of Spur Coffee in the same location. Now locals line up starting at 7 a.m. for Bozeman-roasted Rockford Coffee, homemade baked goods, and freshly squeezed organic juices like apple beet ginger. $$; 50 Ousel Falls Rd.
5. Snow-ready sudsThe craft-beer boom is fairly modern, but the ales at Lone Peak Brewery have Old World roots. Owner Steve Nordahl developed a palate for beer during his high school days in Belgium. When he returned to the States for college, the teen dipped below the legal drinking age, so he homebrewed instead. He later cofounded a Maryland microbrewery and then followed his family lineage west, where he helped build Lone Peak's tasting room. "Big Sky was the largest ski resort in North America without one," he says. "And it was in Montana, so that's all I needed to know to come here." The taps pour 13 beers, including cold-weather favorite Steep 'N Deep Winter Ale. "It's like a porter on steroids," Nordahl says. $$; 48 Market Place.
Lone Peak Brewery's "Brewski" tasting flight is served on a ski.
Keep Reading: