The Living Wall Extraordinaire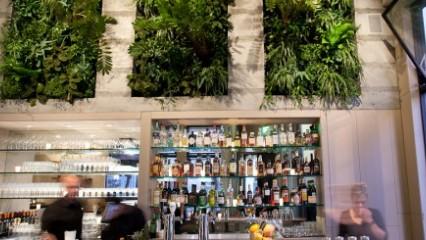 The new-ish living wall at Maven in San Francisco's Lower Haight neighborhood is the best indoor living wall I've seen. Designer Danie…
The new-ish living wall at Maven in San Francisco's Lower Haight neighborhood is the best indoor living wall I've seen.
Designer Daniel Nolan of Flora Grubb Gardens was inspired by the restaurant's rustic, artisinal, California cuisine and wanted the plants to compliment that: "I wanted it to replicate a forest floor–nothing tropical looking." So he went really heavy on the ferns and Furcrea. He even used spider plant, normally a "totally boring" choice in his words, but one that ends up mimicking grass really nicely.
The garden is irrigated super slowly from the top down, and all the water is absorbed by the time it saturates the soil. It's grown in considerably since these photos were taken. Go check it out!
Check out the time-lapse video of the installation process:
Keep Reading: