7 Star Wars-themed home gadgets and gifts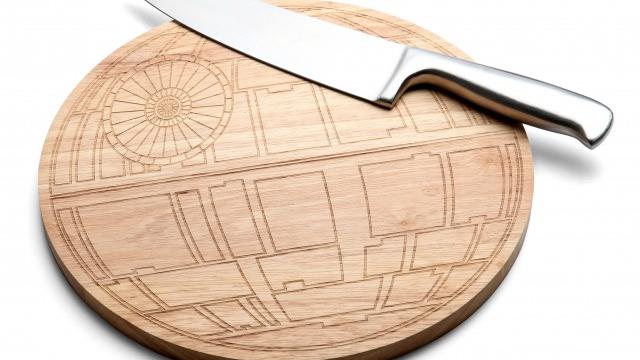 Delightfully geeky merchandise for the latest edition of the Star Wars saga is out now. Here are our favorite home gadgets and gift ideas.
Episode VII doesn't open until the night of December 17th, but with the network broadcast of the most revealing trailer yet and with ticket sales already breaking box-office records, Star Wars: The Force Awakens has started trending. And with so much of a film's success determined by its merchandise sales, the delightfully geeky merch released for the latest edition of the saga goes well beyond the classic action figures and Luke Skywalker sheets. Get your family's wish list ready with seven of our favorite Star Wars–themed home gadget and gift ideas.
1. Death Star cutting board
That's no moon—it's a space station–shaped cutting board. Get caught in the tractor beam of this Death Star cutting board, and let it reel you into kitchen prep. Also available in an Empire-outrunning Millennium Falcon shape. $30; ThinkGeek.
2. Death Star chip-and-dip bowls
Your party will be fully operational when you crack this Death Star chip-and-dip into two halves and fill them to the brim with salty snacks. When the bowls are empty, click the halves together and stick the Death Star replica on an open shelf for a conversation piece. $14; ThinkGeek.
3. Light saber BBQ tongs
Don't use the fork, Luke—reach for these light saber barbecue tongs when grilling. $35; Amazon.com.
4. Darth Vader toaster
Help your bread turn to the medium-dark side with this Darth Vader toaster. $50; Target.
5. Darth Vader showerhead
See eye to creepy eye with Lord Vader with this handheld showerhead, which uses the force of oxygen to propel its 2.0 gpm water flow rate. Also available in an R2-D2 shape, if it's a droid you're looking for.  $30; Bed, Bath & Beyond.
6. Millennium Falcon bed
Tuck your adorable rebels into a twin-size Millennium Falcon cockpit bed, which doubles as a playhouse—which may help justify its price. $4,000; Pottery Barn Kids.
7. Retro travel posters
Like Disneyland's Star Tours crossed with the midcentury-mod set design of Tomorrowland, these retro travel posters are a more subtle nod to an obsession that began a long time ago in a galaxy far, far away—and now crosses several generations of fans. From $45/set of 8; TeacupPiranha on Etsy.
Keep Reading: