Sunset's Favorite New Restaurants of 2014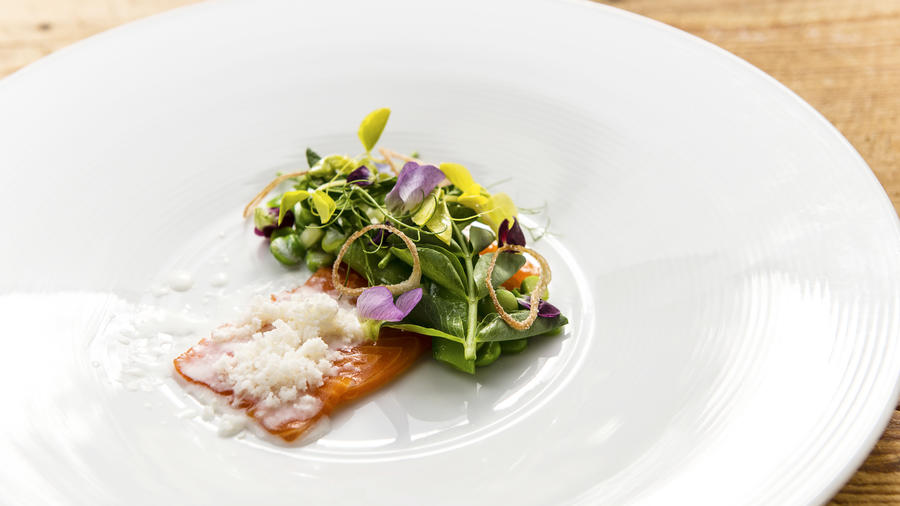 Christmas cookies, holiday lights, good excuses to listen to Mariah Carey... Oh, there are many, many things I love about this time of ye...
Christmas cookies, holiday lights, good excuses to listen to Mariah Carey… Oh, there are many, many things I love about this time of year. But the best part? To me, it's the flood of year-in-review lists. Yep, I mean it. I hands-down love all those tallies cataloging critics' favorite books, movies, whatevers of the twelve months prior. They let you feel nostalgic for the year that's passed and give you plenty to look forward to in the one to come. I often earmark them to use as fun to-do lists in lieu of resolutions. (Vowing to try a new pizza joint is way more enjoyable than the standard I-will-lose-weight New Year's Day promises.)
With that in mind, we thought we'd extend the trend into Sunset's pages and bring you some best-of lists of our own, starting today with… (drumroll…): Our Top 20 Favorite New Restaurants of 2014!
See below for our picks—and be sure to tell us in the comments section if we left one of your favorites off our list. Later this month, we'll be bringing you a post on our favorite new bars of 2014, too. But for now, without further adieu—and in no particular order—here are our 20 favorite new dining destinations of the year.
---
1. Upscale TV dinners in Beverly HillsYou might recognize Aussie chef Curtis Stone (pictured below) from television shows like The Celebrity Apprentice and Top Chef Masters, where he became something of a culinary heartthrob. But until now, few on this side of the Pacific had tasted his food. Named for his grandmother, his new Beverly Hills prix fixe spot, Maude (212 S. Beverly Dr.), is his first restaurant as owner. You'll practically be able to pull up a chair at the table with him in this intimate 25-seater. Each month, Stone chooses one seasonal ingredient (peas in April, morels in June, tomatoes in September) and challenges himself to include it in each of his tasting menu's nine courses. Think of it as cooking-competition show meets fine dining—or a good excuse to return each month.
2. A taste of history in AnaheimFor decades, the 1919 citrus-packing plant in this Orange County hub sat empty. But then Shaheen Sadeghi—the local entrepreneur behind The LAB and The Camp, Costa Mesa's trendsetting outdoor shopping centers—set his sights on renovating the Spanish colonial landmark. "It's a huge part of our cultural history," Sadeghi says. In May, after four years of overhauls, it reopened as the Anaheim Packing House (440 S. Anaheim Blvd.), a food hall with kiosks for local produce, meats, cheeses, and chocolates along with mini restaurants serving everything from Korean hot pots to waffle sandwiches. As with all of Sadeghi's projects, the charm is in the details: Vintage Sunkist labels and orange trees in wooden planters reflect the House's heritage.
3. Truckee, California's impressive new trioOkay, so this one's a three-way tie. Locals have griped for years that this Lake Tahoe ski town needed something—anything—besides Mexican food and pub grub. This past winter, three new restaurants granted that wish. Spice (11421 Deerfield Dr.) serves quick, cheap Indian street food, like curried sausage on naan and shrimp pakoras on roti. At Morgan's Lobster Shack (10089 W. River St.), folks line up for hot chowder and a West Coast twist on the lobster roll, with chunks of avocado and a hit of Sriracha. And despite the name, Marg's Taco Bistro (10164 Donner Pass Rd.) goes way beyond Mexican with Vietnamese bánh mì tacos and Korean pork tacos. 
4. Portland's loveliest lunch spotOur food editor Elaine Johnson discovered a standout cafe on a recent Northwest trip:  "I am totally enchanted with Maurice (921 SW Oak St.) in Portland, a sweet slip of a French pastry luncheonette near Powell's Books," she says. "It's narrow, all white inside, and very lovely. But the soundtrack of perky French jazz, bossa nova, and the like keep it upbeat and humming. The lunch offerings are on the light side, which is perfect because you really must save room for at least one dessert, preferably more. (Bring friends.) Hanging out there one afternoon sipping tea and nibbling my open-face goat cheese-raw beet sandwich on toasted spelt bread, followed by a warm, poofy Meyer lemon soufflé pudding, I decided I could get used to this life!"
5. Venice's boulevard of culinary dreamsFirst, Abbot Kinney Boulevard exploded. Then Rose Avenue was reborn. Now, if Superba Food & Bread (1900 S. Lincoln Blvd.) owner Paul Hibler has his way, nondescript Lincoln Boulevard will be the next Venice strip in the spotlight. He's off to a good start with Superba. Executive chef Jason Travi—formerly of Spago Beverly Hills—oversees the menu, which includes an upscale take on the breakfast sandwich (linguiça, slow-cooked egg, and braised kale on a housemade bread), plus daily dinner specials: rotisserie-cooked rib-eye on Saturdays and fried chicken on Sundays. From 8 a.m. to 2:30 p.m. daily, the bakery produces fresh-from-the-oven loaves and croissants, while at a walk-up window, baristas serve cold-brewed coffee and espresso, made from Stumptown Coffee Roasters beans.
6. Little Italy's big catchThe team behind some of San Diego's most innovative cocktail bars (Craft & Commerce, Polite Provisions) has set its sights on serious cuisine with Ironside Fish & Oyster (1654 India St.), an ambitious new restaurant, raw bar, and bakery in a former warehouse in Little Italy. Executive chef Jason McLeod earned two Michelin stars at upscale Ria, in Chicago, but at Ironside, he's aiming for approachable takes on seasonal seafood, from whole golden-spotted bass from Baja, cooked a la plancha, to scallop ceviche with fresh citrus, pickled tomatoes, avocados, and olives. The restaurant's nautical decor includes a live lobster tank, a wall decked out with 3-D piranha heads, and copper and brass light fixtures. The best seat in the house is at the bakery bar—a 26-foot-long solid oak table where you can watch the pastry chefs make buttery brioche buns for lobster rolls and spelt loaves spiked with salty toasted seaweed.
7. North Beach's best bar bitesIs the tide finally turning in North Beach? For years the San Francisco neighborhood's dining scene has survived on sauce-and-carb joints for the bridge-and-ferry crowd. Then came Comstock Saloon and Park Tavern, and more recently the reborn Tosca Cafe, adding a touch of sophistication to the mix. The Square (1707 Powell St.) is the latest restaurant to ride the wave. Chef-owners Teague Moriarty and Matt McNamara trot out American bistro classics composed with the same high-minded focus that earned their first restaurant, Sons & Daughters, a Michelin star: halibut crudo with pickled ramps and artichoke purée; baby back ribs prepared sous vide, then slathered in a bright Moroccan chermoula sauce. Creative cocktails (like a calvados and a Cynar-fueled Manhattan) flow at the busy bar, and two large communal tables keep the vibe loose, especially as the night goes on … and on. The Square serves dinner until 1 a.m. Which would be late anywhere other than North Beach.
8. Bernal's tasty buzzJeff Krupman, aka the Pizza-Hacker, famous for making pizzas in a souped-up Weber grill and selling them on San Francisco streets until the Man chased him down, has opened a brick-and-mortar restaurant on the fringes of Bernal Heights. We're pleased to report that his venture, PizzaHacker (3299 Mission St.), lives up to its name. The space has a distinctly ad hoc air, with orange biergarten tables and a menu written in chalk. The pizza crust, too, departs from the expected: Is that salt we taste? Yes, smoked salt, in fact. With the addition of heirloom tomatoes, house-pulled mozzarella, and fresh basil, the Top-Shelf Margherita easily holds its own against any pie in the city. And recently, nettles were found sharing a pizza with housemade lamb sausage and a strong chile kick. The heat goes on, one way or the other. 
9. Portland's one-of-a-kind keg partyWhen the winery and restaurant Coopers Hall (404 S.E. Sixth Ave.) opened in industrial-chic eastside Portland in April, the sheer number of wine taps (35) was the big news. (So was the size of the place itself, a onetime auto-body shop.) But to us the real draw is that "wine curator" Joel Gunderson (right) is bringing in exclusives—that is, wines from vintners who weren't supplying kegs to other restaurants. "My line to winemakers is 'You don't need to start a keg program!'" Gunderson will visit a winery, taste what's aging in the barrels, and buy one to take back with him, before it's blended with other barrels and bottled. Which means that what you drink with your soy-glazed chicken at Coopers Hall may be very different from what ends up on the wine-shop shelf, and never again repeated. Now that's exclusive.
10. San Francisco's upscale spiceShe made her bones with carriage-trade French food (San Francisco's Jardinière). Next, she explored her Mexican heritage with her popular Mijita taquerias. Now, chef Traci Des Jardins is conquering S.F.'s Presidio. In May, she and the Presidio Trust opened The Commissary (101 Montgomery St.), carved out of a brick barrack facing the Main Post Lawn. Des Jardins calls the menu Spanish-accented Californian: "Not only is there a connection between the ingredients of the two places—sardines, anchovies, squid—but you can't drive across the Golden Gate Bridge without thinking about the Spanish influence on the area."
11. Laguna Beach's taste of the seaOpened in June in the former home of longtime character actor Slim Summerville, Driftwood Kitchen has coastal-inspired dishes like buttermilk fried soft-shell crab. Slim's onetime library is now a whiskey bar called the Stateroom. The Driftwood gives beach-trippers even more reason to visit Laguna Beach. The waterfront town on the Orange County coast just south of splendid Crystal Cove State Park, between Newport Beach and Dana Point, is separated from Interstate 5 by a rugged canyon and state park land, so it feels less like a part of the SoCal sprawl. The town has long been an artists' enclave, and downtown comes alive during the First Thursdays Art Walk, when galleries stay open and the Laguna Art Museum offers free admission.
12. Garden-to-table bites on Lummi IslandFor the past few years, anyone looking for a first-rate farm-to-table meal on Lummi would have been directed to Willows Inn, one of the isolated island's few businesses, where chef Blaine Wetzel has won major acclaim for his pricey feasts. The inn's owners also run the Beach Store Cafe (2200 N. Nugent Rd.) as well, serving locally grown goods in a down-to-earth atmosphere. Here, since May, Seattle chef Seth Caswell, who'd built a national rep for seasonal dining, has been frying fish (caught nearby), baking fingerling pizzas with artichoke purée (in the cafe's Wood Stone oven), and preparing casual dishes like burgers (made with grass-fed beef) and fries (dipped in tomato-caper sauce). Produce comes from the garden the cafe shares with the inn, and the two eateries collaborate on sourcing other items, from island-raised lamb to reef-net salmon. At the Beach, no reservations are required, and diners can expect happy hour specials and occasional live music. Caswell, whose résumé includes Emmer & Rye, in Queen Anne, and a stint as executive chef at Google's Kirkland campus, said he's thrilled to be making food for locals as well as island visitors. "It's a good-time kind of place," he said of the cafe—and Lummi itself. "I'm as off the grid as you can be while still working a job."
13. Downtown L.A.'s even grander central marketThe produce stands and meat vendors that have anchored Grand Central Market (317 S. Broadway) for 96 years now share the space with a slew of new eateries offering upscale lunch-counter fare, Thai street food, and pour-over coffee. The newcomers are part of a foodie facelift meant, over the next year or so, to make sure the institution better represents the city's varied culinary culture. Now, diners can hit up Sticky Rice for the rotating menu of curries, Valerie for the Brown Derby Cobb Salad, the seafood bar at The Oyster Gourmet, and the Texas-style barbecue pit at Horse Thief.
14. San Diego's best burgersAfter massive culinary success in Atlanta, Top Chef: All-Stars winner Richard Blais packed his knives for San Diego's Little Italy, where in March he opened his new restaurant, Juniper & Ivy (2228 Kettner Blvd.), in a 1920s sawtooth-roof warehouse. Trading in the whizbang molecular gastronomy that earned him legions of foodie fans on television, Blais has allowed his cross-country move to shape his cooking. He's dubbed his rotating seasonal dishes "Left Coast" cuisine, a play on both the menu's progressive experimentation and its Pacific Coast sourcing. His cleverest nod to California cuisine is unlisted, however: Be sure to ask your server about the secret, off-the-menu In-N-Haute Burger, made with a special blend of ground short rib, brisket, and chuck mixed with dry-aged beef fat and served with bread-and-butter pickles, mustard-grilled onions, and special sauce on a brioche bun—a tastier take on the fast-food classic.
15. Playa del Rey's four-in-one feastA speakeasy sharing space with an ice cream shop? It might sound like a stretch, but at Playa Provisions (119 Culver Blvd.), the combination works. The brainchild of Top Chef runner-up Brooke Williamson and her husband, Nick Roberts, the multi-indulgent spot includes Grain, a whiskey bar featuring classic cocktails; Small Batch, a sweets purveyor with housemade ice cream and popsicles; King Beach, a counter market for breakfast and sandwiches; and Dockside, a seafood-centric sit-down restaurant—all in one 7,000-square-foot space. Provisions opened in May, on a sleepy corner directly across from the beach and just a few blocks down from Williamson and Roberts's popular gastropub, The Tripel. Provisions' spot not only takes advantage of its oceanside setting, with walls of windows and plenty of outdoor seating, it also has fun with it: At Dockside, the Fried Crab Claw Pop consists of deep-fried crabcake impaled on the end of a crab claw, and at King Beach, the Shark Attack cupcake features ocean blue frosting and a candy shark fin.
16. The best mess hall in the BayDon't expect to find chipped beef or military MREs at the Officers' Club's new eatery, Arguello (50 Moraga Ave.). Named after the Mexican governor who once ruled Northern California, Traci Des Jardins' restaurant serves fish tacos and squash-blossom quesadillas in a publike dining room (beamed ceiling, reclaimed-wood tables) and on an adjacent heated patio. Just beyond the patio, you'll find Earth Wall, the third and latest Presidio installation by artist Andy Goldsworthy: a ball of roots seemingly excavated from a stucco wall.
17. Pioneer Square's picnic-to-go purveyorChef Matt Dillon gives downtown Seattle business folks little reason to bring lunch to work, and commuters good reason to stick around for dinner. In addition to his wildly popular Pioneer Square restaurant, Bar Sajor, this summer Dillon opened The London Plane (322 S. Occidental Ave.)—not to be confused with The Little London Plane, his wine bar and event space on the other side of Occidental Plaza. The London Plane (named for the trees on the plaza) is part cafe, part marketplace, part flower shop—and all very European-feeling. The corner building is so bright and cheerful, with touches of wood and pops of floral color, that you can hardly tell it was once a bank. Swing by for a pastry (we recommend the croissant or the gateau Basque) or a bouquet of chrysanthemum and pine branches (Katherine Anderson of Marigold and Mint is one of Dillon's partners). Stay for a midday salad of winter greens and a housemade cranberry soda. Dinner is its own experience: From Wednesdays through Saturdays, a daily-changing menu (chicken, pasta, fish, or couscous) for two is $69.
18. San Francisco's new meat upIn a large corner space in Nopa that used to house a throwback barbecue shack, we now have 4505 Burgers & BBQ (705 Divisadero St.). And at the brick pit is Ryan Farr, a classically trained chef from Kansas City, sharing his updated views on 'cue. For all its tributes to tradition—smoldering spare ribs, brisket, and other slow-cooked standards, served by the pound on metal trays with white bread and pickles—the menu draws freely on contemporary currents. The meat is of pristine pedigree, the grass-fed burgers are house-ground, and the familiar fixings are joined by fashionable sides like tallow-bronzed french fries with lemon-parsley aioli and chimichurri sauce. Inside seating is scarce, but there's plenty on the patio, where picnic tables fill up fast with tattooed patrons, a tailgate party for the urban set.
19. Half Moon Bay's best piesDining has always been a dicey proposition in this NorCal town, the main options being high-end hotel fare or fried fish from a walk-up window. In March, two Italian immigrants opened Via Uno (2810 State 1/Cabrillo Hwy.), where they installed a big wood-burning oven that turns out terrific pizzas. Try the capricciosa, with artichokes, mushrooms, olives, and Italian ham. Crisp-skinned grilled seabass on fennel is good too, especially when paired with a dry white from the Old World–heavy wine list.
20. DJ-driven dinners in Mill ValleyAt Molina (17 Madrona St.), a sweet and intimate North Bay newbie, chef-owner Todd Shoberg doubles as a DJ, spinning vinyl in his open kitchen while turning out winning ingredient-driven dishes with nothing but a fryer and a wood-fired hearth. The evening's playlist is printed on the menu, whose flip side spotlights the season's finest: pink-centered rib-eye, seared in a cast-iron skillet and plated with morels and roasted potatoes; bountiful cioppino, with shellfish, corn, and salmon in a shallow bath of fennel-scented broth. Although the restaurant's farm-fresh themes ring largely familiar, much like the records that Shoberg plays, the crispness of the cooking and the personalized setting make Molina a novel riff on California cuisine.
Keep Reading: