Sunset's Favorite New Bars of 2014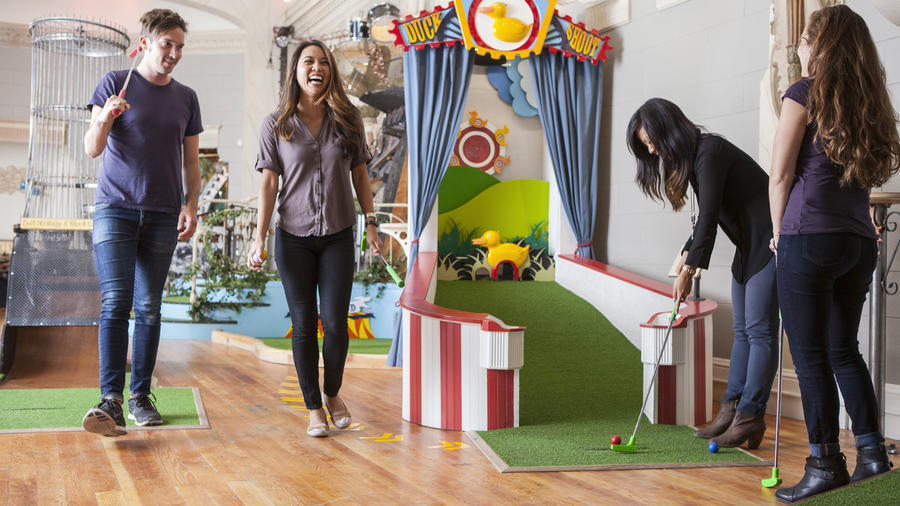 As 2014 rolls to a close, the staff at Sunset has been looking back on the year that's passed and celebrating our favorite openings ac...
As 2014 rolls to a close, the staff at Sunset has been looking back on the year that's passed and celebrating our favorite openings across the West. We tallied the new restaurants we enjoyed most and, now, we're looking at 2014's greatest bars, the pubs, cocktail lounges, and breweries most deserving of repeat sipping trips.
If you've already raised a glass at one of our 10 favorites, we'd love to hear how you liked it, in the comments below. If not, then print this story out and use it as a to-go guide in 2015. Cheers to that!
In no particular order, here are Sunset's 10 favorite bars of 2014:
---
1. Pinball wizardry in Downtown L.A.Best friends since first grade, Scott Davids and Noah Sutcliffe grew up going to arcades and playing Nintendo together. Hanging out was what made it great, Sutcliffe says, but these days, "playing video games is something you do alone. We wanted to bring that social aspect back to gaming." Enter EightyTwo (707 E. Fourth Place), an arcade for grown-ups that the pair opened in March, in downtown L.A.'s Arts District. Classic games from the 1980s—Donkey Kong, Centipede, and Street Fighter II, all from Davids's personal collection—share space with vintage pinball machines. The bar serves craft cocktails named after arcade characters like Princess Peach (Super Mario Bros.) and Pinky (Pac-Man), and local DJs spin a soundtrack every night. The warehouse feel of the interior is offset by a cozy, tree-covered outdoor patio. Better still, you no longer have to beg Mom for your allowance; two old-fashioned change machines provide all the quarters you need.
2. Suds-to-surf in Huntington BeachThree years ago, Glenn Closson was brewing beer in a buddy's garage when he came up with a name for the brewery he hoped to open someday: Beach City Brewery (7631 Woodwind Dr.). He considers it plain good luck that he was able to make that daydream a reality in the quintessential beach town, Huntington Beach. It's the city's first production craft brewery, and it leaves no question about its coastal spirit. The beers sport names like Hang Five IPA, PCH Pale Ale, and Overcast Summer Wheat, and beach-themed paintings by local artists decorate the laid-back tasting room. Even the tasting flights get the Surf City treatment: Called the Funboard (four pours) and the Longboard (eight), they are served on wooden platforms shaped like surfboards.
3. San Francisco's putt-putt pubFor years, Steve Fox  hosted crazy, artsy miniature-golf parties at his San Francisco home. Then it finally dawned on him: Indoor putt-putt was just what the city was missing. So last spring, Fox opened Urban Putt (1096 S. Van Ness Ave.) in the Mission District, the city's first and only miniature-golf course. Here, the founder and "chief greenskeeper" talks techie holes, haute-cuisine corn dogs, and how miniature golf is just the thing to get adults to power down and play together. "We found an old mortuary that was perfect, so we turned it into a 2,300-square-foot, 14-hole course with cocktails. People thought it was a great idea, but that I was nuts to do something of this scope… If you're going to do business in San Francisco, the food has got to be good. That's just a given. We're turning classic amusement-park fare on its head. The menu has a little bit of a boardwalk feel to it, but for an S.F. palate. Fried chicken and waffles; poutine duck confit; and we've got corn dogs, but they're local and organic."
4. Fremont, Washington's cider houseThis past September, just in time for the autumn apple season, the nearly two-year-old Schilling & Company cidery opened Schilling Cider House (708 N. 34th St.), a bar near the bottom of Fremont Avenue that carries hundreds of bottled ciders and 32 ciders on tap—including, of course, the cidery's own dry-hopped hard ciders, made with Washington apples. Dating back about 100 years (note the gleaming Douglas fir tables, salvaged from a torn-down wall), the cavernous space serves as Schilling's new taproom; it also houses a cider growler-filling station. (Although refilling growlers with beer has been legal in Washington for ages, the state passed a law allowing cider growlers only last March.) Be sure to try Schilling's ginger cider—it's spicy, which is only appropriate, given that owner Colin Schilling's great-great-grandfather started the Schilling Spice Company.
5. Oakland's garden of eatingForget burgers and brats. Lost & Found (2040 Telegraph Ave.), a lively beer garden in Oakland's booming Uptown District, aims for something a little more sophisticated than the standard brewpub grub. To complement a lengthy list of lagers and stouts, the kitchen turns out playful beer-friendly dishes like kimchi deviled eggs, crispy pig's ears with sambal aioli, and braised beef with charred onion dip, cupped in butter lettuce leaves. Substantial sandwiches (like the soy miso braised pork with giardiniera) are also available inside, by the bar, or out back on the patio—where you'll also find lively games of cornhole and ping pong. No matter where you sit, don't look for silverware. Everything, from the fried ramen funnel cakes to the skewers of roasted beets, is meant to be eaten with your hands.
6. San Francisco's happy hours spotWhip up artisanal cocktails for the after-work crowd, and you've got the makings of a cheerful happy hour. Add the city's best charcuterie, and it becomes euphoric. Trou Normand (140 New Montgomery St.), the South of Market hot spot from the Bar Agricole team, is open for breakfast and lunch too, but it really hits its stride as the day winds down. Think house-cured Tuscan salami with a Tequila Cocktail, or fennel-scented coppa with a Corpse Reviver #1, a beautiful libation that blends armagnac, calvados, and vermouth. The kitchen also deals in delicious entrées—grilled trout with salsa verde, braised pork meatballs in vibrant tomato sauces—so you've got cause to stick around as happy hour gives way to evening.
7. Seattle's major parking-lot upgradeThis summer, the crazy-popular tavern in Capitol Hill formerly known as Von Trapp's—last month, it was renamed Rhein Haus (912 12th Ave.; (206) 325-5409)—converted its north parking lot into a biergarten with seating for 60, a full bar, and a bocce court. We recommend the new Käsekreiner (smoked pork sausage made with emmenthal cheese).
8. Sips through time in San FranciscoA robot builder and rock climber in his free time, Sausalito-based Alexander Rose has a cool day job as well: executive director of The Long Now Foundation, the nonprofit behind such quirky-yet-visionary projects as the 10,000 Year Clock. Its most surprising venture, though, may well be The Interval (2 Marina Blvd.), a cafe-bar that opened this spring in Long Now's Fort Mason HQ. It may well be the Bay Area's most unusual watering hole, a waterfront spot where cocktails and enlightenment mix. "If you look at the 10,000-year history of civilization—which is what we do at The Long Now—it's intimately intertwined with alcohol," says Rose. "Some say the reason people stopped being nomads is that they wanted to ferment stuff. Then there's the counterargument, which is that they stopped moving and then things started fermenting. Our menu is really a timeline of alcohol and civilization. For example, the Midas Touch, from Dogfish Head Brewery—it's a 3,000-year-old recipe pulled from Midas's tomb."
9. Venice's tea totalersIf the macho name doesn't tip you off, one glance inside Gunpowder (202 Main St) will make it clear: This is no doilies-and-lace cliché. Opened in March, the cafe completely redefines the idea of a tea shop: It stays open until midnight, and the menu sways far from Earl Grey fare. Gunpowder features a "super-herb" from the Amazon called guayusa (pronounced gwhy-yoo-suh), which is roasted with dandelion, chicory, and cacao, then combined with agave and coconut milk to create the Gunshot Latte. (A drinks spot needn't serve alcohol to land a spot on our list!) The space has a rebellious vibe, thanks to a patch of real grass, a pair of Adirondack chairs, and an indoor rack for hanging skateboards—this is still Venice, after all.
10. Costa Mesa's wine capitalOrange County enophiles had reason to cheer when Laguna Culinary Arts, which closed its doors in February, resurfaced in May as LCA Wine (3315 Hyland Ave.) in Costa Mesa's bustling SOCO shopping district. Half school, half shop, the reincarnation retains the original's blend of friendliness and deep wine knowledge, particularly in its classes, which range from short introductory sessions to certification seminars for aspiring sommeliers. This month, you can take a three-day course on Basics for Consumers ($175; Oct 7, 14, and 21) or concentrate on Big and Bold Full-Bodied Whites and Reds in a one-day intensive ($30; Oct 9). In the shop, you can browse the selection of bottles from around the world or head to the bar for the daily tasting: one wine for $2 on weekdays and four wines for $5 on Saturdays.
Keep Reading: