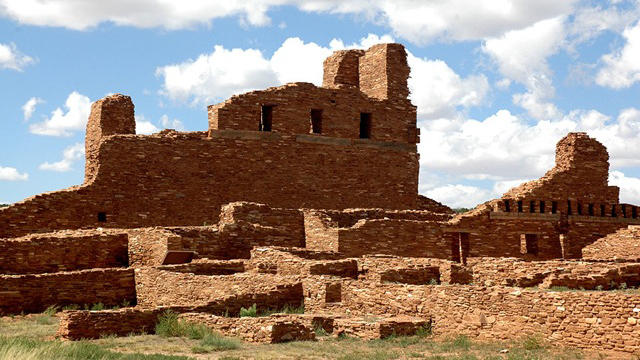 Courtesy of New Mexico Tourism Department
Discover old towns―and older churches―near Albuquerque
Pack a picnic and celebrate spring beside central New Mexico's dramatic, often-overlooked Spanish mission ruins. Looming up from the windswept Estancia Basin, the multistoried remains of three 17th-century churches―each built on an ancient pueblo site and scattered within a 50-mile radius―compose the Salinas Pueblo Missions National Monument. The best preserved, Quarai, and the smaller Abó make a leisurely day trip from Albuquerque. (The third mission, Gran Quivira, is farther out and better visited on a separate trip.)
Turning south onto State 337 from Interstate 40 east of Albuquerque, the scenic road winds past the old foothill villages of the Manzano Mountains. Tajique, Torreon, and Manzano each have a community church (Our Lady of Sorrows in Manzano dates to 1829) and weathered adobe houses.
At Punta de Agua, drive 1 mile west on Manzano Quarai Road to the visitor center. From here it's an easy 1/2-mile walk along the self-guided Mission Trail to the red sandstone ruins. Built in 1630 by Franciscan missionaries using native laborers, the towering, mostly intact church still evokes the turrets of a medieval Spanish fortress. The site was abandoned around 1672, as were Abó and Gran Quivira, when the people were driven out by famine, disease, and Apache raids. Tables beneath huge cottonwoods provide perfect picnic spots.
If you don't picnic, head to Mountainair's Kowboy Kafe  ($; 104 E. Main St.; 505/847-0950) for tasty tacos and red chile-smothered enchiladas. Located in the old Shaffer Hotel, its brightly colored 1920s pueblo deco ceiling was fashioned by Pop Shaffer, a local blacksmith. While in town, swing by Cibola Arts  (closed Mon; 217 Broadway; 505/847-0324) for sculptures and other work by local artists.
Abó is 9 miles southwest of Mountainair. Piercing the sky, the towering, deep red church wall is particularly beautiful―and photogenic―near sunset, when beams of light wash the ancient sanctuary in gold.
MISSION ROUTE: Abó is 81 miles southeast of Albuquerque. Entry to all three mission sites is free. Visit www.nps.gov/sapu or call 505/847-2585 for more information or for directions to Gran Quivira, which is 26 miles southeast of Mountainair on State 55.