This Former Mining Hotel Just Went on the Market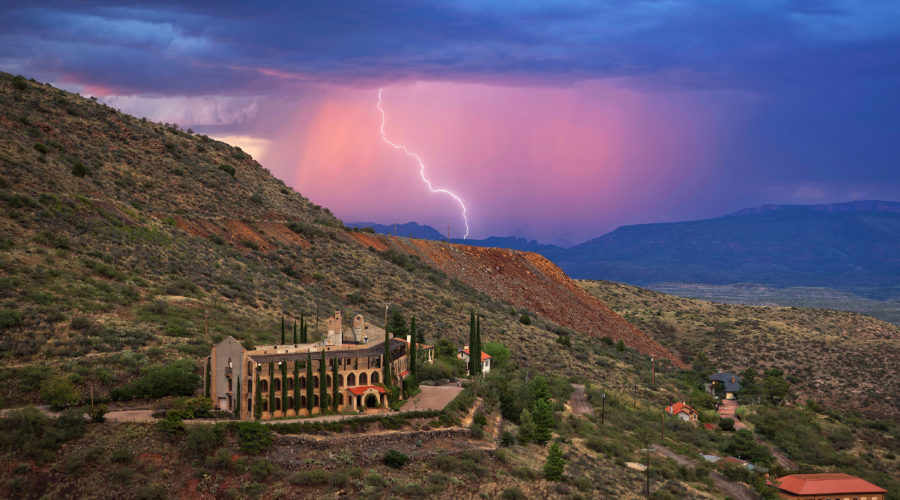 Courtesy of Little Daisy Hotel
$6.2 million will buy you a grand slice of Arizona history
The thought of living in a 1919 former hotel in a small Arizona mining town sounds more like a setting for a movie than a real-life slice of realty, until last week, when Russ Lyon Sotheby's International Realty announced its newest listing.
The Little Daisy Hotel, an Arizona landmark that once welcomed miners and travelers to Jerome, is up for residential sale for a mere $6.2 million dollars. The erstwhile hotel has long been residential, and was home to scientist William Earl Bell–best known as the creator of the first atomic clock–and his family for decades.
In 1995, the 3.5-acre property was placed on the market and eventually snatched up for $190,000 by Walter and Lisa Acker. A true fixer-upper, realty agent Donna Chesler says The Little Daisy was bare bones when the Ackers took it on.
"Nothing remained. No windows, doors, fixtures, even the roof was removed on the third floor, leaving the building exposed to the elements," explains Chesler.
With their work clearly cut out for them, the Ackers pulled off the tremendous feat of restoring the property to its former glory, largely by themselves. They studied original blueprints and photos to the keep the buildings' authentic details intact, including original walls, fireplaces, and exterior tile details. After nine years of extensive renovations, they brought the former 40-room hotel into the 21st century. The 12,000 square feet of indoor living space now boasts eight bedrooms, a spacious wine cellar, and home theater, plus a massive rooftop garden and quirky extra features like a working telephone booth and a reception-desk-turned-bar.
Overlooking the mile-high town of Jerome, the Verde Valle, and Sedona's red rocks beyond, the home holds special significance to the area's history as a booming copper mecca.
Keep Reading: