One Perfect Day in El Malpais National Monument
Experience the lava fields, breathtaking views, and some of the oldest Douglas firs around
Why go now: This volcanic landscape gets a burst of color when August monsoons bring late-summer bloomers.
Elevation: You're up there. Between 6,500 and 8,300 feet.
Lay of the land: 114,000 acres of caves, lava fields, and spatter cones, surrounded by sandstone bluffs and some of the oldest Douglas firs in the region.
Winged trips: In May and June, the monument is a stopover for northbound hummingbirds.
Name tag: El Malpais means "the badlands" in Spanish.
Gateway town: Grants (pop. 8,772), 25 miles north.
Hot rock: Grants earned the nickname "Uranium Capital" after a rancher discovered the radioactive ore there in 1950.
Drop by: The gleaming Northwest New Mexico Visitor Center (1900 E. Santa Fe Ave.; 505/876-2783), home to a 60-seat educational theater, exhibits, and free trail maps.
Soak in the landscape: Don't miss El Malpais National Monument's greatest hits. At Sandstone Bluffs Overlook, let your eye stretch for miles along the eastern flank of the Continental Divide. Then see the terrain up close with a quad-burner on the 7.5-mile Zuni-Acoma Trail as it crosses four major lava flows dressed up with black-eyed Susans, purple asters, and other splashes of summer's bloom. From I-40, take exit 81 at Grants; go 23 miles south on State 53 to El Malpais Information Center; nps.gov/elma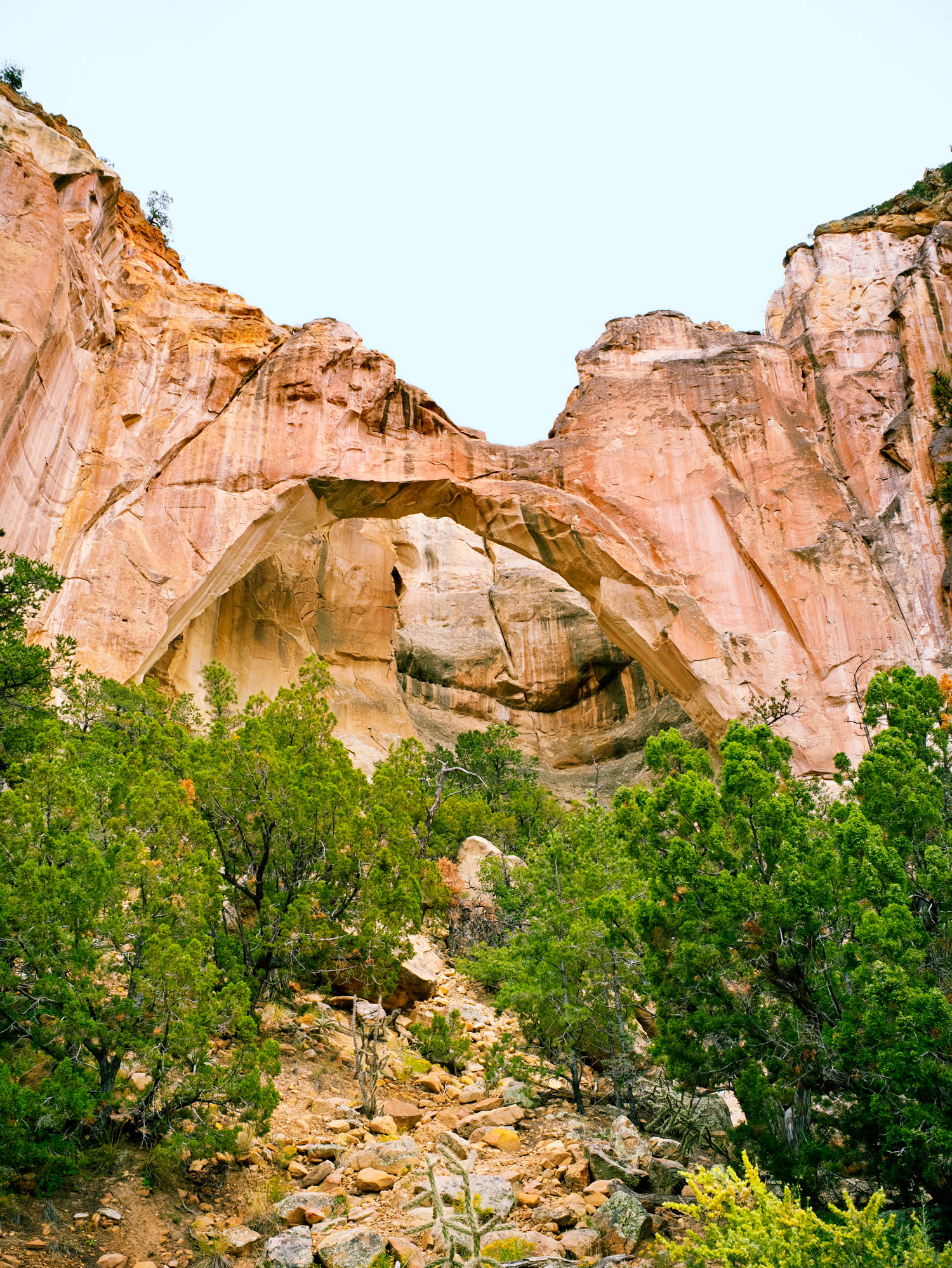 La Ventana Natural Arch spans a whopping 135 feet.
An arch worth the march: More than 150 million years in the making, La Ventana Natural Arch (in the nearby El Malpais National Conservation Area) curls into a span of 135 feet. The short hike's approach is a stunner, especially in late afternoon, when the sandstone takes a crimson hue. Hikers with mountain goat DNA can scramble around the base to get practically beneath the arch. From I-40, take exit 89 to State 117; go 17.4 miles south to milepost 39; 505/280-2918.
A new spot for old favorites: El Cafecito has long dished up the zip code's best Mexican. In January, the restaurant expanded into a spiffy, larger space. Thankfully, it hasn't changed the heaping plates of stuffed sopaipillas, chile-smothered huevos rancheros, and chiles rellenos. $; closed Sun; 820 E. Santa Fe Ave., Grants; 505/285-6229.
Go underground: "Everything starts with a hole in the ground," proclaims the New Mexico Mining Museum, which pays homage to Grants's notable boom-to-bust history of coal, gypsum, and uranium extraction. Exhibits of hard rock mining's bygone era, along with fossils dating back to A.D. 700, tell of a hardscrabble existence. The real crowd-pleaser: descending into a re-created underground world to learn about drilling and blasting. $3; closed Sun; 100 N. Iron Ave., Grants; 505/287-4802.
Keep Reading: