Cattle Roping and Cowboy Soaks: My Ranch-to-Ranch Colorado Road Trip
JeffGoulden / Getty Images
Follow along a week's worth of fun on and off the ranch in the Colorado Rockies, on a road trip from Denver to Dolores
The majority of my Colorado road trips have involved camping, peak bagging, and other rugged endeavors. One of my most memorable journeys, however, reminded me that you don't have to always rough it in the Rockies. My friend and I embarked on a weeklong adventure starting in Denver and heading west through the Arapaho, Gunnison, and San Juan National Forests, staying at some of the state's top ranches along the way. Sure, there was adventuring in the outdoors. But there were also delicious meals, natural hot springs, and deluxe spa treatments to keep our week nice and balanced. Here are the best experiences our road trip pit stops had to offer.
A Day on the Water
Courtesy of Devil's Thumb Ranch
We left Denver early to avoid the traffic along I-70 en route to Devil's Thumb Ranch, a dude ranch about 90 minutes west of the city near the town of Tabernash. Set on over 6,000 acres and surrounded by millions of wilderness acres, the ranch transports you to the West's homesteading days with its rustic log cabins, Wild West saloon, and stables. The property is laced with trails and a steep hike up to Marker Hill Vista Point was just what we needed to stretch our legs after the drive, though I'm sure a massage at the spa would have worked just as well. We tested our angling skills, casting for brookies and rainbows on Ranch Creek, a meandering trout stream that cuts through the property, and quickly decided that stand-up paddling on the pond was more our speed. The ranch's excellent food gave us extra incentive to work up an appetite. Devil's Thumb raises its own Wagyu cattle and if you're a carnivore, the burger is a must.
Saddles and Spa Treatments
Rather than laze by the ranch pool, we drove 40 minutes onward to soak in the steamy waters of Hot Sulphur Springs ahead of our next stop in Granby at C Lazy U, where we would live out our cowgirl fantasies. Head wrangler Bill Fisher greeted us with a tip of his hat at the ranch's oversized, rust-red barn, home to its 180 horses. Spread across 8,500 acres, the ranch has endless trails to explore by horseback and if you've ever dreamed of being a rodeo star, you can get lessons in calf roping and barrel racing. The luxury part of this dude ranch experience awaited us in the Lazy You Spa, a six-tent sanctuary tucked away on the banks of Willow Creek. I'd be willing to be saddle sore all over again if it meant I'd get to do the spa's signature moonlit "Cowboy Soak" in deep copper tubs overlooking the Continental Divide.
BBQ and Blooms
We broke up the four-hour drive from Granby to Crawford with a lunch stop in Marble. I'd heard rumors that Colorado's best brisket could be found at a backwoods barbecue spot located in this old mining village. We didn't even need GPS to find Slow Groovin' BBQ. We just rolled down the car windows and followed the heady scent of slow-cooked meat emanating from a massive smoker. Stuffed but happy, we made a second detour to explore Paonia, a classic Western farm town known for its peaches and incredible blooms. Being a flower lover, I'd called ahead to arrange a tour at Zephyros Farm and Garden; we got an up-close look at the farm's 35 acres planted with dahlias and more flowers, fruits, and veggies, and then checked out the onsite nursery, where we had to stop ourselves from buying organic tomato and herb starts since we still had a number of road-tripping days ahead of us.
The Full Ranch Experience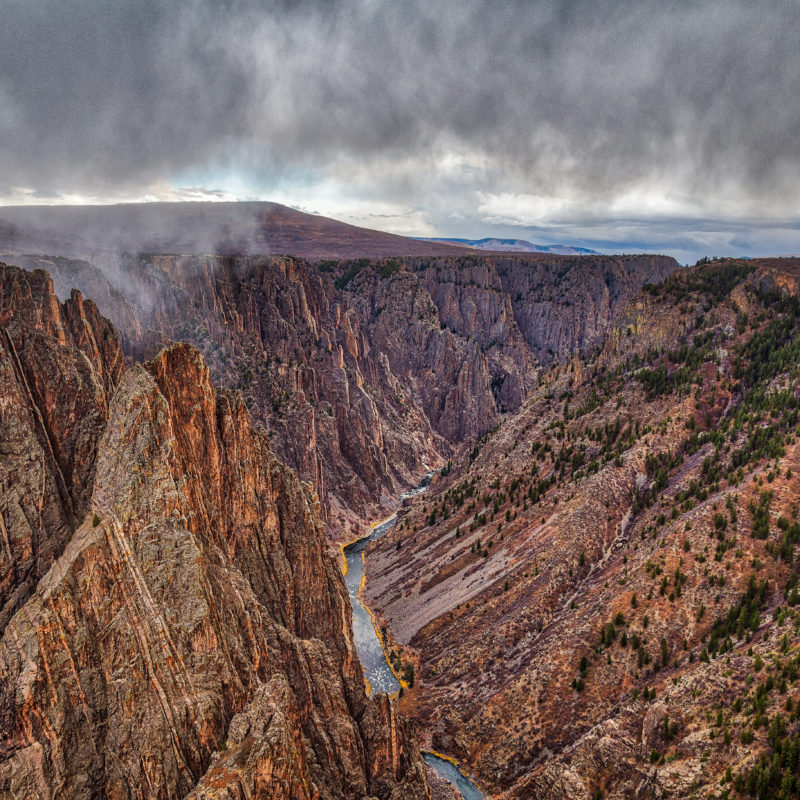 Creative Commons photo by Mobilus In Mobili is licensed under CC BY 2.0
Next up on our route was the Black Canyon of the Gunnison National Park (pictured above), Colorado's version of the Grand Canyon. We wanted a comfy base to explore the sprawling park, so we'd booked a few nights at Smith Fork Ranch in Crawford. You could easily miss the turn for the ranch, if it weren't for Needle Rock, an 800-foot-tall stone tower, that acts as the unofficial welcome sign. Set deep within a box canyon in the Gunnison National Forest, surrounded by towering 13,000-foot peaks, Smith Fork feels miles away from civilization. First homesteaded in the 1880s, the place was a virtual ghost ranch before former New Yorkers Marley and Linda Hodgson restored the original buildings. Founders of the fashion-heritage brand Ghurka, the Hodgsons applied their design expertise to the renovation, adding slate tile bathrooms, feather down beds, and hickory Adirondack-style chairs. The ranch's all-inclusive program allowed us to choose one full- or two half-day guided activities daily. We mixed on-property adventures, like archery and mountain biking, with half-day hikes in the nearby national park.
Being a food nerd, I also signed up for a tour of the ranch's farmstead garden and helped collect eggs, lettuces, and purple cauliflower that would get transformed into our evening feast in the fireside dining room of the Old Elk Lodge. The bar isn't just stocked with Colorado craft beers and small-batch whiskeys (staples of any luxury ranch). Marley is a wine fanatic so Smith Fork also boasts a serious cellar that includes first-growth Bourdeaux and cult Napa cabs. Needless to say, this ranch stay was a true highlight of the week!
Glampy Endings
Courtesy of Dunton River Camp
Our last stretch of the trip took us through Telluride. I can never visit this idyllic mountain town without stopping for a homemade cookie at the Butcher & Baker and doing the easy hike to Bridal Veil Falls. From town, it was an hour's drive to our final stop, Dunton River Camp. The main resort, Dunton Hot Springs, offers cabin accommodations, but we were finally ready for tents—albeit fancy African safari-inspired tents outfitted with pine-framed king beds, gas stoves, and even WiFi. Ending our trip on a glamping note tied together our week's worth of adventures and amenities perfectly.
Keep Reading: