Top 10 Seafood Restaurants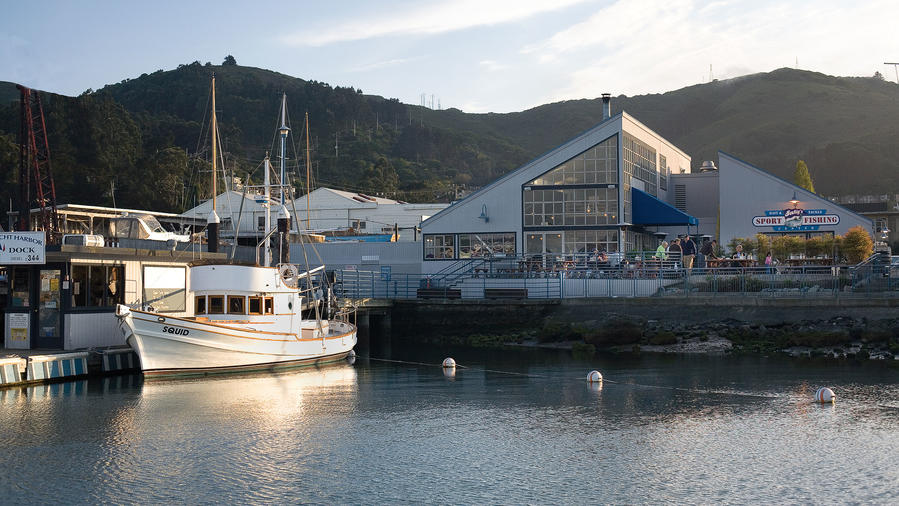 Here's where to find the best fresh fish, just a hop from the ocean's waves
1. PA'IA, HI
Mama's Fish House
Sure, Mama's is a bit more expensive than your average fish joint. But its Maui oceanside setting bordered by swaying palms puts it in the million-dollar-view category, making dinner seem like a bargain. The fish is wild, mostly local, and fresh, prepared in contemporary Polynesian style. Don't miss the Pua Me Hua Hana special: a platter of mahimahi sautéed in coconut milk, kalua pig, grilled banana, Molokai purple sweet potatoes, poi, tropical fruit, and fresh coconut. All that, and you don't have to sit through a bad luau. INFO: $$$$; 799 Poho Pl.; 808/579-8488. -Amy Traverso
2. PORT ORFORD, OR
Crazy Norwegian's Fish and Chips
Port Orford is the westernmost town on the Oregon Coast and is a bit of a trek from most places. But if the views along U.S. 101 aren't enough for you, the lightly battered, perfectly fried fish and rich housemade clam chowder at Crazy Norwegian's make the trip worthwhile. There is often a line at the wood-sided A-frame restaurant, but it moves quickly and you can use the time to decide which cookie, dessert bar, or local berry pie to order. INFO: $; 259 Sixth St.; 541/332-8601. -Molly Watson
3. SAUSALITO, CA
Fish
When the fog pulls back, everyone shows up here. They grab mason jars of draft beer and head out to the picnic tables alongside a harbor bobbing with day boats to wait for the fish and chips. The moist, scalding Alaskan halibut encased in crisped batter dosed with Anchor Steam will erase anyone's bad Van de Kamps memories. The Saigon sandwich dolls up a Vietnamese street-food classic with grilled local salmon, and a big ol' pile of Tuscan white bean and tuna salad is filling and fresh. True, you'll spend twice what you might expect, but then again, you'll be happy you did. INFO: $$$, cash only; 350 Harbor Dr.; 415/331-3474. -Lisa Trottier
4. SEATTLE, WA
Sunfish
Amid banter between the two Greek owners and the customers, Sunfish serves up delicate, paper-wrapped cod, halibut, wild salmon, and shellfish. For a sampler plate, try the combo ― or better, Sunfish's signature fish kabob. Nearly everything is less than $10 and comes with homemade tartar sauce and garlic malt vinegar. Eat here or across the street at Alki Beach, with views of Puget Sound. INFO: $, cash and local checks only; closed Mon; 2800 Alki Ave. S.W.; 206/938-4112. -Jim McCausland
5. NEWPORT, OR
Quimby's Restaurant
Three big hunks of Alaskan halibut, tempura-battered and quickly fried, and a healthy scoop of fresh, zesty slaw: There's more on the menu, but with a meal this good, why bother? Make a night of it; tablecloths gussy up the place, and the Newport Performing Arts Center is across the street. Or stomp off the sand on a beach day; it's just a block from the Nye Beach Turnaround. Bonus: The ocean view is nice too. INFO: $$$; 740 W. Olive St.; 866/784-6297. -Bonnie Henderson
6. NEAR INVERNESS, CA
Drakes Beach Café
Every Sunday afternoon in the summer, outdoor grills start sizzling at the tip of Point Reyes National Seashore. Hikers plunk down at cafe tables in the sun or right in the sand by the waves to feast on piles of barbecued oysters, smoky corn on the cob, and grilled garlic bread. Then there's the menu inside, drawn from local, mainly organic, truly top-notch ingredients: Dungeness crab, Cowgirl Creamery cheeses, and Brickmaiden Breads. INFO: $$$; seasonal hours (call for current hours), closed for lunch Tues and Wed in the summer, closed for lunch Mon-Thurs in the fall, table-service dinners Fri and Sat (dinner reservations required), 1 Drakes Beach Rd. (next to the visitor center); 415/669-1297. -Margo True
7. SANTA BARBARA, CA
Endless Summer Bar-Café
Epitomizing the town's casual surfer chic, this harborside gem has surfboards hanging from the ceiling and surf videos scrolling, reminders of the world's perfect waves. And, yes, Bruce Brown, director of the original Endless Summer (1966), eats here. But it's the food that stars: seafood fresh off the docks, transformed via the lightest batter and seasonings into something mouthwatering. Try the popcorn shrimp or the sesame-crusted ahi on a warm spinach salad. INFO: $ (half-price tacos 4-6 Mon-Fri); 113 Harbor Way; 805/564-4666. -Ken McAlpine
8. VICTORIA, B.C.
Barb's Place Fish & Chips
Floating at Fisherman's Wharf, Barb's Place serves up fast, fresh fare ― deep-fried, steamed, or grilled fish ― from a cornflower blue cabana. Fanny Bay oysters from "up island" are an area favorite, served beside chips in newspaper cones. Dine picnic-style on the gently bobbing dock while taking in the resident harbor seals and colorful houseboats all around you. INFO: $; Fisherman's Wharf, 12 Erie St.; 250/384-6515. -Fiona Gilsenan
9. PRINCETON-BY-THE-SEA, CA
Barbara's Fishtrap
With its anchor-and-schooner tablecloths and faux-fishnet ceiling, the Pillar Point Harbor classic is strictly old school ― just the way we like it. Barbara's is famous for its dairy-free clam chowder, but everyone waiting in line for a table has a different favorite. For many it's the fish and chips ― flaky rockfish and thick-cut fries in portions suitable for two. Others wax rhapsodic over the tempura-battered calamari. Whatever you order, tear yourself away from your plate long enough to appreciate the view of Mavericks, California's famed big-wave surf break. INFO: $$$, cash only; 281 Capistrano Rd.; 650/728-7049. -Samantha Schoech
10. VENTURA, CA
Shoals Restaurant
Hidden inside the Cliff House Inn, north of Ventura, the Shoals serves fine and fresh seafood: sea bass, shrimp, scallops, calamari, and clams, bathed in delicious sauces. The restaurant fills up fast, so make reservations. Just beyond the patio tables lies the surf break of Mussel Shoals; from here on a summer night, you might see the dark forms of dolphins gliding past, backlit by glittering moonlight. INFO: $$$; 6602 U.S. 101; 805/652-1381. -K.M.
Keep Reading: