Discover Denali National Park & Preserve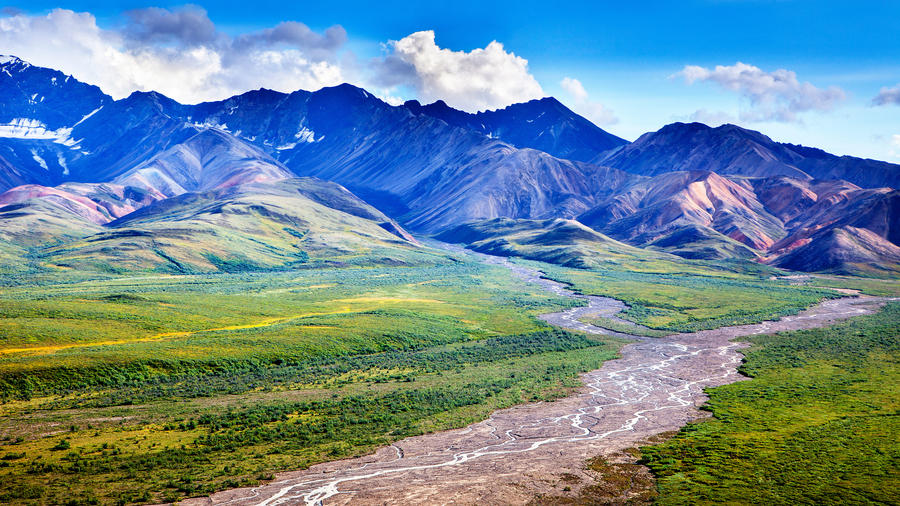 Dive into 9,492 square miles of moose, grizzly bears, and unforgettable majesty
The couple across the table at lunch is discussing the pleasures of eating spring bear. The man sees me raise my eyebrows. "It's less greasy than fall bear," he says, "because they've been sleeping all winter."
It isn't the first (and won't be the last) time I will be unsettled during my summer vacation to Alaska's Denali National Park and Preserve. I had wanted unfamiliar. I had craved big and almost incomprehensible. I had flown from New York City to Anchorage, and headed north and west, because I wanted to find the "real" Alaska, the ultimate and most Western of Western states. I aimed to see and feel the Alaska of sinewy mountaineers and uncompromising outliers and seekers of Strange Truth. 
I considered myself a Strange Truth Seeker. Once upon a time, a decade ago, I had made it my mission to seek the Strange Truth that is contained in the one and only piece of bear-proof body armor ever invented, an impressive hunk of titanium, chain mail, stainless steel, and something called "fire paste," all designed by a high school dropout and apparent mechanical savant. My plan was to buy it (it was on eBay back then), clamp myself in it, persuade some editors from an outdoor magazine to drizzle a few pounds of raw honey onto my titanium- and steel-encased flesh, then transport me by helicopter and lower me onto a patch of Alaska's carnivore-crawling Kodiak Island, where I would face the largest and man-eatingest brown bears in the universe, vanquish my demons, and find peace. 
Friends and family (and a patient if worried psychotherapist) succeeded in making me abandon my dreams of donning the bear armor (which, they all pointed out, had never been actually tested against a real wild bear). They had not, though, dissuaded me from a trip to Alaska's interior—specifically to its Strange Truth sweet spot, Denali National Park, mountaineering mecca and highest point in North America. Though god knows they tried.
"You're going to Denali?" one friend had grilled me. "Big mistake. The first thing they do if you want to backpack there is show you a two-hour video of what it's like to be eaten by a bear!"
"You should go to Nevada instead," my brother, who had hiked in Alaska, said. "You'll never see the mountain because it's always raining and if it's not, it's covered in mist. But you'll probably find your way to a grizzly, who will eat you. And if one doesn't, you'll wish he had, because the mosquitoes are as big as eagles."
The only person who didn't try to talk me out of the trip was my girlfriend, who had for months been lobbying for a vacation to "see the real America." If anyone would appreciate the rugged interior of this country's most rugged state, it would be Bojana, who was born and grew up in Croatia and who complained regularly that Americans were soft (especially this particular American). 
I was thinking about Bojana, who would be joining me on my third day in Alaska, when I noticed that the couple was still talking about bear meat. Then the woman was talking about hunting wolves. I think she saw me blanch. 
Denali, aka Mt. McKinley (still its official name according to the U.S. Board on Geographic Names, but locals go with Denali), is 20,320 feet high. It is made up of "granitic pluton," and it's on a fault, so tectonic pressure keeps shoving it upward, which means that while other mountains in the world are slumping and shrinking, it's actually getting higher. These are things I jot down in my notebook, on which I have scrawled, "Cool Alaska Facts," and which I crack open on the train ride from Anchorage to the entrance to Denali National Park.
The trip takes eight hours. For most of it, I affect the flinty thousand-yard stares that I sometimes aspire to when Bojana tells me I'm a lazy whiner. Will she think I'm weak when I share with her the section from my Cool Alaska Facts notebook regarding enraged moose, and that while it's best to run away from enraged moose, it's also important to know that the most likely way one will try to kill is to kick forward with one of its front hooves? 
I keep looking out the windows for a glimpse of Denali, but other than winking, flashing rivers, gravel, and sense-defying expanses of forest, there is only grayness and mist. I have now read that my brother was correct: Of all the people who fly, trek, canoe, and otherwise journey to Alaska's interior in order to catch a glimpse of Denali, only 30 percent or so ever actually see the mountain. This is because Alaska summers often have rain. Also because Denali is so high and broad that it creates its own weather patterns. People call it The Weathermaker, as well as The Great One, The High One, and The Mighty One. 
I drift to sleep. When I awake, we are halfway to The Weathermaker. This is where I get off. 
From a certain perspective, Talkeetna, Alaska, holds as much tackiness per square foot as any beach town in the Lower 48. I shuffle past racks of "Kiss a Moose" pillows in front of gift shops and gaze, salivating, at Shirley's Burger Barn. 
Talkeetna serves as the major gateway to Denali National Park. Anywhere else, that wouldn't make much sense, as Talkeetna is four hours by train from the "official" park entrance, 150 miles to the north. But in Alaska, distance and size take on different dimensions than in most of the country or, indeed, the world. 
Denali is what has lured migrants to Talkeetna, a hardy place of hardy souls and a Far North counterculture vibe: At Denali Brewing Co., you can sip a Jimi Hendrix–inspired Purple Haze blueberry wheat beer. But it's the mountaineers who most shape the town. They gather here every spring to launch their assaults on Denali. The mountain's climbing season is from May to early July and as a result, in the words of one local, "in the springtime, the Gore-Tex is blooming."
One mountaineer who has been on—but never to the top of—Denali is Dan Oberlatz, founder and owner of Alaska Alpine Adventures, based in Anchorage. Oberlatz guides wilderness-hiking and river-rafting trips. For fun, he climbs Denali. He has tried three times.
In 1996, he climbed the West Buttress route, also known as the Trade Route, the "easiest" and most popular path for climbers. He and his group made it to 19,400 feet, a little less than 1,000 feet from the top. Bad weather forced him down. His second attempt, he tried a more technical northern route. One of his companions fell and broke a leg and the group retreated. "Epic trip," Oberlatz says. His third try, in 2000, he went back to the West Buttress. "Really, really bad weather" stopped that attempt.
"It's not technically difficult," Oberlatz says, "but physically very difficult." Denali is one of the coldest climbing mountains in the world—July temperatures have dipped as low as 22 below zero—and one of the most dangerous. More than 100 people have died on it. 
That night, after failed attempts at sleep, I venture outside at 1 a.m., to sit in what seems like afternoon sunlight and to think about cold, lonely death. The next day, I hop aboard the Alaska Railroad for another four hours. 
Bojana meets me at the entrance to Denali National Park, which is really more of a strip-mallish encampment (the locals in Talkeetna described it dismissively to me as Glitter Gulch). Bojana samples some of the local elk jerky. (Though tiny, she is immensely fond of animal flesh of all kinds, especially bone marrow, tongue, and gristle.) Then we retire to the Denali Princess Wilderness Lodge, where Bojana makes me promise to avoid all discussion of the Ursus Mark VII bear-proof body armor "because that doesn't sound like it was a good time in your life and I think it's better if you just let it go." 
I squint and tell her what I've learned about granitic pluton but she is not impressed. Then I announce that instead of taking the eight-hour bus ride to our final, most remote, most wild, most Alaskan destination, I have chartered a bush pilot to fly us. Bojana is so happy to hear this that she doesn't scold me as much as usual when I pull out the cinnamon roll I had stashed earlier for a midnight snack.
Our pilot, who looks about 15, handles the toy-size plane with aplomb and as a bonus flies us right alongside Denali's central peak, which is magnificent, impressive, and every other adjective that doesn't do justice to such a mountain. When he points at the landing strip where we will end our journey, I laugh because it's obviously a joke. He is aiming for a little dark line surrounded by mountains. Land we do, though, and after a 5-mile ride, we arrive at Camp Denali. 
The brochure had warned us that Camp Denali is "not for everyone." And that it lacks "luxurious accommodations, TVs, a bar, or even unlimited electricity." Our cabin is the smallest of the 18 on the property, about 12 by 15 feet. It has a single twin bed. Roughly 30 yards away is our own outhouse. All around us, though, is beauty so sublime it makes me momentarily forget about death by grizzly.
First and foremost, there is Denali, visible everywhere, broad-shouldered, white, massive. Then there are undulating hills and tundra stretching so far that one suspects the eyes must be playing tricks. There
is also no music, or cell phone reception, or visitor peering deeply into any compact handheld device. 
Because of the abundance of nature and the scarcity of other attractions, it's nature we wallow in. Each day at breakfast, the 40 or so guests at the lodge are offered a choice of a "strenuous" or "moderate" guided hike. Or, the particularly brave can go off into the grizzly-infested wilderness on their own, and the particularly indolent and cowardly can hang out at the camp or go on a drive with a staffer. Bojana lobbies fiercely for the strenuous hike, while I chat up the other Denali guests, hoping one or two might testify that they had chosen such outings previously and had suffered terribly, and Bojana might overhear, so that I can weasel out without taking direct blame. But no. The guests want to talk about the wonders they've seen, the marvels they hope to experience. 
It is an active group. One of the most hardy is an 81-year-old South African woman who foils my plans for a day of rest by volunteering for the strenuous hike. (Her husband wisely takes the van ride.)
"If she's going, we're going," Bojana informs me. As we gather our gear (hiking poles, mosquito head nets, rain jackets, fleece), I suggest that for the remainder of the trip, we should—per American custom—adopt trail names, and I suggest that hers be Little Griz, or Wolverine, reflecting her ferocious approach to most things in life (she has two master's degrees, runs marathons, speaks four languages, is a gourmet cook, and reminds me often that if I applied myself, I might amount to something). She tells me I can call her Boo Boo, but only if I will answer to Yogi. She also informs me, when she sees me jotting down Cool Alaska Facts, that she will allow me to write about her "only if you refer to me as 100 pounds of pure spunk." 
On our first strenuous hike, we grunt (actually, only I grunt; 100 pounds of pure spunk just walks) up a hillside that looms above the cabins. With our naturalist guide, Shaleas, and 10 other brave souls, we slosh through mud, push aside dripping plants, and look out—eventually—over gasp-inducing vistas. We climb 2,000 feet in 3 miles, and every 100 yards or so, Shaleas stops us to explain something interesting about dwarf birch. I am having a hard time concentrating, though. There are the clouds of mosquitoes, for one thing, which swarm over us each time we stop. There is Pure Spunk, who after our third stop keeps climbing until Shaleas tells her she needs to stick with the group, at which point Bojana not-so-quietly whispers to me, "I thought this was the strenuous hike. The slowpokes should have stayed behind."
We gobble our sack lunches. We inspect flowers. Purple flowers. Yellow flowers. A shockingly pink woolly lousewort that makes our naturalist guide squeal with delight. Apparently, it's rare.
After our hike back and dinner where I tell some of the other hikers that I think I saw a grizzly bear stalking us near the ridge (I didn't), Bojana and I sit on our humble little cabin's porch, with our mosquito head nets, at 11 p.m., and regard the alpenglow on the broad, majestic face of The Weathermaker, which gloriously makes none during our visit.
Except for Bojana's 57 mosquito bites (I count), all is cool and serene.
The next morning, I announce to my 100 pounds of pure spunk that today I want to encounter a herd of Dall sheep, the elusive and majestic northernmost wild sheep in North America. Over coffee, I inform Bojana that it was the pursuit of these sure-footed big-horned mammals that helped create Denali National Park. Another Cool Alaska Fact. 
"Enough!" Bojana tells me, as we gather our hiking poles and rain gear and fancy camping binoculars. "No more Cool Alaska Facts today!"
It is another Strenuous Hike Day, and this time a dozen of us take the camp bus with our guide, Drew, and as we cruise past the Muldrow Glacier we learn that it is capable of surging 1,000 feet in a day, on those rare times it surges (the last surge was 1957). We disembark from the bus at a place called Eielson Visitor Center and descend to a riverbed. Eagles fly above us, and a nonchalant caribou strolls within 25 feet.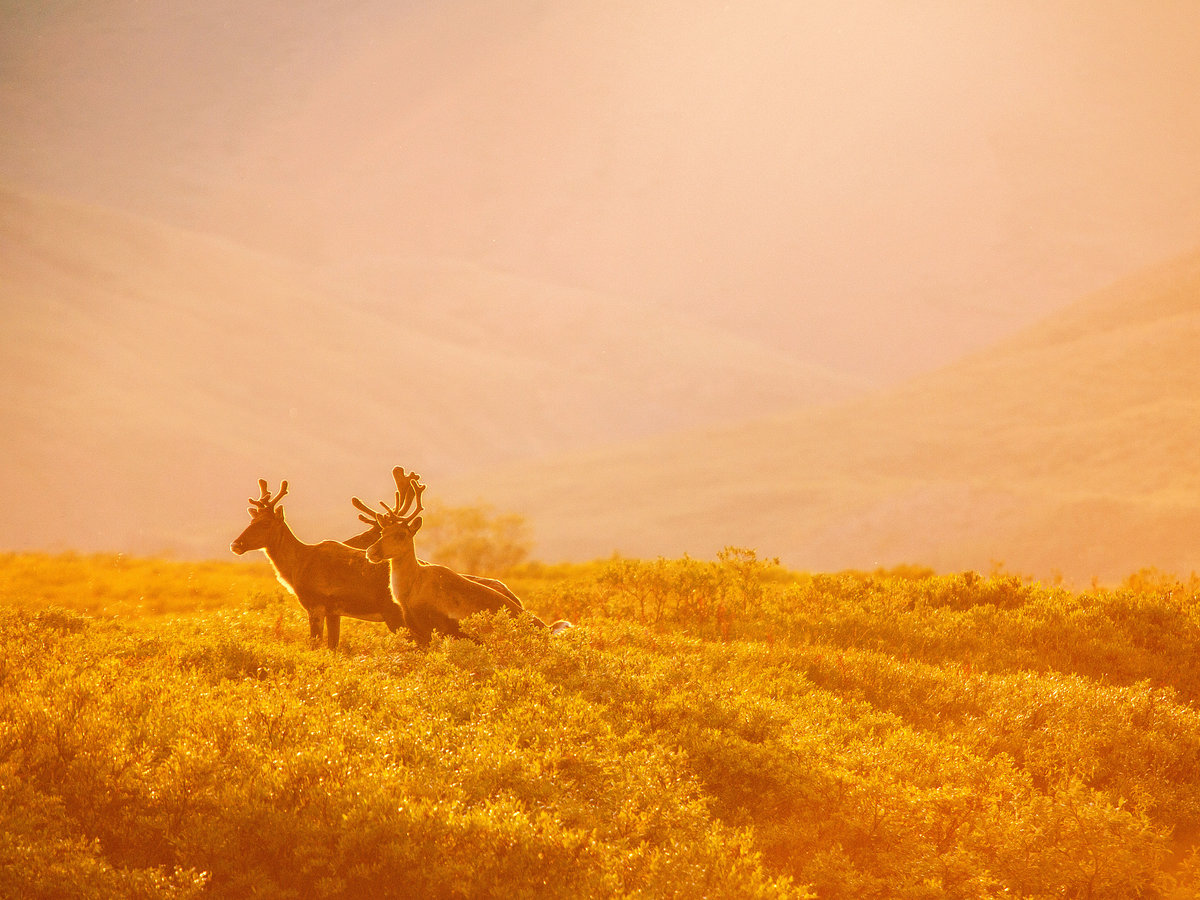 Drew asks us how we're all doing and we all yell, "Great!"—because with the sheer, clean immensity of the place in our souls, how could we be anything but great?
Then Drew points up the side of the mountain and tells us we'll be stopping for lunch "up there." I swear I hear Bojana emit a little yelp of joy. Finally, a hike strenuous enough for her. It is steep, and slippery in a few places, and the truth is, I might have stopped and pondered life at some point and informed Drew I would wait for him and the group to return, but the 81-year-old South African woman was climbing, so I persevered.
The rest of the hike, no one talks much. Even when we see another caribou, we just smile. Alaska will do that, will render even the most predator-obsessed, Ursus Mark VII storytelling guy mute. We scan the skies for eagles, hold our breath as another caribou moseys by, listen in silence to a horned lark. We don't see any Dall sheep, but I decide I don't mind.
After the silent, delighted hike back to the bus, Boo Boo and I, hot and sweaty and dirty, run screaming into a tiny pond near the dining lodge that leaves us both breathless. Then we shower and it's time for another exuberantly fresh dinner. I mention to the teenage girls at our table that I'm pretty certain I saw a grizzly on our hike, and I thought from its odd gait that it might be a "rogue bear, which experienced backcountry folks know is as unpredictable and even more lethal than its already dangerous brothers and sisters." None of this is true. Bojana kicks me under the table.
On our daytime hikes and our evening talks and just poking around in the camp's resource room, I keep quiet and let Cool Alaska Facts come to us through the mouths of our guides and the text of the displays, because Bojana has warned me. 
We learn that Alaska forests are thicker near rivers partly because bears can stuff themselves full of fish
at those rivers, and that consequently when they defecate in the woods, the fertilizer can be richer than the places where their less-well-fed cousins live. We learn that the cute little red squirrel, which we spot one afternoon perched in a tree softly chattering, feeds not only on spruce seeds and mushrooms but as a delicacy once a year also likes to kill and devour a bunch of baby snowshoe hares. As I jot down that disgusting but cool fact about the bloodthirsty little red squirrel, I cannot resist.
"In many ways he is the embodiment of Alaska," I inform my lovely but sometimes cranky girlfriend, as we hike next to a stream, surrounded by rolling hills and distant snow-topped peaks as far as the eye can see. "Beautiful and
alluring, and yet ruled by impulses primitive and predatory. Magnificent, yet murderous. A treasure, and yet through no fault of his own, driven to terrible acts of vicious and …"
"Enough, Yogi!" Boo Boo commands, whacking me on the shin with one of her hiking poles.
At our final dinner, Bojana asks the staff if she can address the crowd. And that is the moment that 100 pounds of pure spunk melts into a soft little puddle of nature-loving sentiment. Bojana tells the staff and the other visitors that she has never felt so happy, so at peace, that she has never experienced anything in the United States quite like Alaska. She compliments the lodge on its flawless operation, and speaks movingly of the connections she built here. She says she will always carry a piece of Alaska in her heart.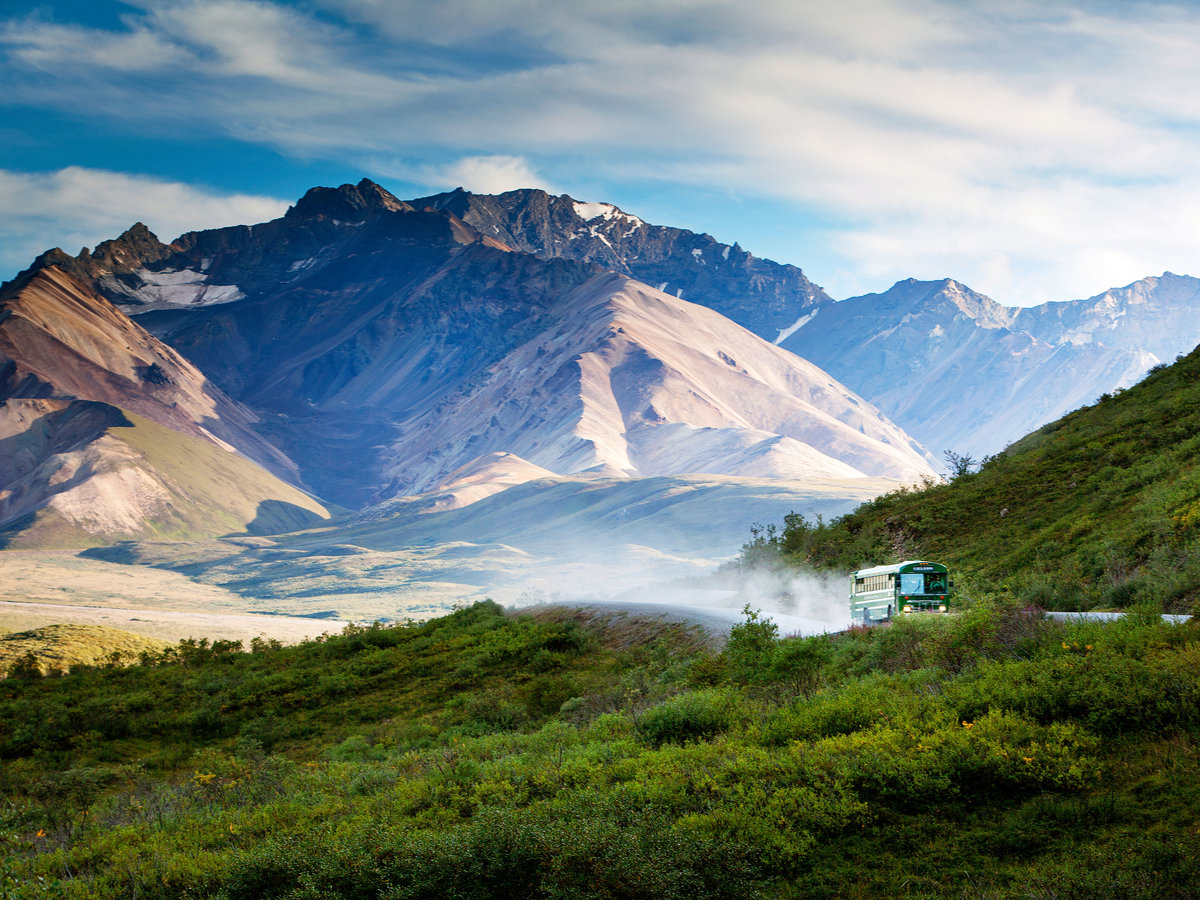 After three glorious (except, it must be said, for the ravenous mosquitoes) days and three eerily bright nights, we board the bus for the trip to Glitter Gulch, and then the train to Anchorage. I look out the windows at the absurdly gorgeous vistas. Being surrounded by killer moose and ferocious squirrels might seem a terrifying prospect, but after a few days in Alaska's interior, in the shadow of The Weathermaker (especially when the weather is nice), a man can learn to live more comfortably with the universe's annihilative possibilities. He can learn that to seek Strange Truth can be a good thing, but, as glorious as it is to witness Denali in its solar-spackled, Maximal Middle Linebacker of All Mountains glory, it's not the witnessing that's important, it's the seeking. (Although I'm really glad I got to see The Mighty One.)
I make peace with the fact that I will probably never, ever, feel the cold embrace of the Ursus Mark VII or, unless my life evolves in a very different way, stand upon the rarefied snow at the peak of Denali. It's okay. We can still look out windows at the tundra sliding by, the occasional moose, the beaver dams. It's a big place. I'm a tiny speck of humanity. I surrender. It feels good. 
SEEING DENALI
The basics. Denali National Park and Preserve covers more than 6 million acres: tundra, glaciers, mountains, and lakes. Only a single road goes into the park, and it's 92 miles long. 
When to go. The park is open year-round; shoulder season (May or Sep) is the best time to visit; wildlife sightings remain about the same, but spring flowers and the tundra turning in late summer add dramatic color. Buses, the main public access into the park, run May 20 to the second Thursday after Labor Day. $10; nps.gov/dena. 
Getting here. You can rent a car and drive to Denali from Anchorage (about five hours) or Fairbanks (about two hours). The Alaska Railroad stops at Denali daily in summer. The train has better scenery, including Hurricane Gulch, where the tracks seem to tightrope-walk over a canyon. Anchorage–Denali is $156 one way, or $241 in GoldStar service, which gets you upstairs with a much nicer view; Fairbanks–Denali is $68/$123. alaskarailroad.com.
Seeing the park. Most of the park road can only be traveled by bus. The park has two kinds: Tour buses are more comfortable and offer narration, but only The Kantishna Experience bus gets you deep enough into the park to see the real glories; shuttle buses let you get on and off almost anywhere to hike and go as far as Kantishna. From there, Denali looks like a wall. Reservations for either kind of bus: reservedenali.com.
Park lodging & food. One lodging option within the park is Camp Denali—where writer Steve Friedman stayed—located in a 67-acre private in-holding. Staying in a cabin here is like getting Alaska to yourself. Three nights, including all meals and transport in and out, runs $1,665/person. campdenali.com.
The area around the park entrance is crowded with hotels and restaurants. Good lodging choices include Denali Cabins (from $142; alaskadenalitravel.com/cabins) or EarthSong Lodge (from $165; earthsonglodge.com). 
For a nice dinner out, 229 Parks Restaurant and Tavern ($$$; 229parks.com) serves superior Alaskan cooking with fresh local ingredients. Or go for a classic: Denali Park Salmon Bake ($$$; Mile 238.5 Parks Hwy.;
denaliparksalmonbake.com). 
There are more choices in Talkeetna, 150 miles south of the park entrance. Here, Talkeetna Alaskan Lodge (from $285; talkeetnalodge.com) has big rooms and gorgeous views. And the caribou burgers are tasty at West Rib Pub & Grill, on Main Street ($; westribpub.info). 
Guided hikes & flightseeing. Get up close to the landscape with Alaska Nature Guides, who lead walks in nearby Denali State Park and around Talkeetna. From $59; alaskanatureguides.com. 
From Talkeetna, K2 Aviation offers flightseeing tours around Denali. The route follows Ruth Glacier to the rock spires of the Great Gorge; some tours fly around the peak of Denali itself. From $205; glacier landing adds $85; flyk2.com.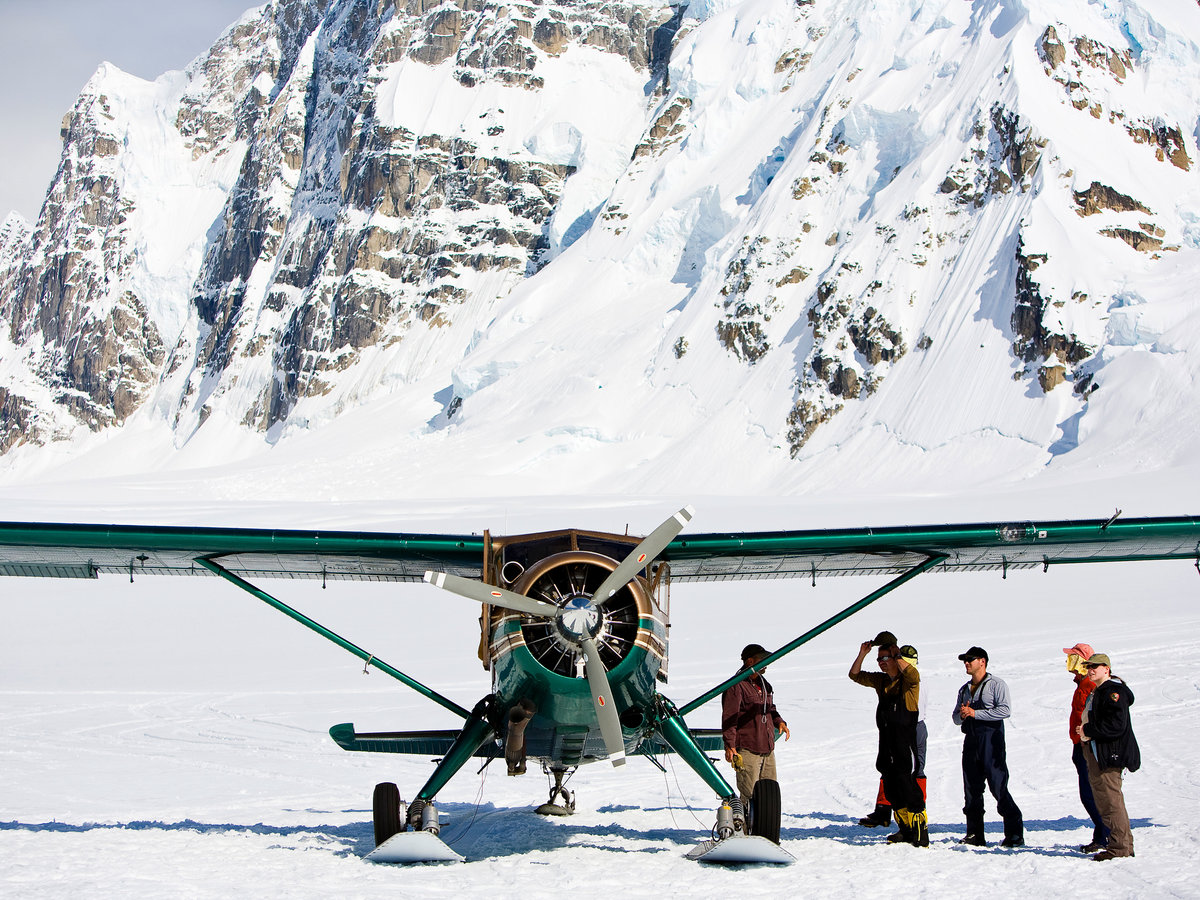 From Camp Denali, Kantishna Air Taxi flies out from a landing strip deep in the park. Flightseeing $250; katair.com.
Keep Reading: