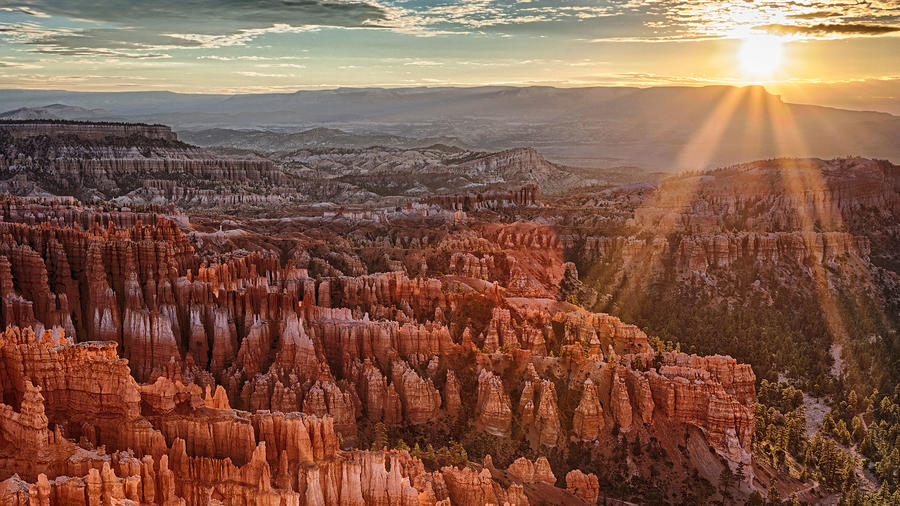 Bryan Mullennix / Getty Images
Your need-to-know on Bryce Canyon National Park
Few things prove good things do indeed come in small packages better than Bryce Canyon National Park. See fantastical rock formations and experience some of the country's clearest night skies here.
About the park. Although only 35,835 acres—compare that to Yosemite's 761,266 acres or Yellowstone's whopping 2.2 million acres—Bryce stuns with its whimsical and colorful hoodoos, thin spires of rock that can be up to 200 feet tall. There are hoodoos around the world—France, Taiwan, Turkey—but nowhere else do they occur in such abundance as at Bryce Canyon National Park. Bryce has so many hoodoos no one's even tried to count them. A more fitting name for the park would be "Hoodoo National Park," especially since Bryce Canyon isn't technically a canyon, it's an amphitheater cut by wind and rain into the edge of a plateau. The Bryce Amphitheater is about three miles long, two miles wide and 1,000 feet deep. The elevation of its rim is between 8,000 and 9,000 feet.
Hoodoos start forming form from the rim of the Bryce Amphitheater. The first step in a hoodoo's life is a gully, which forms from erosion. Over hundreds of thousands of years gullies erode into fins. Erosion begins working at the fins to form windows and hoodoos. The varying colors in Bryce's hoodoos are due to iron oxide minerals in the rock. White sections are so colored (or not colored) because they lack minerals.
One main road, 18 miles long, runs the length of the park and ends at Rainbow Point. There are 13 viewpoints along it. The park has about sixty miles of hiking trails. Trails both go along the rim and drop down into the amphitheater.
Aside from its hoodoos, Bryce is famous for its dark skies. Over 7,500 stars can be seen by the naked eye here. Because it's pretty much in the middle of nowhere and there are no sources of light pollution nearby, Bryce's skies are among the clearest in the country. That "cloud" overhead all night? It's the Milky Way.
The park's history. While Native Americans occupied other parts of the Colorado Plateau starting about 12,000 years ago, there is no evidence of any permanent settlements in the Bryce Canyon area until 1200 A.D., when Paiute Indians moved into the area. The U.S. Army conducted a survey of the area in 1872 and the first European settlers arrived shortly after. Mormons set out from Salt Lake to homestead here, grow crops and graze cattle. The park got its name from one of these settlers, Ebenezer Bryce. He lived and grazed cattle in the Bryce Amphitheater so people started calling it "Bryce's Canyon." The area proved itself unfit for farming and cattle though and most of these settlers left. Bryce's Canyon was largely forgotten about until 1915, when U.S. Forest Supervisor J.W. Humphrey first visited it.
"You can perhaps imagine my surprise at the indescribable beauty that greeted us, and it was sundown before I could be dragged from the canyon view. You may be sure that I went back the next morning to see the canyon once more, and to plan in my mind how this attraction could be made accessible to the public," Humphrey wrote in his journal after his first trip to Bryce.
Humphrey sent photos and movies of the canyon to forest service officials in Washington D.C. and to magazines. The following year he got a $50 appropriation to make the rim road accessible to cars. Stories about the canyon began appearing in the press. In 1919 enough visitors were coming that several locals began offering lodging and dining.
President Harding proclaimed Bryce Canyon a National Monument in 1923. The following year Congress elevated it to a national park and renamed it, Utah National Park. The area's original name was restored in 1928 and Bryce Canyon National Park became official.
Planning your visit. Bryce Canyon National Park is in southern Utah, about 80 miles east of Cedar City and 50 miles west of Escalante on Utah Highway 12. Salt Lake City is about 270 miles north. Bryce Canyon City has a small airport, but it is only serviced by charter flights. Scenic flights also take off from there. The Delta Connection Sky West flies into Cedar City Airport (CDC) a couple of times a day from Salt Lake City, but most visitors fly into Salt Lake City International Airport (SLC) and rent a car. The drive is about four hours. Bundu Bus travels to Bryce Canyon from Salt Lake and also from Las Vegas.
When to go. Because lodging inside Bryce Canyon is so limited—114 hotel rooms and two campgrounds—if you plan to visit between mid-May and October, advance reservations are essential. While this is the park's busiest time, if you have the flexibility, April, May and October are the best months to visit if you want to hike because of lower temperatures and fewer crowds. Bryce gets snow in winter, but for the adventurous that too can be a wonderful time to visit—crowds are virtually nonexistent and, covered in white, the hoodoos look even more otherworldly than usual. It was only the 2015/16 season that part of the Lodge at Bryce Canyon stayed open in the winter.
Beat the crowds. During its busy times—spring, summer and fall—like nearby Zion (90 minutes) and Arches (four hours) national parks, Bryce has two types of crowds to pay attention to: crowds of cars and crowds of people. Bryce itself wants to help you beat the former. It has a free shuttle system—you don't even have to bring your car into the park! Pick up a shuttle at Ruby's Inn outside the park's entrance and you don't even have to wait in the long line at the entrance station. Once inside the park, you can hop on and off the shuttle as often as you wish.
Crowds of people are more difficult to avoid. Expect to see crowds on all of the day hikes; on longer ones like Fairyland Loop, crowds will be less. If you want viewpoints at their least crowded (Sunrise and Sunset points excluded), you'll want to hit them early in the morning or late in the evening.
Your best bet for solitude is backpacking the 23-mile Under the Rim trail.
First-time essentials. If you want specific snacks while you're in Bryce, bring them with you. The tiny general store inside the park only carries essentials. Bryce Canyon City has a larger general store with a small grocery section, but the prices are exorbitant.
Bryce Canyon is one of several national parks with a free shuttle system. Riding these shuttles in Bryce is not required, but highly recommended because of the park's size and limited parking. We've heard of hour-long lines for private cars waiting for a parking space at Inspiration and Bryce points. Shuttles run continuously from early morning until after sunset and stop at numerous points along the park road.
While temperatures might be comfortable on the canyon rim, expect it to be at least 10 degrees hotter if you hike into the amphitheater. Bring more water than you think you need.
Animal spotting. California Condors have been spotted at Bryce, but park rangers are the first to admit "sightings are incredibly rare and impossible to predict." Still, it's fun to keep your eyes peeled for this species, the largest bird of prey in North America. A California Condor's wingspan can reach nine feet. Chances of spotting a condor are rare, but 174 other species of birds call Bryce home or are temporary visitors. These include numerous ducks and hawks, great-horned owls and four different species of hummingbirds, among others.
Formerly listed as an endangered species (but recently upgraded to "threatened") Utah Prairie Dogs are the park's most famous mammals and can be spotted in the meadows alongside roads in the northern park. Larger (and rarely seen) mammals include mountain lions, black bears, desert bighorn sheep and bobcats. Mule deer are the most commonly seen large mammal. One of the park's 11 reptiles is venomous, the great basin rattlesnake.
Nearby places to see. Bryce has the perfect location for taking advantage of the four other national parks—Arches, Canyonlands, Zion and Capitol Reef—in southern Utah. Zion is the closest, about ninety minutes away. Neighboring Bryce is the Dixie National Forest. Its Red Canyon is worth a visit. Grand Staircase-Escalante National Monument abuts Bryce. Kodachrome Basin State Park is only thirty minutes away. And, while other routes might be faster, do not pass up the opportunity to drive Utah Highway 12, one of only several dozen All-American Roads in the country.
Even though it is fifty miles away, we consider the town of Escalante, pop. 1,100, Bryce's gateway community. Spending an afternoon (or a night) there, and also in Boulder, an hour east of Escalante on Highway 12, is worth it for the food and coffee alone.
FOR MORE INFORMATION
Keep Reading: