How to Stage a Backyard Campout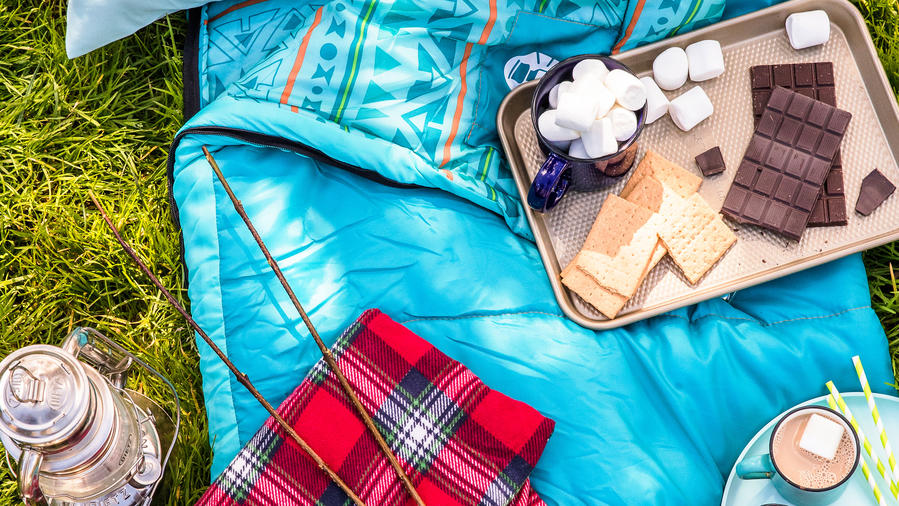 Not sure if you're ready for the long haul with your kiddos? Do a trial run by camping in your own backyard.
We only recommend things we love. If you buy something through our site, we might earn a commission.
It's Saturday morning, and the weekend has snuck up on you. The camp stove is in the basement collecting mold spores, the kids are glued to the Xbox, and the roads are already jammed. Instead of taking your chances on finding a first-come, first-served site out of town, open your back door: With a few special touches, your yard can take on a magical new dimension in the dark.
Set up camp
Enlist kids' help in scouting a flat spot for the tent and stocking the cooler with ice and snacks. Fill up the kiddie pool for splashing during the day, naming the manmade "lake" as you please. Creative kids may like to paint signs on cardboard (THIS WAY TO MURKY LAKE!), or use card stock and craft sticks to make shadow puppets for later on. GEAR: Alite Fiesta Cooler, $71.
Add creature comforts
Sleeping bags may be one of the best parts of camping in kids' eyes, but lying on the hard ground can have everyone begging to go back to their beds pretty quickly. Find a happy medium by layering bags on air mattresses. Don't forget pillows, toys, and bedtime books. GEAR: Coleman Kids 50 sleeping bag, $22.
Illuminate the night
String lights outside your big top and around the trees. Make sure the tent is stocked with flashlights and headlamps. And just before you turn in, fire up a few sparklers—something you can't get away with in most campgrounds. GEAR: string lights, $18.
Stay connected
Sure, it's nice to unplug, but since you're a few feet from home, why not tap into the Wi-Fi for some entertainment? Try a storytelling podcast like Story Pirates or The Alien Adventures of Finn Caspian. Or, if you have a projector and a wall for a white sheet, stream summer classics like The Parent Trap, Moonrise Kingdom, or Camp Rock while sipping hot cocoa. GEAR: Gentlemen's Hardware Enamel Mug, $14.
---
Read the 2021 Harvest Issue Right Here
Get one year of Sunset—and all kinds of bonuses—for just $24.95. Subscribe now!
Keep Reading: