Three-day weekend: Methow Valley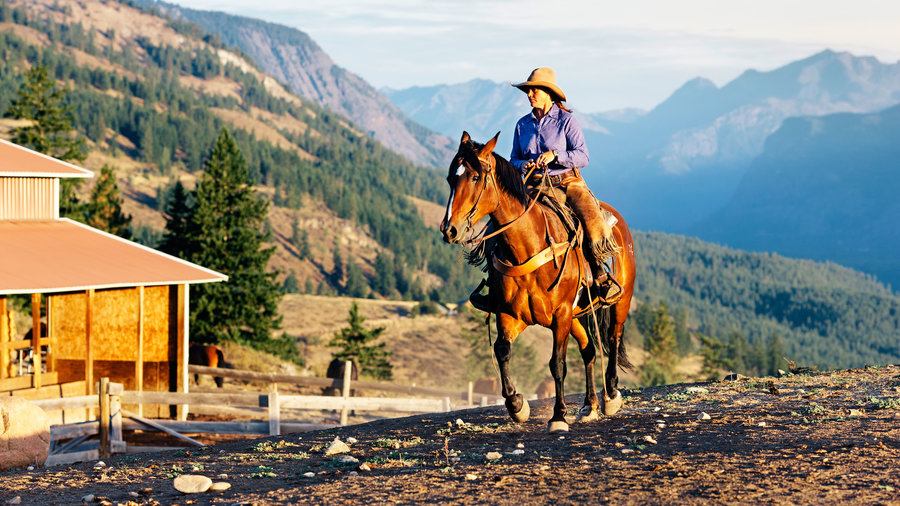 Valley highs Fresh air and golden hills in Washington's Methow Valley
At the Mazama Store in Washington's Methow Valley, locals gather to gossip over lattes and homemade apricot-cashew bread before heading out to spend the day hiking the Cascades. Among these locals, and blending right into the crowd, are Laura McCabe and Leslie Thompson Hall, both former Olympic nordic ski champions.
"They call Mazama 'Lycra Land' because everyone's so athletic," says Terry Larson, who lives in nearby Twisp, where he and his wife, Melissa, own the Methow Valley Inn and the Confluence Gallery & Art Center. "Everyone's in love with the outdoors. It's the common denominator here." It's no wonder. Tucked away in the eastern shadow of the Cascades about 200 miles east of Seattle, surrounded by more than twenty 8,000-foot mountain peaks, and crisscrossed by two crystal-clear rivers, Methow Valley is the kind of place that makes you want to play outside all day.
But, Terry says, the valley has a lot more to offer. "We have the great outdoors but also all the culture we want. I could hike from here to Canada and never encounter a piece of asphalt, and then, the next day, show up for a lecture on Renaissance art."
It's true. You can hike a portion of the Methow Valley SportTrails Association's network (one of the largest cross-country-skiing trail systems in the United States), sit down for a relaxed, gourmet meal in Twisp, and spend the next day exploring Winthrop, the Old West-style town that's said to have inspired Owen Wister to write The Virginian, America's first Western novel. And you can do it all against a backdrop of trees ablaze with fall color – for a relative bargain to boot, since most resort rates drop in mid-October.
Our three-day sojourn runs along State 20, covering a day in each of the valley's three main towns – Twisp, Winthrop, and Mazama. We recommend accessing the valley from Seattle via Interstate 5 and State 20 (the North Cascades Scenic Highway), driving about four hours to Twisp (the easternmost of the three towns), and then working your way back west. If early snowfall prevents you from using State 20, as is occasionally the case in October, you'll have to approach via Wenatchee, along U.S. 97 and State 153 (check road conditions at www.wsdot.wa.gov or 800/695-7623). This flatter, more rural route is longer (roughly five hours) but scenic, with apple trees showing color this month.
FRIDAY
Spend your first day in artsy Twisp – with just 800 people, this is still the valley's most populous town. Grab a breakfast bun to go at Cinnamon Twisp ($; 116 N. Glover St.; 509/997-5030), or a spinach scramble or Thai veggie wrap at the II Bees Café ($; closed Sun; 104 Glover; 509/997-2342). The cafe is inside the Confluence Gallery & Art Center (closed Sun- Mon; 509/997-2787), known for its lecture series and emphasis on local artists.
Climb to views. If you're up for an ambitious hike, pick up a Northwest Recreation Pass in town ($5; www.naturenw.org and800/270-7504), then drive the gorgeous Twisp River Road (CountyRd. 9114) west roughly 20 miles to the Gilbert Trailhead, which leads to Twisp Pass. The trail, which starts at 3,700 feet, parallels the Twisp River for 1 mile and ascends about 4 miles through golden larches to the 6,064-foot pass. From here you can see many of the peaks in nearby North Cascades National Park.
Or savor the sound of the river. If you'd rather just lounge, drive about 10 miles farther south to Carlton, where you'll find pullouts with access to public beaches. Come happy hour back in Twisp, try a local brew and a bite at the Twisp River Pub ($; closed Mon- Tue; 201 State 20; 509/997-6822).
Locally grown meal. Finish the day with a fantastic meal at Fiddlehead Bistro ($$; closed Mon-Tue; 201 Glover; 509/997-0343), housed inside the old Methow Valley News building. Both casual and classy, the restaurant has fresh, beautifully presented food that's heavy on local, organic produce.
SATURDAY
Start the day by getting a dose of Old West atmosphere in Winthrop. Start with a hearty breakfast at the casual Duck Brand Restaurant and Hotel ($; 248 Riverside Ave.; 800/996-2192). The restaurant takes its name from a local saloon of the early 1900s, when Winthrop was a thriving frontier town serving trappers, prospectors, and homesteaders.
Fire and ice cream. Artisan smithies forge candleholders and dinner bells, hooks and hinges at the Winthrop Blacksmith Shop (236 Riverside; 509/ 996-2703). And down the street at Sheri's Sweet Shoppe (207 Riverside; 509/996-3834), customers can watch candy being made or indulge in a scoop of the shop's homemade pumpkin ice cream, available only in fall.
Mountain highs. The activities center at the Sun Mountain Lodge (604 Patterson Lake Rd., Winthrop; www.sunmountainlodge.com or 800/572-0493) can outfit you for hiking, mountain biking, and fly-fishing around the lodge's own 3,000 acres of wilderness, which will be covered this month with aspens. Try a guided horseback ride ($30 for 1 1/2 hours, $85 for a half-day) with head wrangler (and Winthrop native) Kit McLean along the Beaver Pond Trail, where you might spot beavers at work.
Splurge on dinner. The Dining Room at Sun Mountain Lodge ($$$$) offers fancy meals with a stunning view of the rounded hills of the southern Pasayten Wilderness, with the Methow River running through it. A less expensive but equally appealing option is the lodge's more casual Wolf Creek Bar and Grill ($$), which has the same unbeatable view.
SUNDAY
Wind down in tiny Mazama, gateway to some of the valley's best hikes. The town consists of little more than a road, an inn, and the Mazama Store (50 Lost River Rd.; 509/996-2855), known here as the "center of the universe." Get picnic treats before you hit the trails.
Mirroring lakes. The 7-mile Maple Pass Loop to Lake Ann and Rainy Lake is unbelievably beautiful in fall, when the lakes reflect the surrounding golden leaves. For an easier route, or if the Rainy Lake Trail is snow-covered, walk the paved, wheelchair-accessible, 1-mile trail to the waterfall at Rainy Lake. From Mazama, drive about 25 miles west on State 20 to the south parking lot at Rainy Pass. (Bring your Northwest Recreation Pass for either trailhead.)
A fireside meal. For one last dinner, Mazama's Freestone Inn & Cabins ($$$; reservations suggested; 31 Early Winters Dr.; www.freestoneinn.com or800/639-3809) is a great choice. Have a glass of Washington wine by the massive river-rock fireplace, or stake out an Adirondack chair by the inn's lake while you wait for your table. As darkness falls over the Cascades, you just might decide you don't really need to get home tonight. After all, there are many hikes still to be explored, and chances are, there's plenty of room at the inn.
WHERE TO SLEEP
Freestone Inn & Cabins. This 120-acre ranch bordering the Cascades is full of hand-hewn logs and river rocks. From $165 through Oct 9, from $105 Oct 10-Dec 18. Off State 20 in Mazama; www.freestoneinn.com or 800/639-3809.
Methow Valley Inn. Lush gardens surround this pretty inn with seven antique-filled rooms. From $89, including hearty breakfast. 234 Second Ave. E., Twisp; www.methowvalleyinn.com or 509/997-2253.
River's Edge Resort. One-, two-, and three-bedroom cabins and chalets are right on the Chewuch River. From $125. 115 Riverside Ave., Winthrop; www.riversedgewinthrop.com, 800/937-6621, or 509/996-8000.
Sun Mountain Lodge. Full-service resort with 112 guest rooms, an activities center, hiking trails, a stable, two swimming pools, and two hot tubs. From $170 through Oct 16, from $140 Oct 17- Dec 18. 604 Patterson Lake Rd., Winthrop; www.sunmountainlodge.com or 800/ 572-0493.