Take in Tulip Season in Skagit Valley, WA
Fields of blooming tulips beckon you to this corner of northern Washington come spring, when acres of multi-colored fields beg for some camera time
Why go to Washington's Skagit Valley in April: To stand before fields of intensely colored flowers—cherry red, navel orange, pure white—that blanket the area.
Month-long party: The Skagit Valley Tulip Festival (Apr 1–30).
Fit for: Flower fiends, but even if you don't know a tulip from a rose, the display will blow you away.
Lay of the land: A patchwork of bulb fields stretching from Mt. Vernon and Burlington to La Conner.
Number of growers: 2
Number of bulbs they produce: 200 million
Number of cut flowers produced: 97 million
Percent of nation's commercial tulip crop produced: 75
Dress code: Layers (it can go from sun to showers in seconds).
Keep an eye out for: Rainbows and wild turkeys.
Flower break: Buy a kite (or BYO) to fly on the field at Tulip Town ($10; 15002 Bradshaw Rd., Mt. Vernon).
Mail-order bulbs: Want your own tulip patch? You'll have to wait for fall to plant. But swing by RoozenGaarde (15867 Beaver Marsh Rd., Mt. Vernon) and order now.
In spring, Skagit Valley is a photographer's dream, with strips of Technicolor petals stretching from your feet to the horizon.
Although it's hard to screw up a shot like that, keep these tips in mind: Clouds intensify the colors. When skies are blue, shoot toward the sun—backlight makes individual blooms really pop.
Keep your eyes peeled for the best spots—often right off the road, where the crowds aren't.
What to Do on a Day in Skagit Valley, WA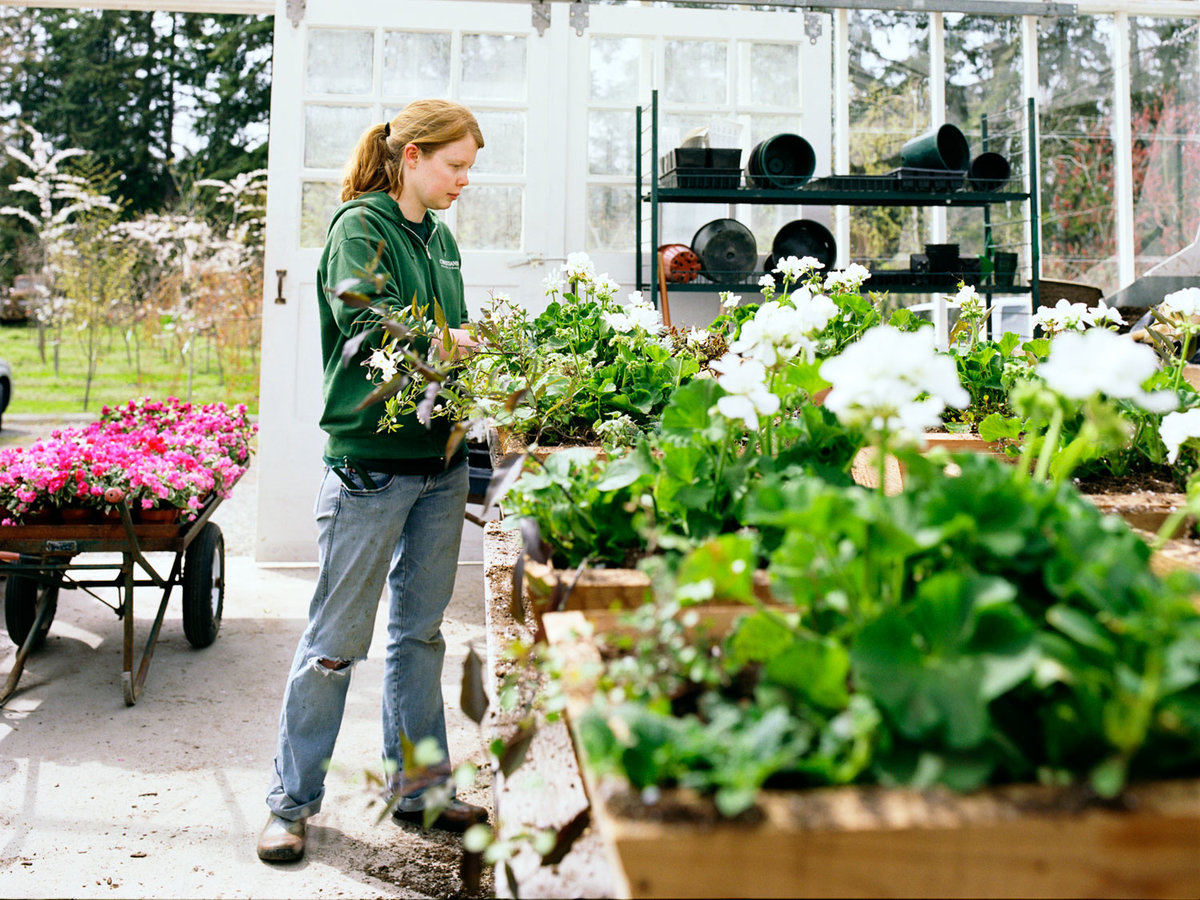 Blooms to buy: The valley is full of cut-flower stands, but to buy potted spring bulbs for your own garden (and waves of spring-flowering perennials that pair well with them), stop at Christianson's Nursery & Greenhouse.
You can picnic on benches scattered around the 1888 schoolhouse—and duck inside if it starts to drizzle. 15806 Best Rd., Mt. Vernon; 360/466-3821.
It's better by bike: Skip the bus tours and ditch your car. The best way to experience the tulip fest is by bike: no crowded pullouts, no circling for parking. Rent a tandem, road bike, or electric-assist two-wheeler from Skagit Cycle Center (from $40 per day; 1704 S. Burlington Blvd., Burlington; 360/757-7910).
Prints by a pro: If your own snapshots are, well, just that, buy a framed, fine-art print from the Connie Coleman Photography Gallery. A remarkable photographer whose images have appeared in Sunset, Coleman has captured some of the best-ever Skagit Valley landscapes, both in and out of bloom. 609 S. First St. (inside Skagit River Traders), La Conner; 360/466-9197.
Spend the Night in La Conner, WA, the Cutest Little Burg in the Skagit Valley
Stay for dinner: At Nell Thorn Restaurant & Pub, chef-owners Susan and Casey Schanen change their seasonally inspired menu almost daily. Try the Sichuan duck or any pasta-seafood combination, paired with a wine from the extensive list. $$$; 205 Washington St.; 360/466-4261.
And the night: Hotel Planter is a great place to decompress. The century-old inn's modern amenities include a steaming hot tub in a sculpture garden. From $125.