Local's Guide to Portland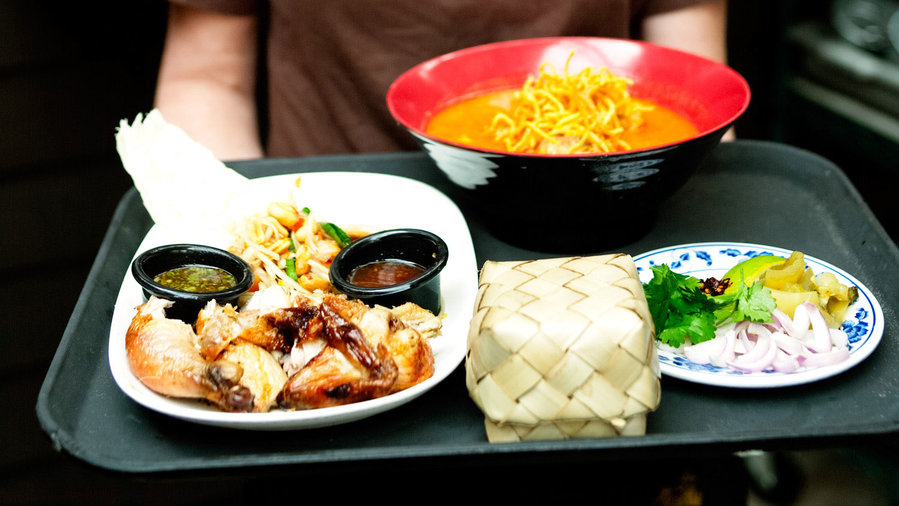 Here's your to-do list for Portland, whether you have just a day or a whole long weekend to play with
After decades of being a somewhat Midwestern-mild lumber town, Portland has reinvented itself, becoming the center of the maker movement as well as a destination for countless millennials searching for their artisanal bliss. Which often, we're happy to say, revolves around food.
Where To Eat & Drink
Ristretto Roasters. Ristretto's rapidly expanding local coffee empire now includes the first cafe in the Northwest to have a slick Alpha Dominche Steampunk brewing system. In the Couch Street shop, the chem lab–like apparatus allows baristas to brew everything from French press to pour-overs with the push of a button, keeping counters uncluttered and the coffee wonderfully consistent. Come for the java and an industrial-chic aesthetic, but stay for the parade of artists, loft dwellers, and bike commuters. $; 555 N.E. Couch St.; ristrettoroasters.com.
Barista. This coffee bar's partisans say the city's best black coffee is made here. Whether French-press or vacuum-brewed, it'll be strong and good. $; 539 N.W. 13th Ave.; baristapdx.com.
Lardo. Where but in Portland, the land of 600 food carts, could you open such a temple to house-cured meaty goodness? Crisp pork belly and farm egg sandwiches are the norm, but Lardo serves a changing menu and copious amounts of beer. The porchetta is a three-napkin affair; the fries, cooked in rendered pork lard and canola oil, are a triumph. $; 1205 SW Washington St.; lardosandwiches.com.
Lovely's Fifty-Fifty. Chef Sarah Minnick whips up seasonal pizzas and salads for lunch that play well with refreshing sodas made using produce from local Ayers Creek Farm. The elderflower lemon is always available, while the seasonal sour cherry uses the whole fruit—including pits—for a subtle almond flavor $$; 4039 N. Mississippi Ave.; lovelysfiftyfifty.com.
Cyril's at Clay Pigeon. Head cheesemonger Sasha Davies and her winemaker husband, Michael Claypool, run this urban winery, restaurant, and cheese shop. Celebrate an urban neighborhood coming into its own with the winery's first Pinot Noir vintage, which is aged in the same building where Davies thoughtfully prepares her geographically diverse cheese boards. $; 815 S.E. Oak St.; cyrilspdx.com.
Olympia Provisions. The restaurant and charcuterie emporium formerly known as Olympic Provisions is undergoing a gradual transition to a new name: Olympia Provisions. (Because we really might confuse its salumi with the Winter Games?) You'll probably hear the place referred to as both "Olympia" and "Olympic" Provisions for the foreseeable future. One thing that hasn't changed: Their rotisserie chicken is a winner. "This yard bird is moist and crispy," legendary local chef Vitaly Paley says. $$$; 1632 N.W. Thurman St.; olympiaprovisions.com.
Le Pigeon. There's nowhere to hide in the kitchen at this cozy space where mostly self-taught chef Gabriel Rucker—a two-time James Beard award winner with a new cookbook under his belt—sautés and sears in the open for an adoring crowd. For the real show, grab a seat at the counter, where you can usually watch Rucker, bird tattoos fluttering up his arms, work fresh ingredients into modern French country fare. Order the tasting menu and watch the prep unfold. $$$; 738 E. Burnside St.; lepigeon.com.
Grüner. Not many people, when asked what kind of food they'd like to eat, say, "Austrian!" At least not till they've been to this restaurant. But Portland's own semi-celebrity chef Andy Ricker (you've heard of Pok Pok?) loves the place's eponymous salad: "raw shaved vegetables, different crisp lettuces, and pretzel croutons with a simple red wine vinaigrette." It better never, he adds, leave the menu. $$$; 527 S.W. 12th Ave.; grunerpdx.com.
Natural Selection. Let chef Aaron Woo change your mind about what meat-free can be. Forget tempeh skewers and brown rice—Woo creates four-course prix fixe dinners with gorgeous dishes like airy zucchini-chickpea fritters with harissa aioli; silky sweet corn soup with a crispy parsnip-lemongrass garnish; and heavenly wine-poached pears with fluffy white chocolate mousse made sans cream. All at the ridiculously good price of $45 $$; 3033 N.E. Alberta St.; www.naturalselectionpdx.com.
Pok Pok. With his mini-empire, chef Andy Ricker has done a brilliant job of bringing Thai street food to the West. Here, at his original restaurant, you won't find pad thai or fusion dishes. Instead, it serves classic Southeast Asian comfort food, such as roasted game hen, green papaya salad, and noodle soups. They're the kinds of northern Thai dishes eaten every day on the street and in people's homes. $$; 3226 S.E. Division St.; pokpokpdx.com.
Sen Yai. At Andy Ricker's latest PDX restaurant, whose name means "Big Noodle," he focuses on kuaytiaw, complex noodle dishes not typically seen in the United States—yet. "I'ÏI eat noodles almost every day when I'm in Thailand," says Ricker. "What we see here on Thai menus just scratches the surface." Sen Yai offerings like kuaytiaw khua kai (pork fat–fried noodles and chicken with cuttlefish) go deep $; 3384 S.E. Division St.; pokpoksenyai.com.
Apex. This bar is your go-to for rare beers served with care. On a warm night, a Stiegl Radler—grapefruit soda mixed with Austrian lager—is pure refreshment. From there, the list gets infinitely more complex $; 1216 S.E. Division St.; apexbar.com.
1856. This super-cool bottle shop and taproom has only eight stools and a well-curated beer list. (The name is a reference to a big year in the life of chemist and yeast enthusiast Louis Pasteur.) Bring a growler to fill, an esoteric beer request, or just a powerful thirst—1856 can hook you up. $; 1465 N.E. Prescott St.; beerwinecider.tumblr.com.
Nostrana. We're big fans of the late happy hour. This restaurant's starts at 9 p.m., and it's amazing. The pizzas—their Margherita is the best in town—are just 6 bucks. And a bunch of dishes on the menu are $5—like a charcuterie plate, and their signature Caesar. Such a deal, every night of the week. $$; 1401 S.E. Morrison St.; nostrana.com.
Ruby Jewel Scoops. For a G-rated after-dinner outing, you've got till 10 p.m. (11 on weekends) to get to this ice cream shop, whose seasonal flavors include the likes of fresh pumpkin and chocolate peppermint bark. Don't want to brave the line? No problem—they sell pints to go $; 428 S.W. 12th Ave.; www.rubyjewel.net.
WHERE TO STAY
Ace Hotel Portland. The blocklong historic property was renovated into a 78-room magnet for youthful creative types, on the edge of the Pearl District and just steps from Powell's Books. An ethos of reuse is embedded in the details: original murals by homegrown artists, Pendleton wool blankets on platform beds, apple-crate stepping stools next to claw-foot tubs, and some with turntables and vintage vinyl records available on loan from the lobby. Portland's own Stumptown Coffee runs the Stark Cafe, just off the lobby. $$; 1022 S.W. Stark St.; acehotel.com/portland.
Hotel deLuxe. The deLuxe nails the city-hotel trifecta. It's utterly carless, just steps from downtown and a train ride from the airport. It has a buzzy bar, the Driftwood Room, which is a Portland institution. And the service rises above the snap-to-attention business hotel m.o. to be warm and personal. Movies are screened on the roof in summer. To really feel like an insider, ask for a room that ends in "30" or "03"—they have the best views. $$; 729 SW 15th Ave.; hoteldeluxe.com.
The Nines. A cool luxury hotel right in Pioneer Square, it's decked out with modern touches, including a lot of great contemporary art. The rooftop bar, Departure, has an amazing view of Portland: From the outdoor deck you can see all of downtown and the west side. $$$$; 525 S.W. Morrison St.; thenines.com.
The Mark Spencer Hotel. The furnishings may be a little dated, and the rooms are a tiny bit small. But this centrally located hotel is pet-friendly (allowing dogs and cats), has fully equipped kitchens, and is very comfortable. $$; 409 S.W. 11th Ave.; markspencer.com.
The Sentinel. In March of 2014, the Governor, a 1932 dowager of fading reputation, became the Sentinel, adopting a Resto Hardware–goes–Ivy League look. Conveniently located within easy walking distance of downtown, this property is a good choice for those who like to be in the thick of things. $$; 614 S.W. 11th Ave.; sentinelhotel.com.
The Benson. The hotel still has the Austrian crystal chandeliers, Circassian walnut paneling, and an Italian marble staircase and floors from its opening in 1913. The European elegance extends into the guest rooms and onsite restaurant, as well. $$; 309 S.W. Broadway; bensonhotel.com.
Portland's White House. Set in the historic Irvington neighborhood and surrounded by Craftsman-style homes, the B&B is at once mere minutes and a world away from downtown. Uniquely decorated guest rooms, all with private baths, take you back: Picture four-poster beds, cherry armoires, and your great-grandmother's prized porcelain collection. $$; 1914 N.E. 22nd Ave.; portlandswhitehouse.com.
Hotel Lucia. The Lucia is très hip, with sleek, modern furnishings and a lobby art gallery displaying paintings and sculpture by Northwest artists. Don't miss the lobby and corridor displays of the work of Pulitzer-prize winning photographer David Hume Kennerly. If you're lucky, one of his photos will be in your guest room. $$$; 400 S.W. Broadway; hotellucia.com.
Hotel Modera. A luxe-redux of a former Days Inn in downtown, the 174-room Modera skimps in only one way: the price. It has a clean-lined modernism, but there's warmth in the details—like black walnut floors, faux-fur bedspreads, and outdoor firepits. The coolest spot is the courtyard, where you'll dig the living wall of native plants. $$; 515 S.W. Clay St.; hotelmodera.com.
Jupiter Hotel. Rooms with chalkboard doors and painted murals jump-start your creativity, while event spaces with floor-to-ceiling writing boards could be ground zero for the next big start-up. Bonus: It's walking distance from Powell's Books; future Hemingways can take the tour to Distillery Row. $$; 800 E. Burnside; jupiterhotel.com.
WHAT TO DO
Portland Japanese Garden. Occupying 5.5 acres of Washington Park, among tall cedars, Douglas firs, and hemlocks in the city's West Hills, this garden is a highlight of any visit to Portland, and if you'll be in town before the end of August 2015, you shouldn't miss its maples and azaleas and views of Mt. Hood. Come September, though, the Japanese Garden will close for its first-ever expansion. It's scheduled to reopen in early 2016; in the meantime, you should of course visit the International Test Garden, which is also in Washington Park. Portland is, after all, called Rose City. 611 S.W. Kingston Ave.; japanesegarden.com.
Portland Farmers Market at PSU. Some call it crowded, but we take it as theater—the setting at Portland State University is so festive. More importantly, you can't match the sheer variety of goods, from unusual greens to mushrooms to meat to ice cream. Open Saturdays, March through December. 1717 S.W. Park Ave.; portlandfarmersmarket.org.
Löyly. Nothing could be called "fancy" at this Scandinavian-inspired spa in Southeast Portland. The decor is modern but spare (wood, concrete, and stainless steel), lounge chairs aren't abundant, and while treatments are available, you can also buy DIY salt scrubs and masks at the front desk for use while there. But the locals find the cedar sauna, aromatic steam room, and cold pool a perfect place on a dank winter day. $$; 2713 S.E. 21st Ave.; loyly.net.
Oaks Bottom Wildlife Refuge. Take a woodsy walk in the wildlife refuge, and you'll think you've left the city limits. But you haven't—this protected area, where you might see a quail or a blue heron, is just off Sellwood Avenue. S.E. Milwaukie Ave. at S.E. Mitchell St.; portlandparks.org.
Pedal Bike Tours. The Bites by Bike tour leads you through Portland's prettiest neighborhoods with stops for the best seasonal eats. Brake at locavore hubs for, say, thin-crust pizza with local feta and greens, puckery mini lemon bars, seasonal microbrews, and veggies at the Portland Farmers Market. $$$; 133 SW 2nd Ave.; pedalbiketours.com.
Oaks Amusement Park Roller skating is alive and well at Oaks Amusement Park, where all ages skate to '80s rock and occasionally to a live Wurlitzer organ. $; 7805 S.E. Oaks Park Way; oakspark.com.
Caruthers Park. It's impressive, what an old public storage facility can become: 2 pretty acres of green space in Portland's South Waterfront district. Surrounded by residential high-rises, Caruthers Park is a quick streetcar ride from downtown. Stroll beside wetlands with colorful purple and yellow flowers. Spread a blanket on the sloping lawn, compete on the bocce court, let the kids frolic in the spray fountain, and clamber over wooden beams stacked like pickup sticks. In summer, family-themed movies play on a big inflatable screen. 3508 S.W. Moody Ave.; portlandparks.org.
WHERE TO SHOP
Powell's City of Books. Of course you need to stop here. Yes, there are four other branches in the greater metro area, including one at the airport, but don't argue. Just go. $; 1005 W. Burnside St.; powells.com.
Alder & Co. This store overflows with clever one-of-a-kind gifts—the small-batch Bee Local honey and Slumberhouse perfumes make great I-was-thinking-of-you presents for anyone back home who needs remembering. You'll be amazed at how quickly something you barely knew existed (salt cellars, candle toppers) turns into something you or a loved one absolutely must have $$$; 616 S.W. 12th Ave.; alderandcoshop.com.
Spruce Apothecary. Got a preteen in your life who loves natural toiletries? Stop at this shop at the northern end of Union Way—a Paris-inspired covered shopping corridor running between the Ace and Powell's Books—for Japanese bath "tea," bars of Los Poblanos blue corn and lemongrass soap, and unisex colognes from perfume-maker D.S. & Durga. $$; 1022 W. Burnside St.; spruceapothecary.com.
Tanner Goods. Tanner turns leatherwork into an art form. For proof, pick up the field camera bag or one of the canine collars, or take a look at the line done in collaboration with Danner Boots. You'll find yourself wishing you'd packed for your trip to Portland with one of these travel bags. $$$; 1308 W. Burnside St.; tannergoods.com.
Woonwinkel. The name is Dutch for "home shop,' and this store does indeed carry a mix of Northwest and European products with a clean, modern aesthetic. Don't miss the blankets by PlainMade, the dollhouse-like shed by Studio Gorm, and classic Sögreni bicycle bells from Denmark. 935 S.W. Washington St.; woonwinkelhome.com.
Grand Marketplace. Among the 22 vendors housed in this 18,000-square-foot antiques showcase are Seek the Unique (midcentury Americana and furniture), Animal Traffic Outpost (vintage Pendleton gear), and Aurora Mills Architectural Salvage, the new Portland outpost for one of the nation's biggest purveyors of salvaged items, ranging from reclaimed lumber to marble fireplaces $$; 1005 S.E. Grand Ave.; grandmarketplacepdx.com.
Digs. This pocket-size home-and-garden shop is full of turquoise chaise longues, candy-bright French bistro tables, pierced tin lanterns, and colorful planters—basically, everything you need to turn your backyard into the favorite room of the house. $$$; 1829 N.E. Alberta St.; digs-pdx.com.
Monograph Bookwerks. This is one of the hands-down best little stores in the city. The owners will buy an estate and bring in rare books, decorative ceramics, and assorted ephemera. Plus they sell their own walnut ink $$; 5005 N.E. 27th Ave.; monographbookwerks.com.