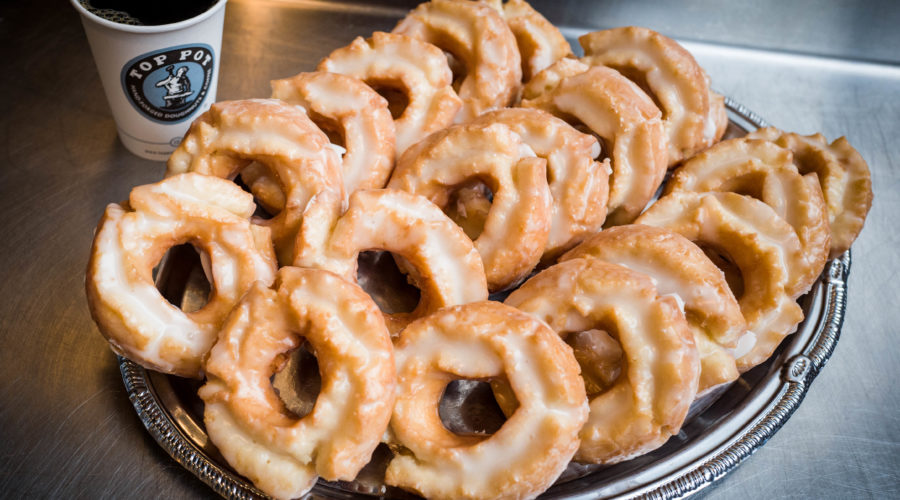 A taste of Seattle's best doughnut shops
Crispy and sweet, golden and tender, a doughnut is the perfect match for a strong cup of coffee. No wonder, then, that Seattle ― a city known for good java ― has more than its fair share of great doughnut shops. Drawing enthusiastic crowds despite the competition from national chains, each neighborhood hotspot has its own delightful and unique appeal. The independently owned stores listed here are distinguished by their devoted owners, memorable ambience, and, of course, delicious doughnuts.
Daily Dozen Doughnut Co. Owner Barbara Elza started making doughnuts at this lively stand in Pike Place Market 15 years ago, and she fell in love with the job. "It's a big family here," she says. "We know how to have fun." Locals and visitors have a great time watching the "Donut Robot" ― a machine invented in the 1930s―turn out fresh, hot miniature doughnuts in plain, sugar, and cinnamon-sugar. The frosted "fancies" tend to disappear quickly. "Kids are stronger than you think," Elza says. "They can really muscle their way to the front." 93 Pike Place Market, #7; (206) 467-7769.
Family Doughnut Shop. Regulars flock to this hole-in-the-wall shop for tasty doughnuts and friendly banter with owner Tony Oeung and wife Vanna. "It's a pleasure to get to know the customers," says Tony. Of course, the real joy comes from biting into the deep-fried treats he makes fresh every morning. Choose from glazed buttermilk, old-fashioned, and frosted cake doughnuts of every variety, along with fluffy jellies, maple bars, and twists. 2100 N. Northgate Way; (206) 368-9107.
Sophie's Donuts. Susan Kaplan seeks out the finest ingredients for her doughnuts. The former owner of Seattle's popular Boat Street Cafe, Kaplan recently got into this business with a vision to re-create the doughnuts she loved as a kid. "We use old-fashioned recipes to make the dough from scratch," she says. Visit this tiny shop in Seattle's Eastlake neighborhood for luscious renditions of all the classics, as well as the memorable Bismarck, which is filled with real raspberry jam. True enthusiasts can even sign up for a doughnut-making class. 2238 Eastlake Ave. E.; (206) 323-7132.
Top Pot. This postmodern designer shop on a quiet, leafy street in Seattle's Capitol Hill neighborhood has lines out the door on weekends. Brothers Mark and Michael Klebeck opened the place last year with Joel Radin, and all share a nostalgia for the late 1940s; doughnuts are served on vintage plates from that era, and the glass case displays gemlike treats frosted with retro pink or chocolate icing. Old-fashioned cake stands display their newest jelly creation, the Valley Girl Lemon. Watch for their new store, opening next month in downtown Seattle. 609 Summit Ave. E.; (206) 323-7841.