Get away to B.C.'s Okanagan Valley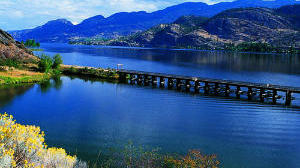 Enjoy water sports, great produce, wines, and other epicurean treats
For more than a century, British Columbia's Okanagan Valley has been Canada's fruit bowl, known throughout the western provinces for its fragrant, perfectly ripe peaches and sunny beaches. But it's beginning to change. In the late 1980s, vintners started taking advantage of the Okanagan's warm climate, turning it into a fast-growing premium wine region. And now the combination of fresh local produce and award-winning wine is drawing top chefs to the area's increasingly sophisticated restaurants. Today the Okanagan is the West's next big discovery. It's time to head north.
Fast facts
• With less than 5 inches of rain, the Okanagan gets about 2,000 hours of sunshine annually ― roughly the same ratio of rays that Hawaiians get on Oahu.
• Okanagan Lake is roughly 90 miles long, over 1 mile wide, and up to 800 feet deep. It also has the requisite legendary monster – Ogopogo.
• In the Okanagan, 1,100 fruit growers cultivating 18,500 acres produce $150 million of fresh fruit per year. More than 60 wineries sold 4.2 million liters of wine totaling $83 million in 2002.
Towns and attractions
The Okanagan Valley's main city, Kelowna, is 206 miles ― a five-hour drive ― east of Vancouver, B.C. You can fly to Kelowna from Seattle or Vancouver. Late-summer daytime temperatures average in the 80s; evenings stay warm. All prices are in Canadian dollars. Check www.bankofcanada.ca for the current exchange rate. For a travel planner, contact Thompson Okanagan Tourism Association (closed Sat-Sun; 1332 Water St., Kelowna; 800/567-2275).
Kelowna
With a population of more than 100,000 and a thriving economy, this city has big hotels and resorts offering everything from water sports to nightlife; some of the region's finest restaurants are here. But what comes as a surprise is the richness and diversity of Kelowna's cultural scene. In a six-block cultural district east of the Grand Okanagan, you'll find an assortment of museums, private galleries, and shops. Tourism Kelowna, 544 Harvey Ave.; 800/663-4345.
Attractions
Cultural district. Built inside a restored 1917 fruit-packing house, two museums, the British Columbia Orchard Industry Museum and the Wine Museum (orchard museum closed Sun-Mon; 1304 Ellis St.; 250/763-0433, 250/868-0441 for the wine museum) present exhibits focusing on the fruit-growing industry from 1900 to the present and the wine industry from 1500 B.C. on. The excellent VQA Wine Shop here sells wines and ice wines from 46 different vintners. The Kelowna Art Gallery (closed Mon, call for other hours; $4; 1315 Water; 250/762-2226) is a nonprofit public gallery of fine arts with changing exhibits and a permanent collection. The Kelowna Museum (10-5 Tue-Sat; 470 Queensway Ave.; 250/763-2417) offers a historical view of the region, including information on natural history and the life of the people, and an 1860s trading post. For a century's worth of Canadian military artifacts, stop in the Okanagan Military Museum (10-4 Tue-Sat; $1 suggested donation; 1424 Ellis; 250/763-9292).
Dining
Fresco. Regional, seasonal, and fresh is the mantra for the Okanagan's best restaurant. The signature oat-crusted Arctic char comes with spinach flan. Dinner only. 1560 Water; 250/868-8805.
Harvest Dining Room. Executive chef Jim Armstrong works directly with local growers to get perfect produce, such as the golden beets that set off a beautiful dish of halibut and pea shoots. Dinner only. At the Harvest Golf Club, 2725 K.L.O. Rd.; 250/862-3177.
Vintropolis Tapas Bar. This Kelowna hot spot offers small plates and an extensive list of wines by the glass. Lunch and dinner. 231 Bernard Ave.; 250/762-7682.
Lodging
Grand Okanagan Lakefront Resort and Conference Centre. A big, glitzy resort hotel right on the lake with 320 rooms, restaurants, casino, and spa. From $299. 1310 Water; 800/465-4651.
Manteo Resort Waterfront Hotel & Villas. This elegant, Tuscan-style hotel with 78 guest rooms and suites is the place to disappear under the Okanagan sun, sequestered from the hubbub of Kelowna. From $225. 3766 Lakeshore Rd.; 800/445-5255. 
Penticton
The largest city in the South Okanagan sits on a sliver of land between Okanagan and Skaha Lakes. Its 2 miles of public beach are packed with sun worshipers in summer. The nearby town of Summerland is like an old-fashioned English village. Penticton & Wine Country Chamber of Commerce, 888 Westminster Ave. W.; 250/492-4103.
Attractions
Giant's Head hike. A 2-mile, 50-minute hike on the Don Agur Trail to the 2,772-foot summit and a breathtaking panorama. For directions visit the Summerland Chamber of Economic Development and Tourism, 15600 Hwy. 97; 250/494-2686.
Kettle Valley Railroad Trail. Tracks of the old Kettle Valley Railroad have been pulled up and turned into 87 miles of biking and hiking trail. One scenic section is north of Penticton on the old trestles through Myra Canyon. For information on the trail, bike rentals (from $20 for four hours), and shuttles or tours, contact Monashee Adventure Tours, 470 Cawston Ave., Kelowna; 250/762-9253.
Kettle Valley Steam Railway. A 1924 steam engine pulls passenger cars through a canyon to the 238-foot Trout Creek Bridge. Twice daily Thu-Mon; $16. Prairie Valley Station west of Summerland; 877/494-8424.
Dining and Lodging
Naramata Heritage Inn & Spa. This 1908 inn has 12 rooms and is a Provincial Heritage Site. The Rock Oven Dining Room (dinner Thu-Sun) serves lamb loin en croute and roast duckling with a sweet cherry-plum sauce; the pleasant patio at the Cobblestone Wine Bar is a more casual option. From $165. 3625 First St., Naramata; 866/617-1188.
Penticton Lakeside Resort Convention Centre & Casino. A full-service resort hotel with 204 rooms and suites and a casino right on the beach. At Magnums on the Lake (three meals daily; 250/493-9768), chef Ralph Kordass's menus are inventive. Rooms from $154. 21 Lakeshore Dr. W., Penticton; 800/663-9400.
Zias Stonehouse. Featuring live piano nightly in an old house, the restaurant's diverse menu includes owner Shannon Ferlizza's memorable tiramisu. Lunch and dinner daily. 14015 Rosedale Ave., Summerland; 250/494-1105. 
Osoyoos
Small and uncomplicated, with recently renovated motels and new restaurants, Osoyoos and the dry country around it mark the northern tip of the Sonoran Desert. While you'll find more outdoor recreation farther north, some of the Okanagan's best wineries are along the Golden Mile between Osoyoos and Oliver; this is also where the region's First Nations culture is most visible. Destination Osoyoos Visitor Info Centre, junction of Hwy. 97 and Hwy. 3; 250/495-3366.
Attractions
Osoyoos Desert Centre. Guided natural-history tours take visitors on a mile-long boardwalk that leads through the endangered antelope brush ecosystem in these 66 acres of protected desert habitat. Daily to mid-Oct (call for tour times); $6. 2 miles north of Osoyoos off Hwy. 97; 250/495-2470.
Nk'Mip Desert & Heritage Centre. Pronounce it inkameep. A visitor center and more than a mile of trails that loop past a reconstructed traditional Okanagan village reveal this native culture. Daily through Sep; $7. 1000 Rancher Creek Rd.; 250/495-7901.