New job: A chicken sitter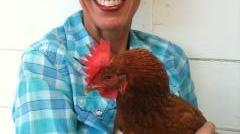 A Q&A with Los Angeles chicken sitter, Anna Goeser who, for $30 to $50 per day, will take care of your backyard chickens.
Landscape designer Anna Goeser runs and owns Easy Acres Chicken Sitting in Los Angeles and keeps busy with a roster of feathered clients. For $30 to $50 per day (depending on how far she has to travel to get to your chickens), she'll clean coops, collect eggs, administer medication and even comfort hens and roosters (you know. Be a chicken whisperer).
-As told to Alison Singh Gee
How did you start doing this?
I have had chickens for 17 years. Right now, I have three hens: Rita, Lucille and Earlene, who's 16. I don't go out of town that much and other people with chickens do. So I thought maybe I could take care of their chickens. My first clients,  an Eagle Rock couple, had six hens and a cat. It was a weeklong gig.
What tasks does chicken sitting require?
I usually do two visits a day and each time I do a feeding and watering. I also gather eggs and clean out the coop. I can also medicate a chicken if needed. And I will bathe chickens. Sometimes they need a sulfur baths if they have mites.
Any chicken emergencies?
I remember I was working with a flock in Pasadena. I was out having lunch with a friend a few blocks away. My friend looked up in the sky and saw that there were hawks circling the area. My heart started pounding and I said, "Oh my god, I gotta check my chickens." When I got there, they were cool, but I said to them, "Listen, you guys need to be safe. There are hawks flying around."
Have you ever had a run-in with a chicken?
Yes, I was attacked once by a hen. She gave me a fat lip. I didn't know that she had just laid her first egg, her first baby. Out of nowhere, she pecked my lip. It was as if she punched me. It bled. She just stood there hunched and angry.
Most memorable?
A male duck whom I named Edward G. Robinson. He would chase me and bite the back of my pants. He would hang on to the cuff and I would limp around with him attached. I would say, "I know I'm in your space but I don't know what to tell you." They are very territorial and are just protecting their flock. All you can do is let them know they can trust you, do your job and get out.
Keep Reading: