Honolulu International Airport Guide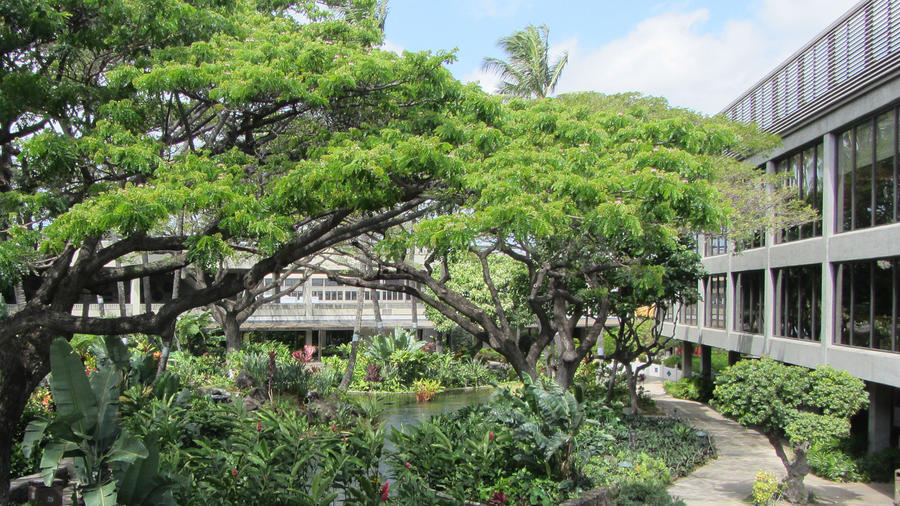 Creative Commons photo by Jason Riedy is licensed under CC BY 2.0
Keep your cool on a tropical layover, whether you find your Zen in a Japanese garden or at the bottom of a fruity tiki drink
THE BEST OF THE TERMINALS
Being stuck at Honolulu International Airport (airport code: HNL) can make it feel like paradise is just out of reach. But don't despair—you can get a taste of the islands without leaving the secure area. Have a drink, shop for pineapples, take in a hula performance, or even ponder the nature of your journey in a Japanese garden. HNL is full of hidden surprises.
A quick geography lesson: HNL is divided into three terminals: a Commuter Terminal, mostly for small planes traveling between islands; the Interisland Terminal, for larger planes making similar trips, and the Main Overseas Terminal servicing flights to the mainland and international destinations. The large Overseas Terminal has three concourses, named Diamond Head, Central, and Ewa. A few Main Overseas Terminal gates (12, 13, 24, and 25) float outside of the three main concourses. Gates can be far apart, but the free Wiki-Wiki buses (wiki means "quick" in Hawaiian) can zip you around the airport.
QUICK BITES
Eats are limited in the Commuter Terminal. Your best quick option is the newsstand, helpfully named News Stand. The ice cream and candy are nothing special, but they'll get you through your short flight. In the Interisland Terminal, try the Lahaina Chicken Company. They have surprisingly substantial food—not just chicken, but also ribs with sides like mac 'n' cheese—in to-go containers. The Main Overseas Terminal is where the really good grinds are. There's a Lahaina Chicken Company here, too, in the Central Concourse, and a food court offering a variety of stands like California Pizza Kitchen and Chow Mein Express to fill your belly quickly. Near Gate 25, Samurai Sushi & Bento offers bento boxes, which are perhaps the perfect grab-and-go food if you're in the mood for Japanese.
SIT-DOWN MEALS
Although few people linger long in the Commuter Terminal, you can sit down for a hot dog or sandwich at the Mahalo Bar. In the Interisland Terminal, Stinger Ray's Tropical Bar & Grill is the place to rest your travel-weary feet and sample tropical comfort food like Kalua pork nachos and mai tais. In the Main Overseas Terminal's Central Concourse, The Local @ HNL is a great place to say aloha to Hawaii. Most of the food and beer are locally sourced, and you can eat overlooking gardens that will make you forget you're at an airport.
BEER, WINE, & COCKTAILS
You're not flying the plane, so treat yourself to a little tipple before you board. The Commuter Terminal's Mahalo Bar is a good place for a drink with its full license. On the Interisland side, pull up a stool at Island Brews and Pizza Hut. The pizza is exactly what you'd expect from the national chain, but the local microbrews on tap from several different Hawaiian islands are worth discovering. There are cocktails, too, if it's going to take a Singapore sling to get you in your seat. If you're in the Overseas Terminal, good news: There's another Island Brews near gate 8—this location doesn't have pizza but it's got the same sampling of local suds. If Scotch is your thing, we're not sure why you're in Hawaii, but you're in luck: the Central Concourse has an establishment called Dewar's Clubhouse where it's all golf and Dewar's cocktails morning, noon, and night.
SWEET TREATS
Did you pack your sweet tooth? If you're in the Interisland Terminal, you can indulge it at Lani Moo's Tropical Treats. The premium ice cream here is made from locally sourced ingredients and offers a taste of the islands in a very literal sense, with flavors like macadamia nut and Kona coffee. In the Main Overseas Terminal, you can satisfy that creamy craving at either of two Coldstone Creameries. One is near gates 12 and 13, and the other is in the Central Concourse.  Too rich? There's a Pinkberry frozen yogurt restaurant in the food court in the Central Concourse. If you have time, sit down at The Local @ HNL (Central Concourse) and have a slice of molten chocolate cake off the dessert menu. If you simply crave candy, Pages & Pages offers an independent version of the typical airport bookstore, complete with racks of sweet impulse buys. It's in the Central Concourse, too.
COFFEE
Hopefully you got enough of that Kona blend before you got to the airport, because HNL is surprisingly light on non-chain coffee options. As with most airports, Starbucks is everywhere. (Not in the Commuter Terminal, though. Don't show up undercaffeinated for your island-hop.) Non-corporate coffee is a little harder to find. In the Interisland Terminal, get it at Makai Plantation. In the Main Overseas Terminal, get your sleepy self to Snack Bar, which serves hot drinks and makes up for in convenience what it lacks in naming creativity.
EDIBLE SOUVENIRS
Give loved ones back home a taste of the islands, which you can pick up at a number of stores in the Main Overseas Terminal.  Near Gates 24 and 25, the Dole Plantation shop offers a selection of sweet and savory Dole-branded souvenirs, including cans of macadamia nuts, Hawaiian salt, sugarcane stalks, and, naturally, fresh pineapples. Hawaii Market En Route also offers similar local treats, with the important addition of fragrant bags of Kona coffee. There are locations in all three concourses. In both the Diamond Head Concourse and also in the Central Concourse, Hawaiian Isle Memories stocks enough mac nuts and caramel turtles to placate a whole office full of jealous co-workers.
OTHER SOUVENIRS
Whether your stay in the Aloha State is a major vacation or just a layover on your way across the Pacific, you might want to consider picking up tangible evidence of your travels. Nothing says Hawaii like a lei, and there are stands selling them all over the airport. Look for carts or kiosks in Main Overseas Terminal locations including the Ewa Concourse, Central Concourse, and Gates 24 and 25. There is another flower stand in the Interisland Terminal. In the Central Terminal, Maui Divers Jewelry sells coral, pearls, and pendants in the shape of sea turtles. For something a little different, visit the Flight Deck store in the Interisland Terminal. This aviation-themed shop sells Hawaiian Airlines-branded souvenirs.
A TRIO OF GARDENS
Travel, even when it includes a stop in paradise, can be stressful. Combat that stress with a visit to not one but three remarkable interconnected gardens, each reflecting a different traditional landscaping style. A Chinese garden features a pagoda and bamboo, while the Japanese garden has more sculpted stone, willows, and bridges. The lush Hawaiian garden incorporates varied and dramatic elements, from bird of paradise plants to lava. At night all are lit by lanterns and torches, and at any time of day, the greenery provides a respite from the hectic nature of travel.
IT'S HULA TIME
Even if you can't leave the airport, the culture of the Hawaiian islands can come to you if you time your stopover right. Musician Greg Sardinha and his band Po'okela (the name means "striving for the best" in Hawaiian) perform most days at the airport. The large ensemble includes musicians and hula dancers and performs at various locations throughout the airport. The group plays most mornings and a few evenings a week from 6-10pm. Follow the sound of steel guitars and ukuleles and you'll find the party. 
Keep Reading: