Fall Road Trip: Eastern Sierra, Day 4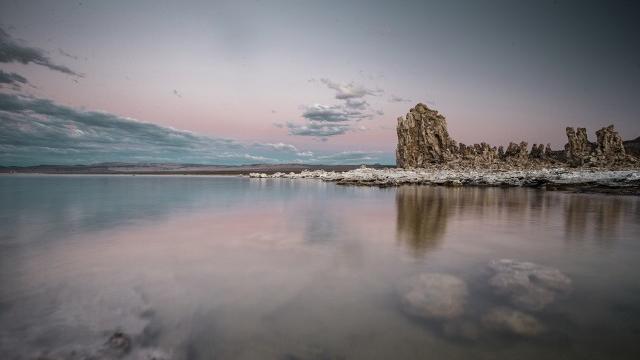 For seven days, we're taking you on a fall road trip through the Eastern Sierra of California and Nevada. We'll go behind the scenes of our September issue's cover story, "The Road to Gold," with bonus photographs and videos. Follow along and use our daily itinerary to plan your own trip up quiet, gorgeous U.S. Highway 395. See days 1, 2, 3, 5, 6, and 7.
Lee Vining, CA
10 a.m.Mark Twain called Mono Lake "one of the strangest freaks of nature to be found in any land." In September, phalaropes and eared grebes show up for the lake's all-you-can-eat buffet of brine shrimp and alkali flies, joining more than 300 other avian species. At Mono Lake Tufa State Natural Reserve ($3 entry), a trail skirts past knobby clusters of tufa. Stop at either the Mono Lake Committee, in downtown Lee Vining, or the Mono Basin Scenic Area Visitor's Center.
11:30 a.m.The 27 volcanic cones south of Mono Lake form the Mono Craters. It's a short hike up to Panum Crater, a lava dome that erupted only 600 years ago.
12:15 p.m.Order the lobster taquito and carrot cake at Whoa Nellie Deli, in the Tioga Gas Mart, and discover why it's renowned for its food. $$; 22 Vista Point Rd.; Lee Vining.
1:30 p.m.It's liquid nirvana at Travertine Hot Springs: five mineral pools in an alkali-encrusted meadow a couple of miles east of Bridgeport. Spas charge big bucks for this kind of mud. Here it's free, plus it comes with a bonus view of the Sawtooth Ridge. The thermally heated water is scalding at its source, but it cools to a comfortable temperature as it flows down travertine rock formations to reach the pools. Just to be safe, though, a ranger suggests testing the temperature before dipping.
Bodie, CA
4:15 p.m. The story of the West's ghost towns is framed by the antipodal themes of boom and bust. Nowhere is that more apparent than in Bodie, which was the West's rowdiest city in 1877 when gold mining fever gripped the Eastern Sierra. Today Bodie State Historic Park houses the country's largest unrestored ghost town, with about 200 deserted buildings still standing. Peer in the windows to see tables and chairs, wallpaper and calendars, all abandoned when the mining boom went bust. $5 entry fee.
In its prime, Bodie had 70 saloons and residents withstood ravaging fires, harsh windstorms, and rampant bad behavior—including constant street fights and public drunkenness. Eventually, it also had a Catholic church and a Methodist church. The Catholic church burnt down but the Methodist church, built in 1882, still stands, which is nothing short of a miracle. Don't miss a tour of the Standard Mill, the 116-year-old building where workers turned ore into gold. Standard Mill: $7 tour fee, in addition to park entry fee.
7 p.m.Hungry? Bridgeport regulars know the drill: a burger at Burger Barn, then ice cream at nearby Jolly Kone. That's been the combo for cattle barons and rodeo queens. Burger Barn: $; 152 Main St.; (760) 932-7775. Jolly Kone: $; 178 Main; (760) 932-7555.
Stay tuned for tomorrow's itinerary for Day 5 in Genoa, Nevada.
Keep Reading: