You Can Dine in a Real-Life Haunted House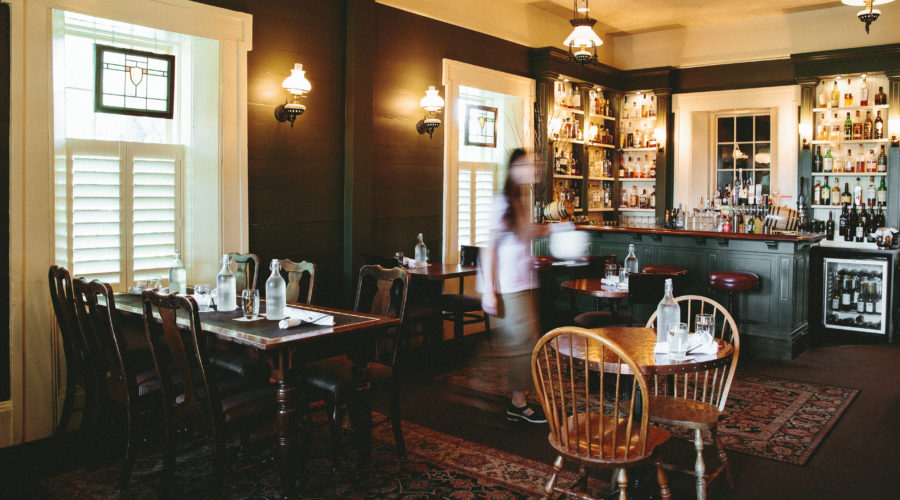 Courtesy of The Eatery at the Grant House
As Halloween approaches, get some thrills and chills over an unconventional meal
If your idea of getting into the spirit this Halloween involves the paranormal, a haunted house might be the perfect way to celebrate the season. While there are plenty of staged corn fields and old mansions brimming with cobwebs, ghastly characters, and spooky sounds to experience in any city, a legitimate haunting isn't so easy to find.
An unconventionally spooky setting can be found at The Grant House, set on the banks of the Columbia River in Vancouver National Historic Reserve, outside of Portland. The two-story log cabin on Officers Row is named for a famous guest, President Ulysses S. Grant, and has worn many hats in its 169 years of service, including the first army headquarters in the Northwest, an Officers' Club, a library, a museum, and (allegedly) a brothel. These days, the Eatery at The Grant House is a renowned dining destination, known as much for its menu of super-fresh seafood and local produce as for its otherworldly residents.
The Grant House even has a local historian, ghost hunter, and tour guide on staff who's dedicated to researching and sharing tales of the Row's paranormal activity over the years. If you ask Jeff Davis, he'll tell you about the Post's main ghost, Alfred Sully, who served as a Union General during the Civil War and was transferred to the Vancouver Barracks in the 1870s, and whose pacing footsteps have been heard by staff members for decades. Sully's ghost has even reportedly been seen enjoying a cigar on the porch after-hours. If you bring the kids, you might also meet a young boy, smartly dressed in old-fashioned garb, who's been spied lingering in the lobby on occasion, more frequently when children are around.
The Eatery at the Grant House is more than its ghosts—it boasts a killer spread for brunch, lunch, and dinner, all inspired by the flavors of the Pacific Northwest, from Oregon Albacore tuna, to local heirloom tomatoes and garden-fresh herbs, to cheese from Willamette Valley's Briar Rose Creamery. Sure, you could watch Casper, but if the fancy strikes for a delicious meal with a few friendly spirits in tow, you know where to go.
Keep Reading: