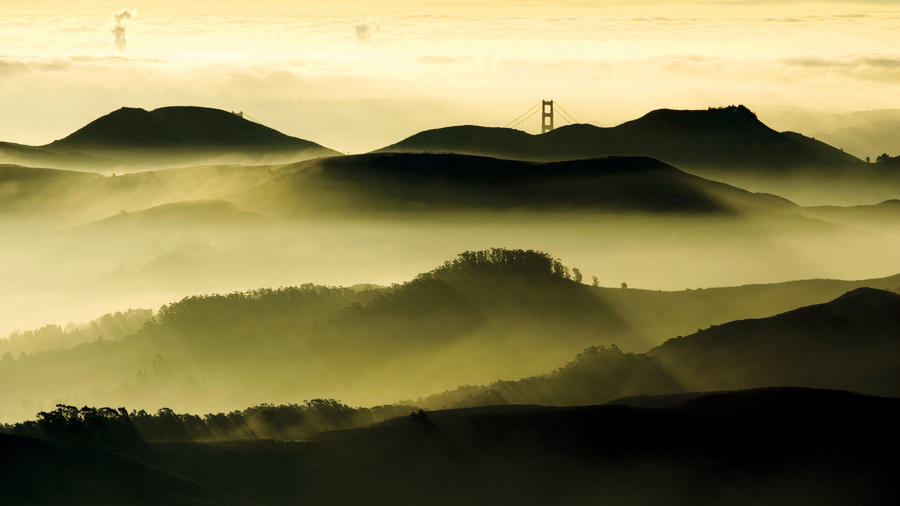 Marin County's best-known mountain still harbors a few mysteries
The late-afternoon light was sliding into gentle gray as I set out for a two-day retreat on Mt. Tamalpais. Not 50 yards down the trail, a hunched shape ahead stopped me cold.
I panicked: I'm going to get eaten by a mountain lion! I knew this would happen!
But then my rational mind returned. The shape had a bushy tail and long nose. It was a coyote, solo, a dusk-and-cream creature 3 feet tall. It sniffed at me calmly, gave a canine-style shrug, and disappeared behind tanbark oaks.
I took this as a positive sign ― an omen that the mountain was willing to reveal its hidden side.
Tamalpais is Northern California's best-loved mountain. More than 1.5 million visitors a year hike, bike, ride horses, and stand awestruck in its redwood canyons. But, remarkably, the Marin County hillside still retains a good deal of mystery. There are wild canyons, hidden routes, and discoveries in its roughly 25,000 acres, from the ridgetop to the grassy slopes and beachside coves.
Tam's secrets can be difficult to unearth: Hikers jealously guard directions to their favorite spots. Institutions such as the West Point Inn and the Nature Friends Tourist Club beer garden shy away from publicity. An area official once sent me a lacelike Tam map with all trails scissored out, since "policy is to not aggressively publicize our trails," he wrote.
Even the mountain's two-lump profile changes, depending on where you're looking at it from. As a child growing up at Tam's base, I could never find the Sleeping Maiden shape traced in its ridgeline because, it seemed to me, East and West Peaks danced around each other as I moved. But as an adult, I was determined to discover some of the mountain's many mysteries.
Mountain explorations, outside and in
When I called for reservations at West Point Inn, I told the volunteer I was going to spend two days to "find myself." He roared with laughter: "I haven't heard anyone talk like that since the '70s." He continued with some ominous advice: "Well then, be careful. The way is dangerous and dark. You don't know what you will find."
By the time I got to the rustic lodge, the evening had settled into night. Right away I had to do some digging: An avid hiker there was reluctant to tell me his favorite hiking spots. Finally he mentioned Music Stand. "But I can't tell you anything more about it ― you have to discover it for yourself."
That was my goal the next morning as I hiked Rock Spring Trail, passing the quiet, 40-row stone-seat Mountain Theater, home to an annual spring show. There are many more memorials, official and illicit, along the mountain's trails ― testaments to the fervent affection the place elicits.
I hiked through exposed patches of greenish serpentine rock, up and over a ridge, and descended through a fir forest, stopping for lunch at a picnic table at Barth's Retreat, where a German composer and musician once had a weekend camp.
But apparently here is where I made my wrong turn. I descended to Cataract Trail instead of turning north, where I might have discovered the hiker's secret: a spot with a music stand at one of the most remote points on the mountain.
No matter: I made another discovery, following Cataract Trail alongside the eponymous creek, searching for the broken engine of a Navy Air Corps plane that crashed here on October 4, 1945. I found it, or at least found a dark hunk of metal sticking out of the water, near a bridge.
Two planes collided on that day in 1945. "There's a load of mystery surrounding the crash," Libby Smith, president of the Mt. Tamalpais Interpretive Association, told me later. "There are all kinds of things on the mountain that are not well known, not documented."
Giant latte morning
Sunshine slanted across the West Point Inn's weathered wood porch on my second morning, illuminating the dark green bunches of chaparral and the red dirt trail. But fog obscured the towns below, swallowing even the Marin Headlands and the towers of the Golden Gate Bridge. I could see nothing beyond the pine peaks but scalloped white waves, as if someone had finally engulfed all of Marin in the foam of a giant latte.
I headed back toward Music Stand Trail, determined this time to discover its secrets. But the fog crept up the mountain, thickening, until I was hiking in a gray tunnel. Even if I found the spot, I wouldn't be able to see it. I gave up and turned back.
My time on Tam was coming to an end. I descended the Dipsea Trail, the mountain's most famous route. Though I saw no one else on the trail then, each June it's the site of the country's second-oldest footrace, 6.9 miles up and over the mountain. Exactly 676 steps concluded my journey as I descended the three sets of stairs that launch the Dipsea Race. I hadn't discovered all I'd set out to, but the remaining mysteries only add to the mountain's appeal.
Throughout early spring, the Cataract Trail is at its mossiest, greenest best.
• Music Stand Trail. This short, little-used path has a surprise: a music stand placed by a Tam fan about 50 years ago. Moderate; 0.5 mile one way (2.2 miles one way from lot via Simmons Trail). Off Laurel Dell Fire Rd. or High Marsh Trail. Park at Rock Spring.
• North-side trails. This side of the mountain, accessed via Fairfax-Bolinas Rd., generally sees fewer crowds. "In the old days, the worst thing you could say about someone was, 'Oh, he's just a south-side hiker,'" says Tam historian and advocate Nancy M. Skinner.
• Plane wreckage. Along the Cataract Trail, about 1 mile from its beginning at Rock Spring, you can see the remaining engine from a two-plane collision that occurred in 1945. Park at Rock Spring.
• Railroad history. Gravity Car Rd. follows the route of the Muir Woods leg of the Mt. Tamalpais & Muir Woods Railway, disbanded in 1930. Easy; Old Railroad Grade is 1 mile from Mountain Home Inn along Gravity Car Rd. Park across from the inn.
Mt. Tamalpais is about 10 miles north of San Francisco. Main routes to it from U.S. 101 are State 1 to Panoramic Hwy., and Sir Francis Drake Blvd. to Fairfax-Bolinas Rd. East Peak, Tam's highest point at 2,571 feet, is reachable from E. Ridgecrest Blvd.
Mt. Tamalpais State Park is celebrating its 75th anniversary this year. The 6,300-acre park has four campgrounds (sites from $12), one with primitive cabins. Pantoll Ranger Station, 3801 Panoramic Hwy., Mill Valley; www.parks.ca.gov or 415/388-2070. Parking ($6) is available at Bootjack, East Peak, and Pantoll.
The Mt. Tamalpais Interpretive Association leads free weekend hikes through the Volunteer in Parks program. www.mttam.net or 415/258-2410.
Favorite hikes
Cataract Trail. Waterfall-lined hike descends 1,320 feet. Difficult; 2.9 miles one way. Parking (limited) at Rock Spring or off Fairfax-Bolinas Rd.
Dipsea Trail. Scenic route from downtown Mill Valley to Stinson Beach, with a 1,200-foot elevation change. Difficult; 6.9 miles one way. Park in Mill Valley or at Stinson Beach.
Lodging and dining
Mountain Home Inn. Ten-room lodge and restaurant ($$$$; closed Mon–Tue) with great views. From $175. 810 Panoramic Hwy., Mill Valley; www.mtnhomeinn.com or 415/381-9000.
The Pelican Inn. Elegant rooms near the ocean; accompanying pub and restaurant ($$$; closed Mon) offer Brit classics. From $201. 10 Pacific Way, Muir Beach; www.pelicaninn.com or 415/383-6000.
West Point Inn. Lodge and five cabins with shared kitchen and bathroom; no electricity. From here, access Rock Spring Trail (moderate, 1.7 miles one way). From $35; closed Mon. Hike in (ask for directions when reserving); www.westpointinn.com or 415/646-0702.
Keep Reading: