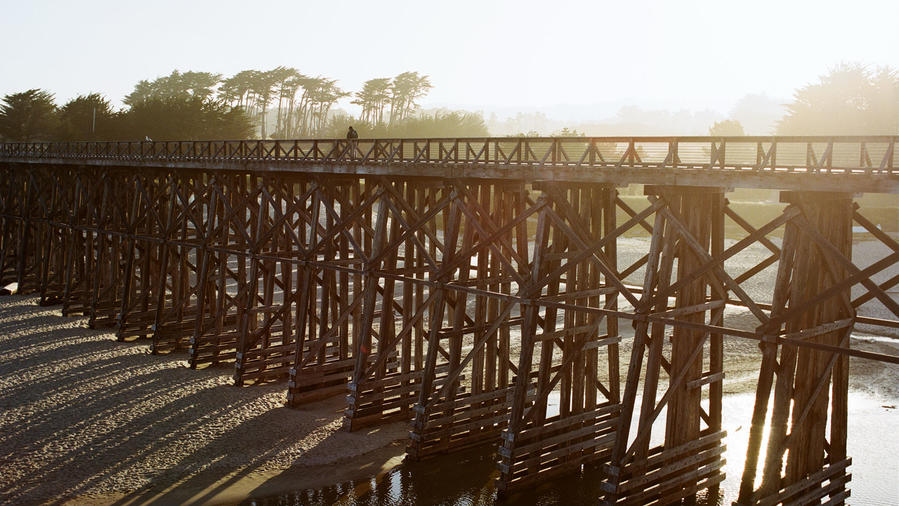 Long overshadowed by Mendocino, this California lumber town remakes itself into a no-apologies-needed North Coast destination
It wasn't long ago that Fort Bragg was a parenthetical, a poor stepchild to the tourist-friendly wonderland of nearby Mendocino.
When I was growing up in this gritty mill town, the biggest draws were a former seaside garbage dump called Glass Beach and the Skunk Train, a one-time log-haul railroad.
Locals like me loved the area anyway—loved it for the spectacular rivers and forests, the beaches and trails. But even we could see that the town itself was less than welcoming.
Recently, though, Fort Bragg has embraced what has always been its ace in the hole—the irresistible oceanside setting—and shed its old company-town identity.
The massive lumber mill that sat smack-dab between downtown and the Pacific has been ripped down to reveal wide ocean views. An old train trestle has become a grand pedestrian bridge to the spectacular coastline. And new shops, restaurants, and galleries keep popping up downtown.
Welcome to the new Fort Bragg, not at all what you might remember.
Then: Industry came first, nature second.
Now: The lumber mill came down in the 1990s, setting off a chain of events that has reconnected the town to its coastline.
Last year, the Pudding Creek Trestle was reopened with much ado. The redwood rail bridge was once part of the log-haul route that transported timber to Fort Bragg's mill. Today the towering 1916 structure has been reimagined as an elegant pedestrian and bike bridge.
Now walkers, runners, and cyclists can get all the way from town to MacKerricher State Park, 3 miles north, using not the highway but a quiet route that takes in undeveloped headlands, beaches, tidepools, and sand dunes.
Next up? A 3.5-mile oceanfront trail on the old mill land, expected to be ready for hiking by 2012.
Downtown facelift
Then: The old company store dominated downtown, selling basics to mill employees.
Now: What was once the company store is now an upscale mall of sorts (still called the Company Store), where people browse galleries and enjoy civilized dinners.
Several downtown streets have had a facelift, with wider sidewalks and handsome streetlights made for window-shopping. Chic boutiques have been popping up too, including the upscale Splendiferous, con­temporary women's clothier Andrea Luna Design, and Pippi's Longstockings, an irresistible sock-and-accessory shop.
Those who schedule a visit to Studio Odd Hours will find New American art that's worth the trouble (the out-of-the-way gallery is true to its name).
Then: Greasy-spoon diners and ​all-you-can-eat buffets served rib-sticking grub.
Now: Inventive restaurants working with artisanal ingredients have elbowed in among the established Fort Bragg favorites. They fill a long-felt need for an evening hangout—​a place to linger with friends over a glass of Mendocino County wine or a pint of North Coast beer.
Among the best is Franklin Street Café, with creative, ​Southern-inspired small plates and local organic beef. Piaci Pub & Pizzeria is another standout. The self-described speakeasy serves thin-crust pizza with California-style toppings (pine nuts, caramelized onions, seasonal pears) that packs in a crowd.
In the evening, locals congregate at Italian restaurant V'Canto for a sip at the bar and acoustic jazz, rock, folk, or blues. Half a block away, Fort Bragg Bakery—launched by the former chef at Mendocino's well-known Cafe Beaujolais—sells breads made with organic ingredients and wood-fired pizza.
48 hours in Fort Bragg
Friday: Check in at Living Light Inn (from $110; two-night minimum; 707/964-1384). The grand 1912 Craftsman home is now a 10-room inn with a green ethos. Drop in at Studio Odd Hours during the First Friday Art Walk (5–9 Apr 2) or call ahead to visit (upstairs at 366 N. Main St.; 707/357-0338), then stroll to dinner at Piaci Pub & Pizzeria ($; 120 W. Redwood Ave.; 707/961-1133). Afterward, see who's playing at V'Canto ($$; no cover; 124 E. Laurel St.; 707/964-6844).
Saturday: Grab breakfast at Fort Bragg Bakery (closed Sun–Tue; 360 N. Franklin St.; 707/964-9647). Treat yourself to a bit of shopping at Andrea Luna Design (closed Sun; 107 Laurel St.; 707/962-9180), Pippi's Longstockings (123 E. Laurel St.; 707/964-8071), or Splendiferous (closed Sun; 115 E. Laurel St.; 707/964-8880).
Then take an afternoon walk across the Pudding Creek Trestle (from State 1, take W. Elm St. west to Glass Beach Dr.). Or grab a sandwich at the vegan, raw-food Living Light Café & Cuisine To-Go ($; 707/964.2420) at the Company Store (301 N. Main St.) and bike 3 miles north to MacKerricher State Park.
For dinner, try the new Franklin Street Café ($$; closed Sun; 223 N. Franklin St.; 707/964-1620).
Sunday: Take a dip at the new C.V. Starr Community Center ($8; 300 S. Lincoln St.; 707/964-9446), loved by locals for its faux river and fantastic gym. Then grab breakfast at Headlands Coffeehouse ($; 120 Laurel St.; 707/964-1987) before leaving town.
Keep Reading: